Join us Sunday, July 22nd at Book Beat, from 3:30-4:30 pm, with Mike Faloon & Michael Fournier, for a reading and signing of "The Other Night at Quinn's: New Adventures in the Sonic Underground," new from Razorcake/Gorsky Press. Joining Mike Faloon & Michael Fournier will be kim d. hunter, a Detroit-based writer and Kresge Fellow, reading from his book of short stories, "The Official Report on Human Activity," new from Wayne State University Press.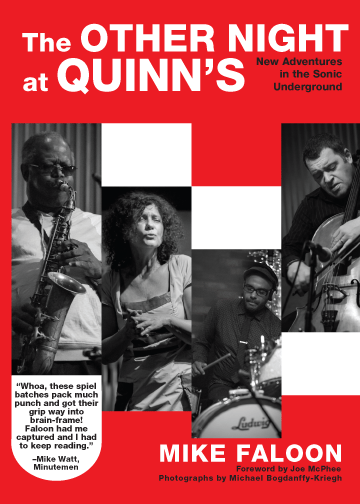 Mike Watt of the Minutemen exclaims, "Whoa, these spiel batches pack much punch and got their grip way into brain-frame! Faloon had me captured and I had to keep reading." Wayne Kramer of the MC5 adds that it's "…a deeply personal dive into the psyche of a hardcore music fanatic…utterly indispensable. A truly great read."

…
Don't let The Other Night at Quinn's: New Adventures in the Sonic Underground scare you. Yes, it's a creative non-fiction collection about the explosive uncertainty of free jazz in a diner-turned-club in upstate NY.

Faloon is your guide throughout;The Other Night at Quinn's, a fascinating window into a community of creators surviving beyond the mainstream in an otherwise overlooked outpost of the cultural underground that cuts across distinctions of culture, gender, race, age, and genre. The Other Night at Quinn's is a circuitous anatomy of a scene where initially opaque and elliptical experiences are transformed into the rewards of deeper understanding and humanity.
The authors will have free copies of Razorcake, a non-profit punk magazine based in Los Angeles that they contribute to. Fournier will be reading from his upcoming novel & he'll have copies of his broadsheet, Cabildo Quarterly (also free).
---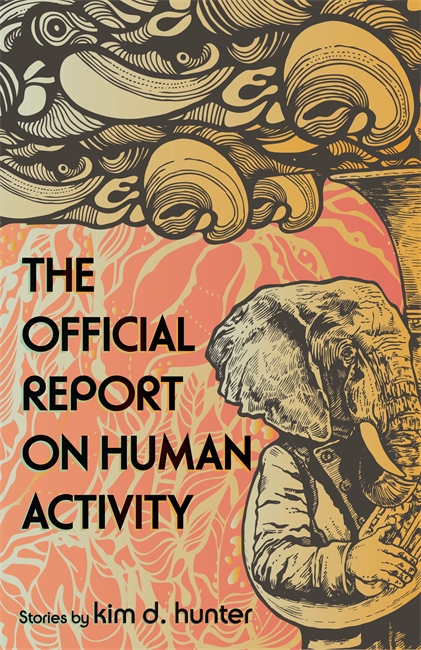 The Official Report on Human Activity by kim d. hunter, which is neither official nor a report, is a collection of long stories that are linked by reoccurring characters and their personal struggles in societies rife with bigotry, in which media technology and capitalism have run amok. These stories approach the holy trinity of gender, race, and class at a slant. They are concerned with the process and role of writing intertwined with the roles of music and sound.

The four stories range from the utterly surreal—a factory worker seeking recognition for his writing gives birth to a small black elephant with a mysterious message on its hide—to the utterly real—a nerdy black teen's summer away from home takes a turn when he encounters half-white twins on the run from the police. Prominently known as a Detroit poet, hunter creates illusions and magic while pulling back the curtain to reveal humanity—the good, bad, and absurd. Readers will find their minds expanded and their conversations flowing after finishing The Official Report on Human Activity.

The Official Report on Human Activity is sure to appeal to readers of literary fiction, particularly those interested in postmodernism and social justice.
---
About Mike Faloon: Mike Faloon is a former DJ, dishwasher, and drummer. He is the author of The Hanging Gardens of Split Rock and the co-editor of Fan Interference. Faloon co-founded Go Metric and Zisk zines and has contributed to Cabildo Quarterly, Cashiers du Cinemart,Razorcake, Submerging Writers, and Vol. 1 Brooklyn. His latest book is The Other Night at Quinn's (Razorcake/Gorsky), a collection of music essays about the free jazz scene that emerged at a diner in upstate New York.
About Michael Fournier: Michael T. Fournier is the author of Double Nickels on the Dime, Hidden Wheel and Swing State. He is the publisher and fiction editor of Cabildo Quarterly and a regular contributor to Razorcake.
About kim d. hunter: kim d. hunter has published two collections of poetry: borne on slow knives and edge of the time zone. His poetry appears in Rainbow Darkness, What I Say, Black Renaissance Noire, 6X6 #35, and elsewhere. He received a 2012 Kresge Artist Fellowship in the Literary Arts and he works in Detroit providing media support to social justice groups.