Recent books about our favorite city.
Dive into the rich history and culture of Detroit with these staff-picked favorites.
For Social Justice activists
The Dawn of Detroit: A Chronicle of Freedom and Slavery in the City of Straits by Tiya Miles
hardcover $25.15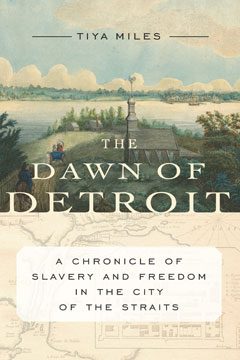 Most Americans believe that slavery was a creature of the South, and that Northern states and territories provided stops on the Underground Railroad for fugitive slaves on their way to Canada. In this paradigm-shifting book, celebrated historian Tiya Miles reveals that slavery was at the heart of the Midwest's iconic city: Detroit. In this richly researched and eye-opening book, Miles has pieced together the experience of the unfree—both native and African American—in the frontier outpost of Detroit, a place wildly remote yet at the center of national and international conflict. Skillfully assembling fragments of a distant historical record, Miles introduces new historical figures and unearths struggles that remained hidden from view until now. The result is fascinating history, little explored and eloquently told, of the limits of freedom in early America, one that adds new layers of complexity to the story of a place that exerts a strong fascination in the media and among public intellectuals, artists, and activists.
Detroit in 1967
Detroit 67: The Year That Changed Soul (The Soul Trilogy) by Stuart Cosgrove
, paperback $14.99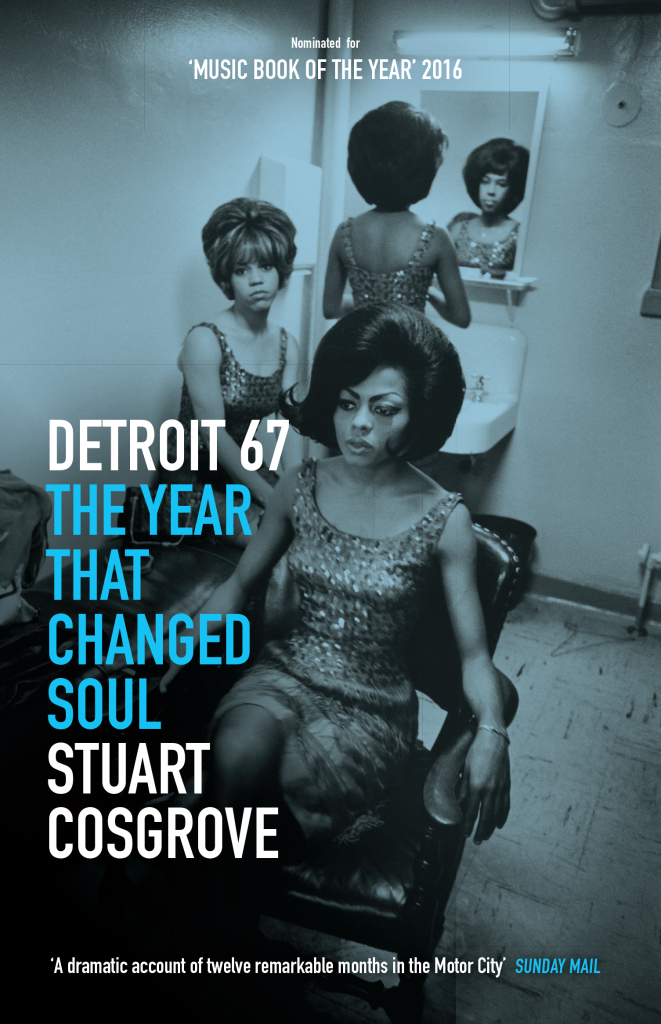 Detroit 67 is the story of Motor City in the year that changed everything. Twelve chapters take you on a turbulent year-long journey through the drama and chaos that ripped through the city in 1967 and tore it apart in personal, political and interracial disputes. It is the story of Motown, the break-up of The Supremes and the damaging disputes at the heart of the most successful African-American music label ever. Set against a backdrop of urban riots, escalating war in Vietnam and police corruption, the book weaves its way through a year when soul music came of age and the underground counterculture flourished. LSD arrived in the city with hallucinogenic power and local guitar band MC5 – self-styled holy barbarians of rock – went to war with mainstream America. A summer of street-level rebellion turned Detroit into one of the most notorious cities on earth, known for its unique creativity, its unpredictability and self-lacerating crime rates. The year 1967 ended in social meltdown, rancour and intense legal warfare as the complex threads that held Detroit together finally unravelled.
Cheers to Beers!
Brewed in Michigan: The New Golden Age of Brewing in the Great Beer State by William Rapai, paperback, $34.95
Brewed in Michigan is a book for beer enthusiasts and for people who want a better understanding of what makes Michigan beer special.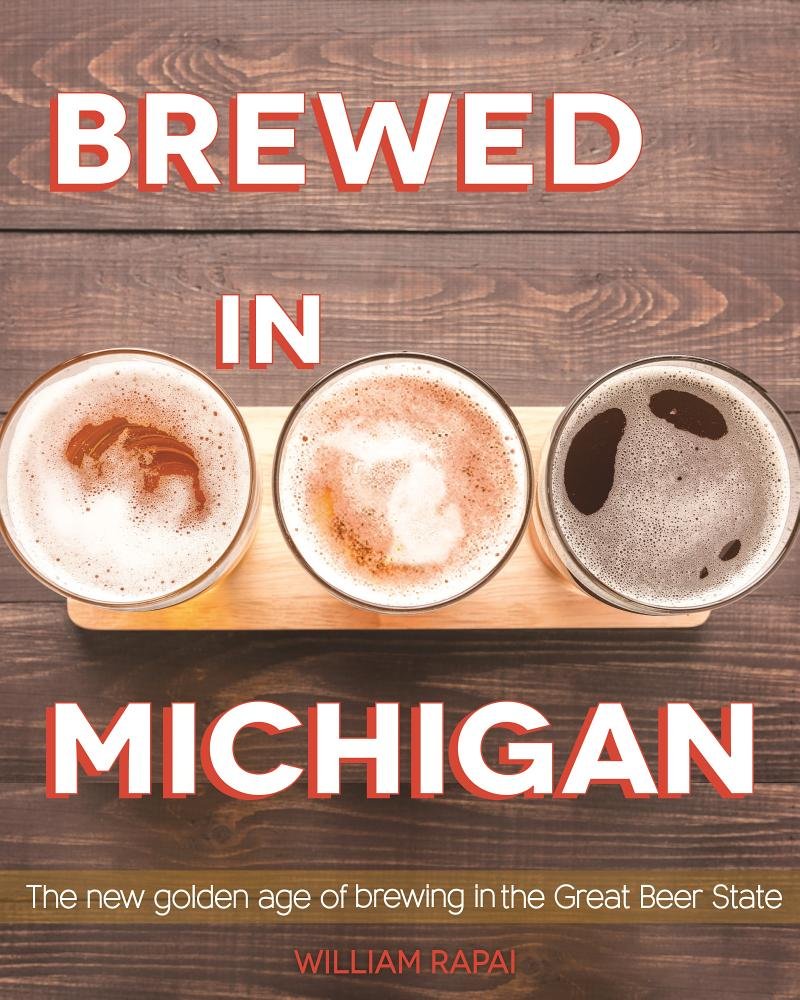 Cheers!
This book is not a beer-tasting guide. Like the Great Lakes and the automobile, beer has become a part of Michigan's identity. In 2016, Michigan ranked fifth in the number of craft breweries in the nation and tenth in the nation in craft beer production. Craft brewing now contributes more than $1.8 billion annually to the state's economy and is proving to be an economic catalyst, helping to revive declining cities and invigorate neighborhoods. Rapai aims to highlight the unique forces behind and exceptional attributes of the leading craft breweries in Michigan. Through a series of interviews with brewmasters over an eighteenth-month sojourn to microbreweries around the state, the author argues that Michigan craft beer is brewed by individuals with a passion for excellence who refuse to be process drones. It is brewed by people who have created a culture that values quality over quantity and measures tradition and innovation in equal parts.
For political history buffs
The Fifty-Year Rebellion: How the U.S. Political Crisis Began in Detroit by Scott Kurashige
paperback, $18.95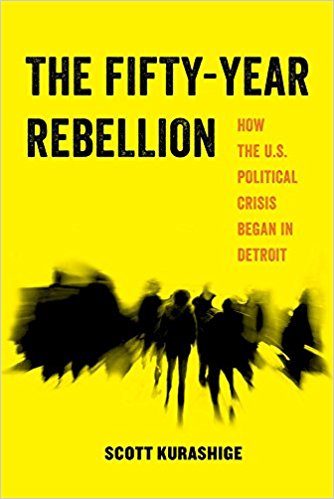 On July 23, 1967, the eyes of the world fixed on Detroit, as thousands took to the streets to vent their frustrations with white racism, police brutality, and vanishing job prospects in the place that gave rise to the American Dream. Mainstream observers contended that the "riot" brought about the ruin of a once-great city; for them, the municipal bankruptcy of 2013 served as a bailout paving the way for the rebuilding of Detroit. Challenging this prevailing view, Scott Kurashige portrays the past half century as a long rebellion whose underlying tensions continue to haunt the city and the U.S. nation-state. He sees Michigan's scandal-ridden "emergency management" regime, set up to handle the bankruptcy, as the most concerted effort to put it down by disenfranchising the majority black citizenry and neutralizing the power of unions. Are we succumbing to authoritarian plutocracy or can we create a new society rooted in social justice and participatory democracy?
Detroit neighborhoods and historic sites in beautiful postcards with detailed captions.
Greetings from Detroit: Historic Postcards from the Motor City by Dan Austin, paperback $21.95, signed copies available.
Pick up a signed copy of this must-have for Detroit art lovers. Greetings from Detroit gathers some of Detroit's best, most illustrative postcards in one place and-for the first time, in full color-frames them alongside meticulously researched writing, offering context and stories behind each image.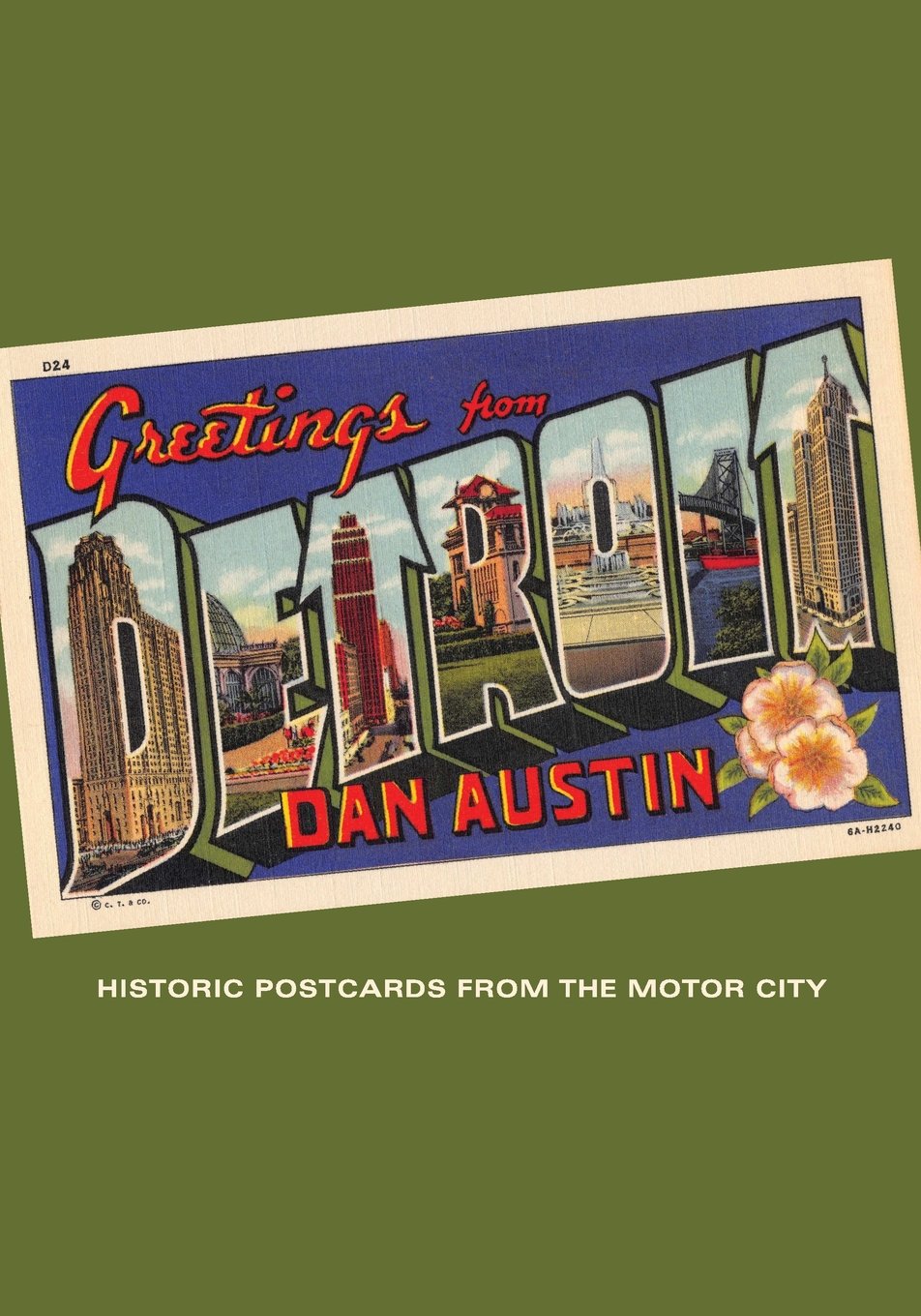 Greetings from Detroit: Historic Postcards from the Motor City offers a glimpse into the past through more than two hundred historic postcards of Detroit from the early 1900s to the 1950s, compiled and presented in full color by Dan Austin of HistoricDetroit.org. In the era before cameras became commonplace, postcard shops were everywhere-allowing folks to send snapshots of their travels to friends and family, or to take home as mementos. Many of these old postcards are now. Divided into six sections, Greetings from Detroit showcases the changing times and interests of the city-highlighting some of the distinct neighborhoods, including Midtown, southwest Detroit, and the downtown area. Divided into six sections, Greetings from Detroit showcases the changing times and interests of the city-highlighting some of the distinct neighborhoods, including Midtown, southwest Detroit, and the downtown area. A portion of the book is devoted to Detroit's parks, with special interest in Belle Isle, Palmer Park, Clark Park, and Water Works Park. The book also shines a light on the majestic steamers that often dotted the Detroit River.
Know Detroit better.
The Detroit Neighborhood Guidebook by Aaron Foley, paperback $19.95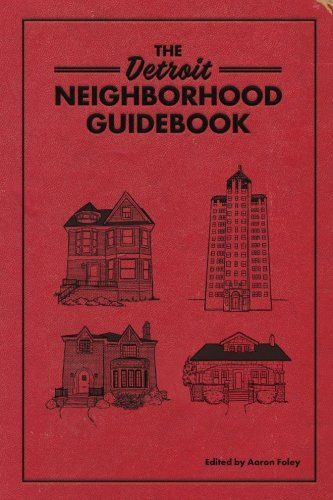 Detroiters need to get to know their neighbors better. Wait — maybe that should be, Detroiters should get to know their neighborhoods better. It seems like everybody thinks they know the neighborhoods here, but because there are so many, the definitions become too broad, the characteristics become muddled, the stories become lost.
Edited by Aaron Foley, The Detroit Neighborhood Guidebook contains essays by Zoe Villegas, Drew Philip, Hakeem Weatherspoon, Marsha Music, Ian Thibodeau, and dozens of others.
The Architect behind Detroit's Art Deco Masterpieces.
Designing Detroit: Wirt Rowland and the Rise of Modern American;Architecture by Michael G. Smith hardcover $44.99, signed copies available.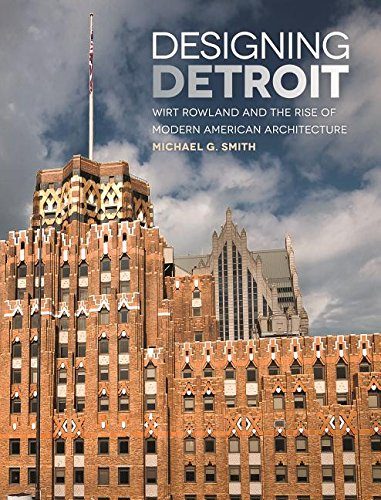 In the early 1900s, Detroit was leading the nation in architectural innovation and designer Wirt Rowland was at the forefront of this advancement, yet few are even aware of his substantial contribution to the evolution of architectural style. It is widely believed that celebrated local architect Albert Kahn designed many of Detroit's structures, such as the General Motors and First National Bank buildings. In fact, while Kahn's efforts were focused on running his highly successful firm, it was Rowland, his chief designer, who was responsible for the appearance and layout of these buildings-an important point in appreciating the contributions of both Kahn and Rowland. During the early twentieth century, Rowland devised a wholly new or "modern" design for buildings, one not reliant on decorative elements copied from architecture of the past. As buildings became more specialized for their intended use, Rowland met the challenge with entirely new design methodologies and a number of improved technologies and materials that subsequently became commonplace. Signed copies are available!
Attention Tiger fans!
Who's your tiger:The Four Greatest Detroit Tiger Hitters of All Time by Maury Dean. paperback $24.99 signed copies available!
A must-have for all Tigers' fans.
Four biographies, starring Detroit Tigers' greatest all-time hitters–Miguel Cabrera, Al Kaline, Ty Cobb, and Hank Greenberg. Dean's fan memoir also features hundreds of Tiger biosketches and pix of a century of Tiger 2nd-string superstars. Other markets' non-Tiger MLB stars from Babe Ruth to Mike Trout are also featured for comparison–they comprise 33% of this big baseball book. Stories and stats, anecdotes and analysis, memories and unforgettable photos of your favorite Tigers and other MLB heroes.
For local art-in-the-D fans.
Essay'd: 30 Detroit Artists by Steve Panton, Matthew Piper, Dennis Alan Nawrocki, Sarah Rose Sharp, paperback $25
Essay'D is an excellent introduction to the Detroit art landscape, as well as an opportunity to deepen one's knowledge of the Detroit art scene and its players.
Stemming from the popular website of the same name,Essay'dseeks to introduce readers to some of the contemporary art practitioners who live and work in Detroit or have participated in the Detroit community in an important way. Four arts writers within the Detroit community-a professor, a gallerist, and two critics-create an ongoing series of short essays that focus briefly and intensely on standout artists. This blending of critical sensibilities and interests provides a unique perspective on a diverse place, offering many points of interest and access to one of the most vital and intriguing art environments in the country. This book is not a systematic attempt to identify the "best" or "most important" Detroit artists, or even to define what those terms mean. The position the essays take to their subjects is not critical but neither is it reverential. The objective is to create a platform for Detroit artists, not a pedestal.
Historic interviews with Motown Divas!
The Women of Motown by Susan Whitall, paperback $15
In Women of Motown: An Oral History, women get to tell their side of the Motown story and the stories they tell are fascinating, engrossing, illuminating, and many times downright hilarious.
The book takes us from the earliest female Motown singer Mable John (later part of the Stax stable) through the fabulous girl groups such as the Marvelettes through the different permutations of the Supremes and ending with latter day singers such as the great Kim Weston.
Whitall, formerly of Creem magazine and The Detroit News, adds narrative and perspective and makes this a must-have book for any fan of Motown or the glory years of the soul music revolution.
Celebrate Detroit with A Cookbook for All Seasons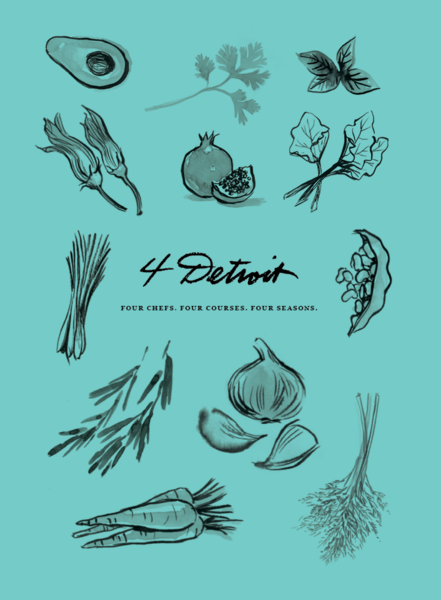 4 Detroit: Four Chefs. Four Courses. Four Seasons. Hardcover $46
A cookbook featuring recipes from the founding chefs of Gold Cash Gold, Takoi, Supino, and Selden Standard.
Text by Toby Barlow
Poetry by Marsha Music
Photography by Joe Vaughn
Illustration by Don Kilpatrick
A celebration of a year in Detroit, with four chefs preparing four courses for every season. Josh Stockton cooks a winter meal in Corktown. Brad Greenhill makes a spring meal in Palmer Woods, Dave Mancini hosts a summer barbecue in Indian Village, and Andy Hollyday prepares an autumn supper in Boston Edison. All four chefs also offer meals for every time of the year, making this cookbook a great appreciation of the food renaissance happening in Detroit today.
$5 from the sale of every book goes to Gleaners Community Food Bank.

Comic-Strips from the Heart of Rotland.
DETROIT SEQUENTIAL NO. 1 newsprint, $10
"Detroit Sequential" is AN ANTHOLOGY of comic strips by over 60 Detroit-based writers and artists, responding to the idea of the "daily strip"—a black and white horizontal sequence of four to six panels that was the format used in the comic strip pages of many American newspapers during weekday editions. Newsprint $10
} CONTRIBUTORS are: Lynne Avadenka | Corrie Baldouf | Laura Beyer | Tyanna Buie | Coco Bruner | Alex Buzzalini & Steve Hughes | Susan Goethel Campbell | Stephen Cavanagh | John Charnota | John Corbin & Lynn Crawford | Cuppetelli & Mendoza | Andrea Eckert | Jeffrey Evergreen | Greg Fadell | Ed Fraga | Christina Galasso | M. Saffell Gardner | Jennifer Gariepy & Marsha Music | Jon P. Geiger | Janet Hamrick | Adrian Hatfield | Megan Heeres | Scott Hocking | Trisha Holt | Lauren Kalman | Osman Khan | Don Kilpatrick & Toby Barlow | Andy Krieger | Timothy Van Laar | Kylie Lockwood | Cary Loren | Megan Major | Justin Marshall | Heather McGill & Amber Kempthorn | Michael McGillis | Nancy Mitchnick & Chris Tysh | Mark Newport | Jonathan Rajewski | Chris Riddell | Yvette Rock & Dr. Tyrone Williams | Amy Sacksteder | S. William Schudlich | Victoria Shaheen | Dolores Slowinski | Clinton Snider | Andrew Thompson & Sarah Rose Sharp | Dylan Spaysky | Brian Spolans| Ben Teague | Millee Tibbs | Vagner Whitehead | Graem Whyte | Elizabeth Youngblood