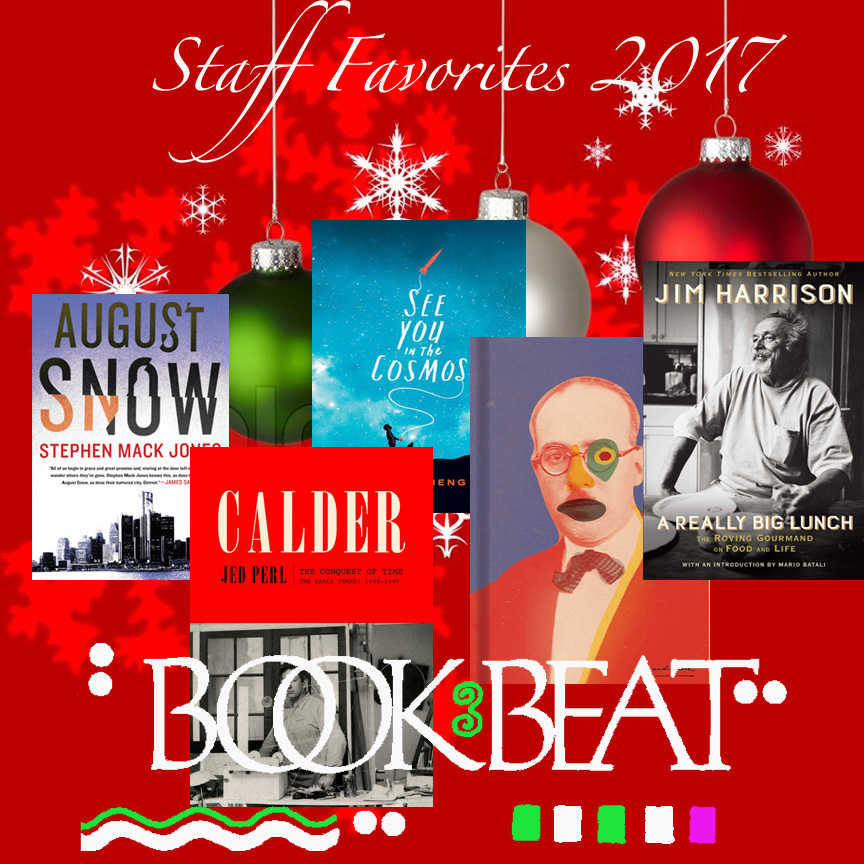 Here at Book Beat, we read year-round. These are some of our favorite new books from 2017–the words and images that have lodged with us all year. We'll be here to gush about them when you're ready to pick up your copies.
STEPHEN
Celebrate the Anniversary of the Monster who was made for All Lovers of the Literary Arts…
Frankenstein: The First 200 Years by Christopher Frayling
$39.95 in Hardcover
This book, celebrating the 200th birthday of Frankenstein, traces the journey of Shelley's Frankenstein from limited-edition literature into the bloodstream of contemporary culture. With text by renowned Gothic scholar Sir Christopher Frayling, it includes new research on the novel's origins; a facsimile reprint of the earliest-known manuscript version of the creation scene; visual material on adaptations for the stage, in magazines, on playbills, in prints and in book publications of the 19th century; visual essays on many of the film versions and their inspirations in the history of art; and Frankenstein in popular culture?on posters, advertisements, packaging, in comics and graphic novels.
Meetings with Remarkable Manuscripts: Twelve Journeys Into the Medieval World by Christopher de Hamel
$45.00 in Hardcover
For All Art and Artistic Historians
Meetings with Remarkable Manuscripts is a captivating examination of twelve illuminated manuscripts from the medieval period. Noted authority Christopher de Hamel invites the reader into intimate conversations with these texts to explore what they tell us about nearly a thousand years of medieval history – and about the modern world, too.
Ralph Eugene Meatyard: American Mystic by Alexander Nemerov
$45.00 in Hardcover
For Those With An Extraordinary Vision of Their World
The legendary, mysterious photographer Ralph Eugene Meatyard (1925–72) lived in Lexington, Kentucky, working in a close-knit community of artists and writers while making his living as an optician. Ralph Eugene Meatyard: American Mystic, by esteemed art historian Alexander Nemerov, is a groundbreaking study of Meatyard's work, creative thinking and sources of inspiration.
For Every e. e. cummings of Art on Your List; the One who Gives Art that Special Twist…
Calder: The Conquest of Time by Jed Perl
$55.00 in Hardcover
What do we make of the subtitle of Jed Perl's new biography of Alexander Calder, "The Conquest of Time"? It sounds like a "Star Trek" movie. The answer comes two-thirds of the way through this shaggy and fascinating volume: Time-conquering is theory-speak for the fact that many of Calder's works move.
& in honor of John Ashbery, who passed in September:
Continue Your Conversation With A Great Voice in American Poetry...
Library of America's Collected Poems of John Ashbery
$45.00 in Hardcover
Published for his ninetieth birthday, Library of America presents the second volume of John Ashbery's collected poems, spanning a crucial and prolific decade in the poet's work. The volume opens with the indispensable Flow Chart (1991), in a complete text for the first time. The other collections gathered here—Hotel Lautréamont (1992), And the Stars Were Shining (1994), Can You Hear, Bird (1995), Wakefulness (1998), and Your Name Here (2000)—show Ashbery perfecting the playful, cerebral style that has made his poetry a genre unto itself, highly influential and often imitated. Long an art critic and one of the shrewdest observers of the American art scene, Ashbery engages with the renowned outsider artist Henry Darger in the fascinating book-length poem Girls on the Run (1999), inspired by the exuberant, unsettling fictional universe Darger created. The volume concludes with a selection of twenty-six previously uncollected poems.

…That Not Even Death Can Still.
The Songs We Know Best: John Ashbery's Early Years by Karin Roffman
$30.00 in Hardcover
The first comprehensive biography of the early life of John Ashbery?the winner of nearly every major American literary award?reveals the unusual ways he drew on the details of his youth to populate the poems that made him one of the most original and unpredictable forces of the last century in arts and letters.
JANE
Pocket Full of Colors: The Magical World of Mary Blair, Disney Artist Extraordinare by Amy Guglielmo & Jacqueline Tourville
$17.99 in Hardcover
From her imaginative childhood to her career as an illustrator, designer, and animator for Walt Disney Studios, Mary wouldn't play by the rules. At a time when studios wanted to hire men and think in black and white, Mary painted twinkling emerald skies, peach giraffes with tangerine spots, and magenta horses that could fly.
A World of Information by James Brown & Richard Platt
hardcover, $25.00
How much do clouds weigh? Who invented the pencil? How many ways can you tie a knot? Discover the answers to these and many other questions in this elegant and absorbing miscellany of general knowledge. From music notation to Roman numerals and from the skeleton to the solar system, essential facts are brought to life by stylish infographics and fascinating commentary.
Most People by Michael Lennah & Jennifer Morris
$16.95 in Hardcover
Michael Leannah wrote Most People as an antidote to the scary words and images kids hear and see every day. Jennifer Morris's emotive, diverting characters provide the perfect complement to Leannah's words, leading us through the crowded streets of an urban day in the company of two pairs of siblings (one of color). We see what they see: the hulking dude with tattoos and chains assisting an elderly lady onto the bus; the Goth teenager with piercings and purple Mohawk returning a lost wallet to its owner; and the myriad interactions of daily existence, most of them well intended. Most People is a courageous, constructive response to the dystopian world of the news media.
Read the Book, Lemmings! by Ame Dyckman & Zachariah O'Hora
hardcover $17.99
Aboard the S.S. Cliff, First Mate Foxy reads an interesting fact: "Lemmings don't jump off cliffs." But Foxy can't get the lemmings on the Cliff to read his book, too. They're too busy jumping off. After a chilly third rescue, exasperated Foxy and grumbly polar bear Captain PB realize their naughty nautical crew isn't being stubborn: The lemmings (Jumper, Me Too, and Ditto) can't read. And until Foxy patiently teaches his lemmings to read the book, he can't return to reading it, either!
Little Fires Everywhere by Celeste Ng
$16.95 in Hardcover
Mrs. Richardson's vision of a suburban utopia might strike some as a quaint fantasy, but this is the '90s, after all. Post-9/11, post-Obama, in the age of Trump and Black Lives Matter, we may know better, but Ng reminds us that 20 years ago, in the age of AltaVista, pagers and Sir Mix-a-Lot, some who voted for another Clinton claimed to have within their sight a post-racial America. "I mean, we're lucky," says the blond Lexie, whose boyfriend is black. "No one sees race here."

The magic of this novel lies in its power to implicate all of its characters — and likely many of its readers — in that innocent delusion. Who set the little fires everywhere? We keep reading to find out, even as we suspect that it could be us with ash on our hands. NYT
Frest Complaint by Jeffrey Eugenides
$16.99 in Paperback and $27.00 in Paperback
Jeffrey Eugenides's bestselling novels have shown him to be an astute observer of the crises of adolescence, self-discovery, family love, and what it means to be American in our times. The stories in "Fresh Complaint" explore equally rich­­—and intriguing­­—territory. Ranging from the bitingly reproductive antics of "Baster" to the dreamy, moving account of a young traveler's search for enlightenment in "Air Mail" (selected by Annie Proulx for Best American Short Stories), this collection presents characters in the midst of personal and national emergencies. We meet a failed poet who, envious of other people's wealth during the real-estate bubble, becomes an embezzler; a clavichordist whose dreams of art founder under the obligations of marriage and fatherhood; and, in "Fresh Complaint," a high school student whose wish to escape the strictures of her immigrant family lead her to a drastic decision that upends the life of a middle-aged British physicist. Narratively compelling, beautifully written, and packed with a density of ideas despite their fluid grace, these stories chart the development and maturation of a major American writer.
TARA
Whereas by Layli Long Soldier
$16.00 in Paperback
for those grappling with legacies of colonial violence
WHEREAS confronts the coercive language of the United States government in its responses, treaties, and apologies to Native American peoples and tribes, and reflects that language in its officiousness and duplicity back on its perpetrators. Through a virtuosic array of short lyrics, prose poems, longer narrative sequences, resolutions, and disclaimers, Layli Long Soldier has created a brilliantly innovative text to examine histories, landscapes, her own writing, and her predicament inside national affiliations. "I am," she writes, "a citizen of the United States and an enrolled member of the Oglala Sioux Tribe, meaning I am a citizen of the Oglala Lakota Nation—and in this dual citizenship I must work, I must eat, I must art, I must mother, I must friend, I must listen, I must observe, constantly I must live."
Don't Call Us Dead by Danez Smith
for those who embody fight
$16.00 in Paperback
Award-winning poet Danez Smith is a groundbreaking force, celebrated for deft lyrics, urgent subjects, and performative power. Don't Call Us Dead opens with a heartrending sequence that imagines an afterlife for black men shot by police, a place where suspicion, violence, and grief are forgotten and replaced with the safety, love, and longevity they deserved here on earth. Smith turns then to desire, mortality—the dangers experienced in skin, body, and blood—and a diagnosis of HIV positive. "some of us are killed / in pieces," Smith writes, "some of us all at once." Don't Call Us Dead is an astonishing collection, one that confronts America where every day is too often a funeral and not often enough a miracle.
Unlikely Designs by Katie Willingham
for those facinated with the intersections of nature & technology
$18.00 in Paperback
A collection intent on worrying the boundaries between natural and unnatural, human and not, Unlikely Designs draws far-ranging source material from the back channels of knowledge making: the talk pages of Wikipedia, the personal writings of Charles Darwin, the love advice doled out by chatbots, and the eclectic inclusions on the Golden Record time capsule. It is here we discover the allure of the index, what pleasure there is in bending it to our own devices. At the same time, these poems also remind us that logic is often reckless, held together by nothing more than syntactical short circuits—well, I mean, sorry, yes—prone to cracking under closer scrutiny. Returning us again and again to these gaps, Katie Willingham reveals how any act of preservation is inevitably an act of curation, an outcry against the arbitrary, by attempting to make what is precious also what survives.
Her Body and Other Parties by Carmen Maria Machado
for queers with a sense of dark humor as a defense mechanism
$16.00 in Paperback
In Her Body and Other Parties, Carmen Maria Machado blithely demolishes the arbitrary borders between psychological realism and science fiction, comedy and horror, fantasy and fabulism. While her work has earned her comparisons to Karen Russell and Kelly Link, she has a voice that is all her own. In this electric and provocative debut, Machado bends genre to shape startling narratives that map the realities of women's lives and the violence visited upon their bodies… Earthy and otherworldly, antic and sexy, queer and caustic, comic and deadly serious, Her Body and Other Parties swings from horrific violence to the most exquisite sentiment. In their explosive originality, these stories enlarge the possibilities of contemporary fiction.
In Full Velvet by Jenny Johnson
for lesbians who love the sonnet
$16.95 in Paperback
Sinuous and sensual, the poems of In Full Velvet interrogate the nuances of desire, love, gender, ecology, LGBTQ lineage and community, and the tension between a body's material limits and the forms made possible by the imagination. Characterized by formal poise, vulnerability, and compassion, Johnson's debut collection is one of resounding generosity and grace.
Exit West by Mohsin Hamid
$26.00 in Hardcover
for anyone looking for a deeper understanding of a global refugee crisis
Mohsin Hamid's dynamic yet lapidary books have all explored the convulsive changes overtaking the world, as tradition and modernity clash headlong, and as refugees — fleeing war or poverty or hopelessness — try to make their way to safer ground. His compelling new novel, "Exit West," is no exception, recounting the story of the migrants Saeed and Nadia, who leave an unnamed country in the midst of a civil war and journey to Greece, England and eventually the United States in an effort to invent new lives for themselves. NYT
CARY
For the foodie.
A Really Big Lunch: A Roving Gourmand on Food and Life by Jim Harrison
$26.00 in Hardcover
New York Times bestselling author Jim Harrison was one of this country's most beloved writers, a muscular, brilliantly economic stylist with a salty wisdom. He also wrote some of the best essays on food around, earning praise as "the poet laureate of appetite" (Dallas Morning News). A Really Big Lunch, to be published on the one-year anniversary of Harrison's death, collects many of his food pieces for the first time—and taps into his larger-than-life appetite with wit and verve. Jim Harrison's legendary gourmandise is on full display in A Really Big Lunch."

"Whenever life begins to crush me, I know I can depend on Bandol, garlic and Mozart." –JH

For the decadent out-crowd.
Infinite Variety: The Life and Legend of the Marchesa Casati by Scot D. Ryersson and Michael Orlando Yaccarino
$29.95 in Hardcover
Artists from Man Ray to Augustus John painted, sculpted, and photographed her; writers, including Jean Cocteau, Ezra Pound, and Jack Kerouac, praised her strange beauty; celebrities and royalty were awed by her lavish parties and spectacles at her homes in Italy and France. Fully authorized, completely updated, and richly illustrated, this is the fantastic story of the Marchesa Luisa Casati.

A meticulously researched biography, "Infinite Variety" is as much art history as chronicle of personal obsession. —NYT
For the surrealist.
The Book of Disquet: Complete Edition by Fernando Pessoa
$24.95 in Hardcover
The Book of Disquiet is the Portuguese modernist master Fernando Pessoa's greatest literary achievement. An "autobiography" or "diary" containing exquisite melancholy observations, aphorisms, and ruminations, this classic work grapples with all the eternal questions. Now, for the first time the texts are presented chronologically, in a complete English edition by master translator Margaret Jull Costa. Most of the texts in The Book of Disquiet are written under the semi-heteronym Bernardo Soares, an assistant bookkeeper. This existential masterpiece was first published in Portuguese in 1982, forty-seven years after Pessoa's death. A monumental literary event, this exciting, new, complete edition spans Fernando Pessoa's entire writing life.
For wayward street poets.
Tuli Kupferburg's Yeah
$40.00 in Paperback
This volume collects all ten issues of the classic 1960s zine Yeah, edited by Fugs pioneer and poet Tuli Kupferberg and his wife Sylvia Topp, as facsimile editions. Originally published by Kupferberg and Topp's Birth Press between 1961 and1965, the magazine was, according to Kupferberg, "a satyric excursion; a sardonic review; a sarcastic epitome; a chronical of the last days," and throughout its pages he acts as both editor and artist, threading the needle of leftist politics with the sharp wit for which he became known as one of the founders of the counterculture rock heroes The Fugs.
A tightly wound tale of the Calumet massacre of 1913 and the interconnection of Dylan & Guthrie.
Grown-Up Anger by Daniel Wolff
$26.99 in Hardcover
A tour de force of storytelling years in the making: a dual biography of two of the greatest songwriters, Bob Dylan and Woody Guthrie, that is also a murder mystery and a history of labor relations and socialism, big business and greed in twentieth-century America—woven together in one epic saga that holds meaning for all working Americans today.
When thirteen-year-old Daniel Wolff first heard Bob Dylan's "Like a Rolling Stone," it ignited a life-long interest in understanding the rock poet's anger. When he later discovered "Song to Woody," Dylan's tribute to his hero, Woody Guthrie, Wolff believed he'd uncovered one source of Dylan's rage. Sifting through Guthrie's recordings, Wolff found "1913 Massacre"—a song which told the story of a union Christmas party during a strike in Calumet, Michigan, in 1913 that ended in horrific tragedy. Following the trail from Dylan to Guthrie to an event that claimed the lives of seventy-four men, women, and children a century ago, Wolff found himself tracing the history of an anger that has been passed down for decades. From America's early industrialized days, an epic battle to determine the country's direction has been waged, pitting bosses against workers and big business against the labor movement. In Guthrie's eyes, the owners ultimately won; the 1913 Michigan tragedy was just one example of a larger lost history purposely distorted and buried in time.
New catalog for exotica specialists.
The Art of TIki by Sven Kirsten & Otto von Stroheim
$40.00 in Hardcover
The Art of Tiki is a passionate study of the Tiki idol as an art form. For the first time, contemporary Tiki art is united and presented equally with what inspired it, original mid-century Polynesian pop. Author Sven Kirsten combines his first-hand experiences in exploring the birth of Tiki style with his intimate knowledge of the Tiki Revival, painting a vivid, visually arresting portrait of a unique, always new art genre. The Art of Tiki is published in conjunction with the 20th Anniversary Tiki Art Exhibition at La luz de Jesus Gallery in Los Angeles.
TIFFANY
The Secret History of Wonder Woman by Jill Lepore
$16.95 in Paperback
An utterly fantastic true story behind the man who created the comic book icon Wonder Woman, his polyamourous relationship, and his mission to promote the rights of women everywhere.
DOMINIC
For lovers of science and those fascinated by the mind
River of Consciousness by Oliver Sacks
$27.00 in Hardcover
;
For the creative type (in each of us)
Devotion by Patti Smith
$18.00 in Hardcover
A work of creative brilliance may seem like magic—its source a mystery, its impact unexpectedly stirring. How does an artist accomplish such an achievement, connecting deeply with an audience never met? In this groundbreaking book, one of our culture's beloved artists offers a detailed account of her own creative process, inspirations, and unexpected connections.
For those looking for modern noir masterpiece
My Favorite Thing is Monsters by Emil Ferris
$39.99 in Paperback
Painstakingly and stunningly illustrated in ballpoint pen on wide-ruled notebook paper, My Favorite Thing Is Monsters follows 10-year-old Karen Reyes, a monster-obsessed, alienated child as she tries to uncover the mystery of her upstairs neighbor's death, which is declared a suicide by the police despite signs that suggest murder. That's the general thrust of the graphic novel, but it's just the starting point for a story that is massive in scope, moving from Uptown Chicago to Weimar-era Germany to explore the coming-of-age of two girls living in separate times of intense social and political turmoil.

A combination of mystery, memoir, historical fiction, humor, urban grit, romance, biting social commentary, and supernatural thriller, Ferris uses all this to explore the idea of monstrousness, from the small-scale cruelties of schoolyard bullying to Nazi death camps. Along the way, Karen learns to see a difference between what she calls "good monsters" who are scary because they're, quote, "weird looking and fangy" and so-called "bad monsters." They're scary because they want everyone to be scared so they can control them.
LAUREN
When the Sea Turned to Silver by Grace Lin
$18.99 in Hardcover, $9.99 in Paperback
A wonderful fantasy tale based in Chinese mythology.

Pinmei's gentle, loving grandmother always has the most exciting tales for her granddaughter and the other villagers. However, the peace is shattered one night when soldiers of the Emperor arrive and kidnap the storyteller.

Everyone knows that the Emperor wants something called the Luminous Stone That Lights the Night. Determined to have her grandmother returned, Pinmei embarks on a journey to find the Luminous Stone alongside her friend Yishan, a mysterious boy who seems to have his own secrets to hide. Together, the two must face obstacles usually found only in legends to find the Luminous Stone and save Pinmei's grandmother–before it's too late.
Wicked Like Wildfire by Lana Popovic
$17.99 in Hardcover
Contemporary young adult fantasy featuring two sisters born with magic powers.

Fans of Holly Black and Leigh Bardugo will be bewitched by Lana Popovic's debut YA fantasy novel about a bargain that binds the fates—and hearts—of twin sisters to a force larger than life. All the women in Iris and Malina's family have the unique magical ability or "gleam" to manipulate beauty. Iris sees flowers as fractals and turns her kaleidoscope visions into glasswork, while Malina interprets moods as music. But their mother has strict rules to keep their gifts a secret, even in their secluded sea-side town. Iris and Malina are not allowed to share their magic with anyone, and above all, they are forbidden from falling in love.
The Book of Dust by Philip Pullman
$22.99 in Hardcover
Daemons have always been one of the most irresistible features of Lyra's universe. Their mythology only deepens in The Book of Dust. Did you know that, while young, they can mix and match attributes? Early on, Asta tries to "become an animal that didn't yet exist," but "the best she could do so far was to take one animal and add an aspect of another, so now she was an owl with duck's feathers." Pullman's mutable imagination never finishes generating, rolling, foaming. In an interview with Slate last year, he told me that his hypothetical creaturely companion would assume the shape of a crow, raven, or magpie—a bird that "digs around for shiny, bright things and steals them." But with La Belle Sauvage, the author hasn't just stitched together sources, or glued whimsical new features atop a young adult template. This is a book rooted in elemental forces: earth, water, and fire. Its pages house a living soul. Slate
The Reader (Sea of Ink and Gold #1) by Traci Chee
$19.99 in Hardcover, $10.99 in Paperback
Young adult fantasy set in a world where reading is unheard of.

Sefia knows what it means to survive. After her father is brutally murdered, she flees into the wilderness with her aunt Nin, who teaches her to hunt, track, and steal. But when Nin is kidnapped, leaving Sefia completely alone, none of her survival skills can help her discover where Nin's been taken, or if she's even alive. The only clue to both her aunt's disappearance and her father's murder is the odd rectangular object her father left behind, an object she comes to realize is a book—a marvelous item unheard of in her otherwise illiterate society. With the help of this book, and the aid of a mysterious stranger with dark secrets of his own, Sefia sets out to rescue her aunt and find out what really happened the day her father was killed—and punish the people responsible.
TONY
See You in The Cosmos by Jack Cheng
$16.99 in Hardcover
A space-obsessed boy and his dog, Carl Sagan, take a journey toward family, love, hope, and awe in this funny and moving novel for fans of Counting by 7s, Walk Two Moons, and The Curious Incident of the Dog in the Night-Time.
11-year-old Alex Petroski loves space and rockets, his mom, his brother, and his dog Carl Sagan—named for his hero, the real-life astronomer. All he wants is to launch his golden iPod into space the way Carl Sagan (the man, not the dog) launched his Golden Record on the Voyager spacecraft in 1977. From Colorado to New Mexico, Las Vegas to L.A., Alex records a journey on his iPod to show other lifeforms what life on earth, his earth, is like. But his destination keeps changing. And the funny, lost, remarkable people he meets along the way can only partially prepare him for the secrets he'll uncover—from the truth about his long-dead dad to the fact that, for a kid with a troubled mom and a mostly not-around brother, he has way more family than he ever knew. "I haven't read anything that has moved me this much since Wonder." —Jennifer Niven, author of All the Bright Places.
August Snow by Stephen Mack Jones
$25.95 in Hardcover
From the wealthy suburbs to the remains of Detroit's bankrupt factory districts, August Snow is a fast-paced tale of murder, greed, sex, economic cyber-terrorism, race and urban decay.
Tough, smart, and struggling to stay alive, August Snow is the embodiment of Detroit. The son of an African-American father and a Mexican-American mother, August grew up in the city's Mexicantown and joined the police force only to be drummed out by a conspiracy of corrupt cops and politicians. But August fought back; he took on the city and got himself a $12 million wrongful dismissal settlement that left him low on friends. He has just returned to the house he grew up in after a year away, and quickly learns he has many scores to settle. It's not long before he's summoned to the palatial Grosse Pointe Estates home of business magnate Eleanore Paget. Powerful and manipulative, Paget wants August to investigate the increasingly unusual happenings at her private wealth management bank. But detective work is no longer August's beat, and he declines. A day later, Paget is dead of an apparent suicide—which August isn't buying for a minute. What begins as an inquiry into Eleanore Paget's death soon drags August into a rat's nest of Detroit's most dangerous criminals, from corporate embezzlers to tattooed mercenaries.
Tears we Cannot Stop: A Sermon to White America by Michael Eric Dyson
$24.99
Short, emotional, literary, powerful. Tears We Cannot Stop is the book that all Americans who care about the current and long-burning crisis in race relations will want to read. As the country grapples with racist division at a level not seen since the 1960s, one man's voice soars above the rest with conviction and compassion. In his 2016 New York Times op-ed piece "Death in Black and White," Michael Eric Dyson moved a nation. Now he continues to speak out in Tears We Cannot Stop?a provocative and deeply personal call for change. Dyson argues that if we are to make real racial progress we must face difficult truths, including being honest about how black grievance has been ignored, dismissed, or discounted. "The time is at hand for reckoning with the past, recognizing the truth of the present, and moving together to redeem the nation for our future. If we don't act now, if you don't address race immediately, there very well may be no future." Legendary author Toni Morrison hails Tears We Cannot Stop as "Elegantly written and powerful in several areas: moving personal recollections; profound cultural analysis; and guidance for moral redemption. A work to relish."
RYAN
For the tormented idealist
The Unsettlers by Mark Sundeen
$26.00 in Hardcover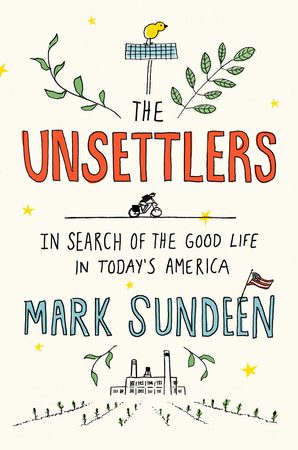 "You say you want a revolution? These stories of "unsettlers" striving to lead more simple lives are an inspiration as well as a dose of reality on how difficult that can be. This is an important book."
—Yvon Chouinard, founder of Patagonia