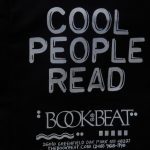 UPDATE: On Monday Night, March 6, Facebook restored the Book Beat page (to our great relief) and sent us this letter;
"Hi, We're reaching out to you about your Page, located at
www.facebook.com/BookBeat
. We had previously removed this Page after receiving a report that it violated Facebook's Statement of Rights and Responsibilities. Upon further review, we realized that this was an error and we've restored your Page to the site. We're sorry for any confusion this may have caused you."
Here is how the page was first removed and what we did.
On the afternoon of Friday, March 2nd, 2017, Facebook removed the Book Beat's business website. Suddenly we lost over ten years of photographs, bookstore events, history, customer contacts, comments and posts we've made and shared with friends of the bookstore. The reason for our page removal cited by Facebook was for an "infringement of intellectual property" –the complaint was followed by a report # 1251702271587860 , Rights Owner: BookBeat AB and a contact email.
The instructions given by Facebook were to contact the person by email, because only that person could remove the complaint and restore our website. I explained we had incorporated as Book Beat LTD in 1982, and have had over 10 years of our history vanish on the Facebook page they had taken down. The person behind the complaint as well as FB have not responded to any of our requests for comment.
After a little research, it became clear that the complaint against Book Beat represents an online Swedish digital-book company founded in 2015: BookBeat.com –a name familiar to us. In the past, we've tried to buy the rights to Bookbeat.com, once owned by an unscrupulous reseller of registered and parked URL names. They wanted thousands for the use of the URL, so we eventually settled on thebookbeat.com in the 1990s for our bookstore URL address.
Looking deeper into BookBeat.com, shows it to be a subsidiary owned by the Swedish Bonnier book group, a multi-million-dollar, multi-national with 9,000 employees worldwide. In an August 2016 story in Publisher's Weekly, the Bonnier group stated they would be taking an office on Park Avenue in New York City and begin a $100 million expansion into the United States book market.
Perhaps we can understand how Facebook could be persuaded to remove a small bookstore page after getting a request backed by the impressive Bonnier group. All letters and complaints to Facebook have gone unanswered or with a form letter: "Hi, It doesn't look like we can help you with the problem you're having here…" and a link back to their help center. We've sent a complaint to the Better Business Bureau but am sure Facebook will not try and mediate or get involved. That's not FB policy.
Thanks to several good ideas from our customer Kathryn, we've begun a new and hopefully temporary Facebook page for our business:https://www.facebook.com/BookBeatbookstore/
We have also begun an inquiry through the legal system to defend the rights to our name, and regain access to our content, or have that content transferred to the new page. We didn't want to make a new page but we were forced to do it.
We are asking our friends and customers to please follow and support us on the new page. We value your friendship and patronage, and will try and keep people updated from here and there in the future. Thank you.
Cary, Colleen, and the staff at Book Beat
PS As this incident was resolved and our page restored, we realized how compassionate and thoughtful this community is, and how many of you came to our aid quickly. The media was also there and exposed us to many more people than we could reach by ourselves. It was this overwhelming support and your combined voices that made Facebook quickly reconsider its decision.
Our page is back and is here: www.facebook.com/BookBeat.