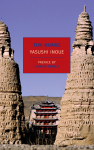 The Book Beat reading group selection for February is Tun-huang by Yasushi Inoue. The Reading Group will meet on Wednesday, February 22nd at 7pm in the Goldfish Tea Room (117 W 4th St #101, Royal Oak, MI 48067). Reading Group selections are discounted 15% at Book Beat. For more information, please call (248) 968-1190. All are welcome!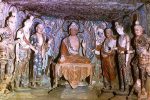 More than a thousand years ago, an extraordinary trove of early Buddhist sutras and other scriptures was secreted away in caves near the Silk Road city of Tun-huang. But who hid this magnificent treasure and why? In Tun-huang, the great modern Japanese novelist Yasushi Inoue tells the story of Chao Hsing-te, a young Chinese man whose accidental failure to take the all-important exam that will qualify him as a high government official leads to a chance encounter that draws him farther and farther into the wild and contested lands west of the Chinese Empire. Here he finds love, distinguishes himself in battle, and ultimately devotes himself to the strange task of depositing the scrolls in the caves where, many centuries later, they will be rediscovered. A book of magically vivid scenes, fierce passions, and astonishing adventures, Tun-huang is also a profound and stirring meditation on the mystery of history and the hidden presence of the past.
A true historical imagination is exceedingly rare, and [Tun-huang] is a superb example of such an imagination at work.
—Robert Payne, ASIA
The unique thing about Inoue's work, for me …. is that every story presents a vision, and that unlike the visions in books by other authors, I can always follow the vision as I'm reading, always believe it; Inoue has lived and felt these images and has the simplest and airiest language for them that I have ever seen. I don't need to first believe his illuminations, they are simply there in the book, as facts.
—Peter Handke
A work of superb historical imagination….
—James Kirkup, The Independent
Early in the 20th century an incredible hoard of Buddhist sutras and other manuscripts was discovered by itinerant monk in Tun-huang. Archaeologists recovered thousands of documents that have been concealed in the Thousand Buddha Caves for 900 years. The author…speculated on the reasons for the hiding of such treasures, and this fascinating and exotic novel is the result.
—Publishers Weekly
Historical reconstruction of a very personal and special kind.
—Donald Richie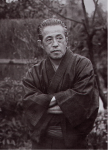 Yasushi Inoue (1907-1991) was born on Hokkaid?, Japan's northernmost island, the eldest child of an army medical officer. After a youth devoted to poetry and judo, Inoue sat, unsuccessfully, for the entrance exam to the Kyushu Imperial University Medical School. He would go on to study philosophy and literature at Kyoto Imperial University, writing his thesis on Paul Valéry. In 1935, newly married and with an infant daughter, Inoue became an arts reporter for the Osaka edition of the Mainichi News. Following the Second World War, during which he briefly served in north China, he published two short novels, The Hunting Gun and The Bullfight (winner of the Akutagawa Prize for literature). In 1951 Inoue resigned from the newspaper and devoted himself to literature, becoming a best-selling and tremendously prolific author in multiple genres. Among his books translated into English are The Hunting Gun, The Roof Tile of Tempy?, and The Blue Wolf: A Novel of the Life of Chinggis Khan. In 1976 the emperor of Japan presented Inoue with the Order of Culture, the highest honor granted for artistic merit in Japan.
Save