Leonard Pitts, Jr. will be making an appearance at the Southfield Public Library on Wednesday, November 4th at 6:30 PM.
Pitts will be reading from and signing his new book, Grant Park. The book explores the last four decades of U.S. race relations through the interconnected stories of two Chicago journalists: Malcolm Toussaint, a celebrated black columnist, and Bob Carson, his unassuming white editor. The novel ricochets between two eras: 2008, when a senator from Illinois stands on the very edge of history, and 1968, the year Martin Luther King engaged in his troubled, fateful campaign on behalf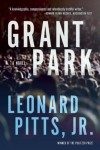 of the African-American garbage men in Memphis.
The night before Election Day, Toussaint sneaks an incendiary, racially charged column into the paper, defying his editors' wishes, and then promptly disappears. The next morning, with Toussaint nowhere to be found, Carson is fired. Toussaint, meanwhile, has been kidnapped off the street by a pair of unlikely-yet-dangerous white supremacists who scheme to bomb Barack Obama's planned Election Night rally in Grant Park. Carson, furious and determined to confront Toussaint, must also deal with the sudden reappearance of his lost love, a fellow former peace activist now working for the Obama campaign.
As Election Day unfolds, both Toussaint and Carson are forced to reconsider the men they had been 40 years before, when their youthful impatience and idealism drove their decisions and their work in the civil rights movement, changing the course of their lives.
Leonard Pitts, Jr. is a Pulitzer Prize-winning columnist for the Miami Herald. He is the author of the novels Freeman and Before I Forget, the memoir Becoming Dad and Forward From This Moment: Selected Columns, 1994–2009.
Book Beat will be selling books for this event. If you have any questions or would like a book but are unable to attend, please call at (248) 968-1190.
Southfield Library is located at 26300 Evergreen Road, Southfield, Michigan 48076. Their website can be found here.