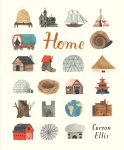 Join us at Book Beat on Saturday, March 28 from 1:00-2:30pm to meet acclaimed illustrator Carson Ellis, who will speak and sign copies of her recently published debut picture book, Home. Carson will also be giving a Power Point presentation and a drawing demonstration. This event is free and open to the public. Books will be available for signing and purchase at the event. For more information, call Book Beat (248) 968-1190. A poster for the event can be downloaded here: Carson Ellis Flyer
Home might be a house in the country, an apartment in the city, or even a shoe. Home may be on the road or the sea, in the realm of myth, or in the artist's own studio. A meditation on the concept of home and a visual treat that invites many return visits, this loving look at the places where people live marks the picture-book debut of Carson Ellis, acclaimed illustrator of the Wildwood series (written by Colin Meloy, her husband and frontman of the Decemberists) and artist for the indie band the Decemberists.
"A dreamy, painterly meditation on the diversity and range of dwellings around the world and across time and imagination. … The text encourages the reader to participate ("But whose home is this? And what about this?"), and the cover illustration further extends the options of where we can live. All the choices are warmly inviting."—The Horn Book
Carson El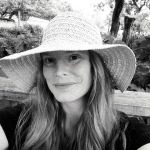 lis is an award-winning illustrator of several children's books, including the New York Times Bestsellers Wildwood, written by her husband Colin Meloy, The Composer is Dead, written by Lemony Snicket, and The Mysterious Benedict Society, written by Trenton Lee Stewart. She received a 2010 Silver Medal from the Society of Illustrators for her art in Dillweed's Revenge, by Florence Parry Heide. She collaborated again with Meloy on the second and third novels in the Wildwood Chronicles series, Under Wildwood and Wildwood Imperium.
Carson also c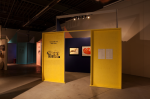 ollaborated with her son, Hank Meloy, on an installation which was part of The Museum of Contemporary Art Detroit's 2014 Peoples Biennial.  Read more about the exhibit here.
Ellis is also well known for her work with the indie folk rock band The Decemberists, for whom she has created album art, t-shirts, websites, posters, and stage sets. Her album covers for the Decemberists include The Crane Wife, Her Majesty the Decemberists, Castaways and Cutouts, The Hazards of Love, and the EPs 5 Songs and The Tain. She has also created artwork for other musicians, such as Laura Veirs, Beat Circus, and Weezer.
 The Decemberists will be in town to play The Royal Oak Music Theater on Saturday, March 28.
Visit her website here.