"Music in the Soul can be heard in the Universe." — Lao Tzu
DETROIT ROCKS! is a collection of text and images by Leni Sincliar and Gary Grimshaw. It covers the the 1960s psychedelic era in Detroit from the Artists' Workshop and Grande Ballroom, to the Free John Now concert with John Lennon and Yoko Ono. An essential testimonial to the life and times of Detroit's counter-culture. (signed copies available, $49.95).
THE BLUES: A VISUAL HISTORY explores the many forms this quintessentially American music has taken. All the great pioneers are here, including Robert Johnson, Muddy Waters, Bessie Smith, and John Lee Hooker, along with the many musicians they influenced who put their own unique spin on the genre. $29.95
BLUE NOTES IN BLACK & WHITE: PHOTOGRAPHY IN JAZZ "In Blue Notes in Black and White you sense an author consumed and excited by his subject. He's synthesized loads of the literature and argument around jazz, and he builds particularly on recent works of historiography." –Ben Ratliff, New York Times
THE ESSENTIAL KLEZMER is the definitive introduction to a musical form in the midst of a renaissance. It documents the history of klezmer from its roots in the Jewish communities of medieval Eastern Europe to its current revival in Europe and America. $15.95
AUTOBIOGRAPHY by Morrissey. $18.00 "Practically every paragraph has a line or two that demands to be read aloud to the mirror, tattooed on foreheads, carved on tombstones."–Rob Sheffield, Rolling Stone
"Morrissey's Autobiography is brilliant and relentless. Genius, really."–Douglas Coupland
SPACE IS THE PLACE: THE LIVES & TIMES OF SUN RA is one of our favorite books we love to feature during the holidays. This definitive biography reveals the life, philosophy, and musical growth of one of the twentieth century's greatest avant-garde musicians. paperback $18.00
Music is the mediator between the spiritual and the sensual life. ~Ludwig van Beethoven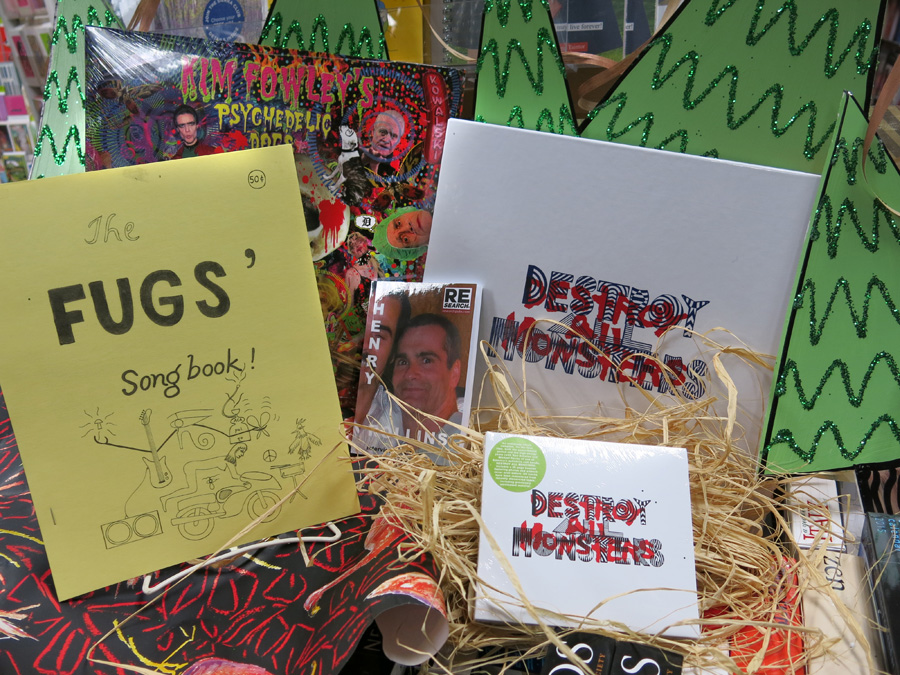 THE FUGS SONGBOOK collects 26 songs by the infamous Fugs. This reprint was authorized by poet and Fug founder Ed Sanders for the 50th anniversary of the Detroit Artists Workshop, issued in a total edition of 200 copies and featured in WORK BOX. Only a few of these reprints will be available for a short time $15.
KIM FOWLEY'S PSYCHEDELIC DOGS: DETROIT INVASION is a monumental release featuring 12 songs recorded and written in Detroit by Kim Fowley in 2012, during his legendary performance at the Hamtramck Blowout. Produced by Matthew Smith and printed in an edition of 400 copies. Pick one up soon! vinyl LP $15.00
HENRY ROLLINS INTERVIEW BY V. VALE Whatever Henry wants to do, he does it while giving his full attention, like a kind of Zen master. RE/Search tries to reveal the full scope of his creativity, achievements and darkly sardonic perceptiveness and contempt for cliche. This book is full of both humor and inspiration. paperback $12.95
DESTROY ALL MONSTERS: HOT BOX 1974-1994 "Destroy All Monsters are the object of one of the most devotional cults of America's cultural underground, as testified by their abundant artistic and record production. Hot Box 1974-1994 is the first anthology to bring together the best outcome of those two hemispheres, including much unreleased material." –from the Munster records site 3 LP vinyl set: sale priced! ($49.99 for a limited time) 2x CD set: 24.99
"Music gives a soul to the universe, wings to the mind, flight to the imagination and life to everything."

–Plato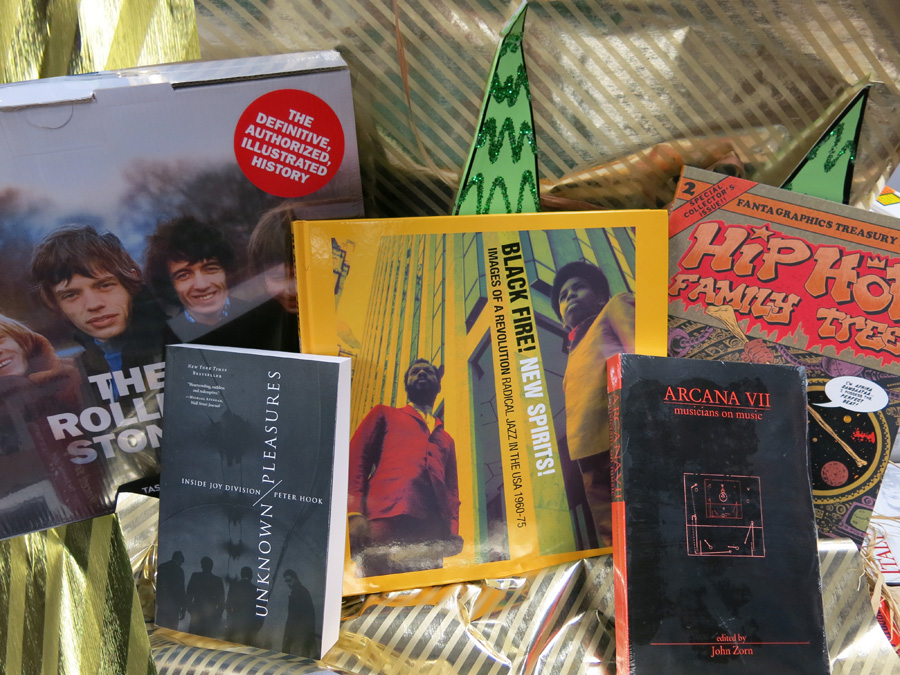 THE ROLLING STONES The definitive, authorized illustrated history of the world's greatest rock 'n' roll band. Produced in close collaboration with the band, this book charts the Stones' remarkable history and outrageously cool lifestyle in over 500 pages of photographs and illustrations, many previously unseen, and gathered from archives all over the world. hardcover, $150.
UNKNOWN PLEASURES: INSIDE JOY DIVISION. "Vivid, funny, and unexpectedly touching, Peter Hook's memoir strips away the shroud of myth surrounding Joy Division to offer a refreshingly gritty perspective on the story of four ordinary young men who together made extraordinary music." –Simon Reynolds. paperback, $18.95
BLACK FIRE! NEW SPIRIT! Images of a Revolution: Radical Jazz in the USA 1960-75. This large-format deluxe hardback book features hundreds of stunning photographs of the new jazz musicians in the USA throughout the 1960s, presented with an introductory essay and biographies on the many artists included in the book. $49.95
ARCANA VII: MUSICIANS ON MUSIC. John Zorn's acclaimed Arcana series, now in its seventh installment, is a major source on new music theory and practice in the twenty-first century. The most varied collection to date, Arcana VII includes personal essays by New Music luminaries Pat Metheny, Bryce Dessner, Irvine Arditti, Thurston Moore, Kenny Werner, Eugene Chadbourne and David Krakauer alongside articles on musical theory and practice by veterans Joe Morris, Matt Shipp, Ben Goldberg, Ches Smith, George Steel, Billy Martin, Hilda Paredes and Gloria Coates and insightful new views by younger musicians Chris Otto, James Moore, Theresa Wong, Shanir Blumenkranz, Jay Campbell, Du Yun, James Ilgenfritz, Chuck Bettis, Aya Nishina and many others. A kaleidoscope of manifestoes, scores, interviews, critical papers, musical studies, rants and more, Arcana VII is a fascinating compendium from first word to last. $34.95
HIP HOP FAMILY TREE: VOLUME TWO. An acclaimed graphic novel of the Hip Hop movement. This volume covers hits like Afrika Bambaataa's Planet Rock, Grandmaster Flash and the Furious Five's the Message, the movie Wild Style and introduces superstars like NWA, The Beastie Boys, Doug E Fresh, KRS One, ICE T, and early Public Enemy. Cameos by Dolemite, LL Cool J, Notorious BIG, and New Kids on the Block (?!)! $27.99
Music washes away from the soul the dust of everyday life. ~Berthold Auerbach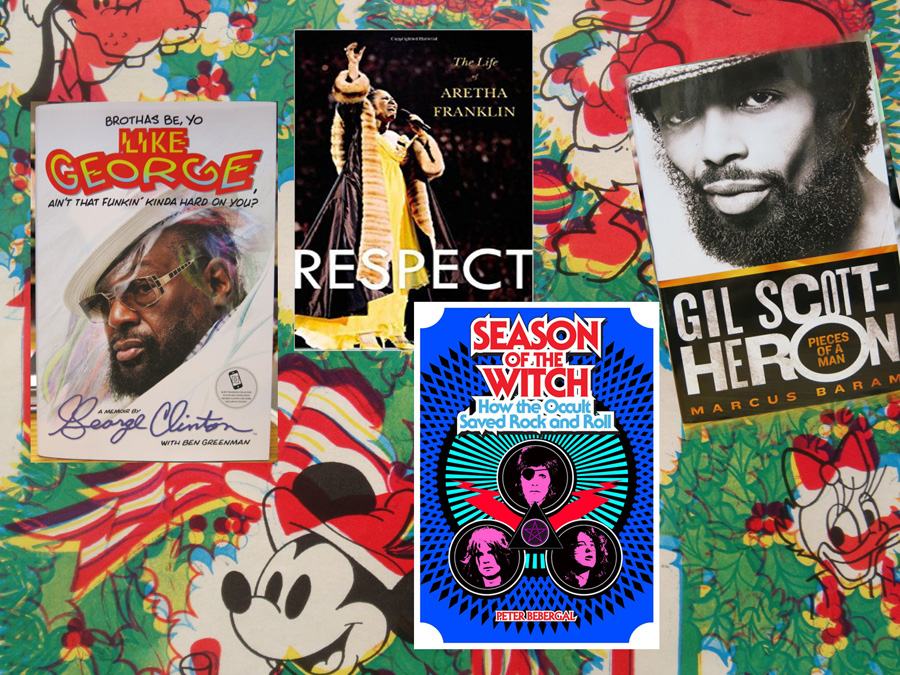 BROTHAS, BE, YO LIKE GEORGE, Ain't That Funkin' Kinda Hard on You?: A Memoir by George Clinton, hardcover, $27.00. "People will come to this book looking for druggy tales and eccentric stories, and they will not be disappointed. However they will also encounter a highly intelligent, visionary man who happens to have an encyclopedic knowledge of pop music from doo wop to hip hop. P-Funk worked because George Clinton knew how to weave all the threads together." –Nelson George. Tavis Smiley in a recent Interview with Funk Master George Clinton.
RESPECT: THE LIFE OF ARETHA FRANKLIN, by David Ritz, hardcover, $30.00. "An honest and genuinely respectful portrait of a true diva by a writer who feels the power of her art." —Kirkus Reviews (starred review)
Season of the Witch: How the Occult Saved Rock and Roll "From grimoires to topographic oceans, from heavy metal to hip-hop, Peter Bebergal tracks the Mysteries through half a century of popular music (and some underground noise as well). At once an overview of rock's mystic rebellions and a handy primer on modern esoterica, Season of the Witch suggests that we may need to round out the trinity of sex, drugs, and rock' n' roll with an additional deity: the occult, another primal portal to a re-enchanted world." –Erik Davis
Gil Scott-Heron: Pieces of a Man by Marcus Baram, hardcover $26.99. "A poignant portrait… of the artist as a black man struggling to make sense of his culture from the 1960s to his death… Baram's appreciative biography offers a glimpse into the complex feelings and thoughts of this Renaissance man we lost much too soon." – Publishers Weekly. Read an excerpt from Gil Scott-Heron: Pieces of a Man< in The New York Daily News
"One good thing about music, when it hits you, you feel no pain."
–Bob Marley
DUST & GROOVES: ADVENTURES IN RECORD COLLECTING. A record lover's nirvana! Eilon Paz's 436-page coffee-table book illuminates over 130 vinyl collectors and their collections in the most intimate of environments—their record rooms. With a foreword by the RZA, compelling photographic essays are paired with in-depth interviews to illustrate what motivates record collectors to keep digging for more records.
DISCO: An encyclopediac guide to the cover art of disco records. Featuring more than 2,000 album cover designs (including hundreds of full-size covers) as well as over 700 12-inch sleeves, this book is truly an encyclopedic document of disco music and the industry and culture attending it. In addition to the visual documents from the era, the book includes interviews with a number of important disco figures such as Mel Cheren (West End Records), Henry Stone (TK Records), Ken Cayre (Salsoul), Marvin Schlachter (Prelude) and Tom Moulton, as well as histories, biographies and discographies of all the major disco record companies, plus sections on roller disco sleeves, disco instruction albums, 12-inch sleeves and a scrapbook of disco ads.
ROCK COVERS. Each cover is accompanied by a fact sheet listing the art director, photographer or illustrator, year, label, and more, while nearly 250 records that marked particular turning points for a band, an artist, or the music genre, are highlighted with short descriptions.This far-reaching catalog of visualized rock is contextualized with insider interviews with five professionals who shaped the history of rock, and by top-10 record lists from ten leading rock collectors.
HIPGNOSIS PORTRAITS "This fascinating book showcases the photo and design talents of perhaps the most influential design collective in album art history….Powell's recollections are as charming as the final photos are intense." (USA Today)
UNCOMPROMISING EXPRESSION. Featuring classic album artwork, unseen contact sheets, rare ephemera from the Blue Note Archives, commentary from some of the biggest names in jazz today, and feature reviews of seventy-five key albums, this is the definitive book on the legendary label.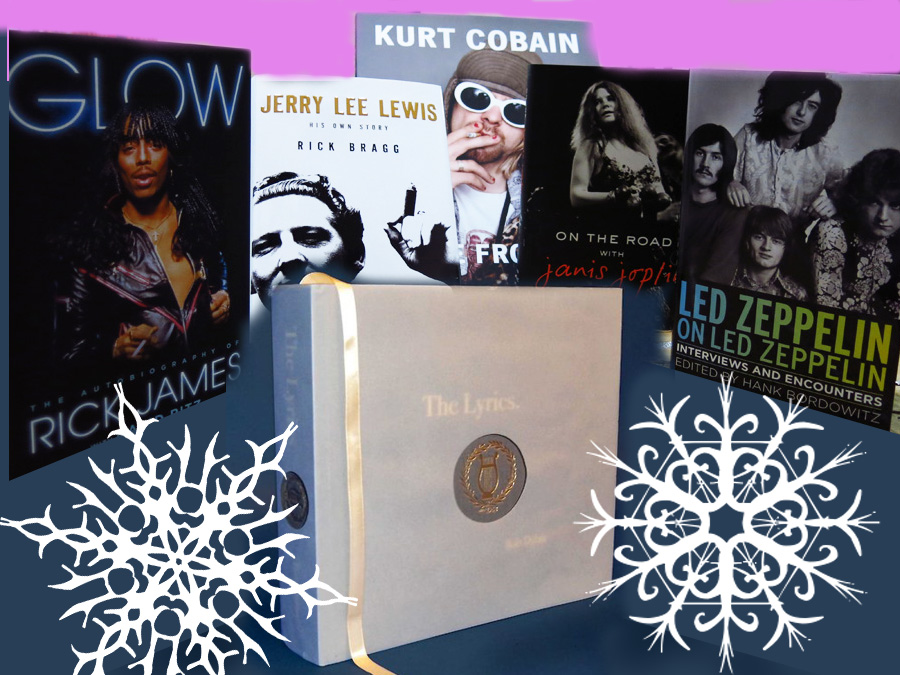 GLOW The Autobiography of Rick James. Best known for his song "Super Freak," hitmaker, singer, innovator, producer, award-winning pioneer in the fusion of funk groove and rock, the late Rick James collaborated with music biographer David Ritz in this posthumously published, wildly entertaining, and profound expression of a rock star's life and soul.
Jerry Lee Lewis HIs Own Story by Rick Bragg "An iconic rocker receives a warm, admiring biography from a Pulitzer Prize-winning journalist and author . . . Throughout, Bragg displays his characteristic frisky prose . . . From a skilled storyteller comes this entertaining, sympathetic story of a life flaring with fire, shuddering with shakin'." –Kirkus
KURT COBAIN: THE LAST SESSION "Some of the most enduring images ever taken of the rock star. All the hallmarks of grunge and Kurt's particular sensibility are there: his Jackie O sunglasses, the chipped paint on his fingernails, the patched jeans, and, most of all, Cobain's iconoclastic vulnerability." (Vogue.com)
ON THE ROAD WITH JANIS JOPLIN. "Janis Joplin was absolutely a barnstormer and a complete groundbreaker. She wasn't just a great woman in rock—at the time she was the woman in rock. Janis really created this whole world of possibility for women in music: Without Janis Joplin, there would be no Melissa Etheridge. Without Janis, there would be no Chrissie Hynde, no Gwen Stefani. There would be no one." —Rosanne Cash
LED ZEPPELIN ON LED ZEPPELIN "You'll find a trove of interviews with guitarist Jimmy Page, singer/lyricist Robert Plant, bassist John Paul Jones and the late drummer John Bonham going back to 1957, and covering every phase of the band's evolution…Readers, even hard-core Ledheads, will likely learn much that is new from "Led Zeppelin on Led Zeppelin."" —The Record & Herald News
THE LYRICS: SINCE 1962 by BOB DYLAN A major publishing event—a beautiful, comprehensive collection of the lyrics of Bob Dylan with artwork from thirty-three albums, edited and with an introduction by Christopher Ricks. Limited edition of 3000 copies.