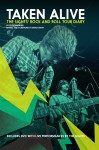 The Sights front-man turned author Eddie Baraneck will be performing and signing copies of his newly-released book, Taken Alive: The Sight's Rock and Roll Tour Diary at the Royal Oak Public Library (222 E 11 Mile Rd, Royal Oak, MI 48067) on Saturday, May 31 from 2:00-3:00pm. Eddie will play guitar, sing, and read from the diary, and bring stories from the road. Join us for a fun and engaging afternoon, as we hear what life's like on the road for a Detroit rock and roller.
Taken Alive was chosen by the Library of Michigan as one of the Michigan Notable Books for 2014, and this program was made possible with the Library of Michigan's generous assistance. Books will be available for purchase following the program courtesy of Book Beat. Registration is requested here. Or call the Library adult services desk at 248-246-3727. Sponsored by the Friends of the Royal Oak Public Library.
Visit the website home of the Awesome Sights
Taste a sample of Taken Alive
Taken Alive is a 270-page compilation of tour diaries written by Sights front man Eddie Baranek while touring the U.S. and Europe in support of Tenacious D. The book includes stories, photos and maps from the tour and a DVD featuring over a dozen electrifying performances from the Sights' November 3, 2012 homecoming gig at the Park Bar in Detroit.