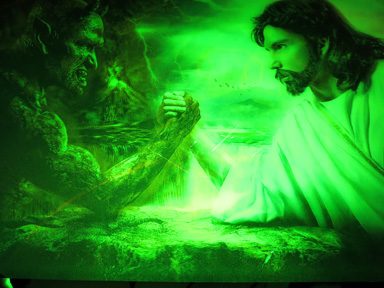 One of Mike Kelley's last artworks (and one he never saw completed) was the Mobile Homestead public sculpture, a re-creation of his childhood home in Wayne—and gift to the city of Detroit. In a radio interview, Jim Shaw pointed out, this work could be considered Mike's tomb –true in one sense, but it's also expansive, a return to the beginning—to faith in the future, an artistic revival, reclaiming the city and family (he outwardly rejected).
The two story hidden basement of the Mobile Homestead could also be a God's Oasis restart button, a return to the DAM practice pad and corner nook of Kelley's youth —but in the basement of the Homestead (a flipped mirror of the top floor 'living space' of the Kelley family home) space is abused and chopped into a confusion of claustrophobic tunnels, dead ends and wrong turns–windowless and doorless chambers accessible only by submarine ladders and hatches two stories deep –a false architecture of loops and voids. The basement of God's Oasis in Ann Arbor was not only Mike Kelley's bedroom and studio it also served as the practice room for DAM. In Mike Kelley's original home there was no basement.
Roaming through the small spaces in the Homestead basement can be disorienting. Its a labyrinthine design whose purpose we will never know. Mike had intended it to be his studio and to feature installations with DAM. It is a psychologically disturbed space and uncomfortable area to remain in for almost any length of time. Many of the rooms have a natural reverb built in, making it somewhat interesting as a recording studio.
Goin' home, Goin' home, back to the basement…
Leni Sinclair said at the opening ceremony, "I'd like to paint the words 'Rosebud' on the back of the house." Mike Kelley once said, "Well, come on back. Your room's just like it was when you left. We've kept it exactly the same, untouched, in anticipation of your return. You're home."[i] Rosebud: something he couldn't get or something he lost… a missing piece in the jigsaw puzzle of life —cue the final scene of Citizen Kane: the camera zooms across the basement of Xanadu's furnace room to reveal the burning sled of Kane's youth.
Folks think I'm big(now) –out of Detroit City
From things they hear, they think I'm blessed
By day I produce sculpture
But at night I am a vulture
Feeding on the corpse of the past
I want to go home, I want to go home
Oh Lord, I want to go home[ii]
–Mike Kelley
–excerpt from "God's Oasis & Other Tales from the Psychedelic Sand Pit"
---
[i] Mike Kelley, 'GOIN' HOME, GOIN' HOME' in Minor Histories: statements, conversations, proposals edited by John C. Welchman (Massachusetts Institute of Technology, 2004) p.79
[ii] Mike Kelley, a rewritten verse set to Tom Jones' song Detroit City, Mobile Homestead project
Mobile Homestead basement recording May 11, 2013, Jim Shaw and Cary Loren, excerpt #1: sublevel mould/ practice session
Studio 360 radio podcast: THE SECRETS OF THE MOBILE HOMESTEAD
"Mobile Homestead covertly makes a distinction between public art and private art, between the notions that art functions for the social good, and that art addresses personal desires and concerns. Mobile Homestead does both: it is simultaneously geared toward community service and anti-social private sub-cultural activities. It has a public side and a secret side… I never intended the project to have any positive effect. .. Public art is a pleasure that is forced upon a public that, in most cases, finds no pleasure in it."
—Mike Kelley, 2011 —from Mobile Homestead Essay
"It was John Sinclair and the White Panther Party that was a big influence on me. It opened my eyes to a world outside of here and the kind of political issues I would never hear about in school or in the newspaper –basically that's what led me as a young teenager to an interest in fine art…" –Mike Kelley, interviewed by Artangel founder (and backer of the Mobile Homestead) James Lingwood /interviews Mike Kelley
more info from MOCAD on the Mobile Homestead project.