Beautiful and exotic actress Maila Nurmi known to her legions of fans as Vampira, died peacefully in her sleep from cardiac arrest on January 10th, 2008. The star of Plan 9 From Outerspace and similar "Z" grade motion pictures, Nurmi was best known as the 1950s Los Angeles TV horror-host Vampira, a glamorous ghoul with a plunging neckline and 13″ waist, who would introduce sludge grade movies and toast you with her bottle of sulphuric acid.
She started the horror show host phenomenon in the year 1954-1955 and based her dress and cool morbid attitude on Charles Addams' Morticia character as seen in New Yorker cartoons mixed in with her own twisted beat sensibility. Vampira was the original horror host, an icon of gothic style and beatnik beauty. She earned $75.00 a week for her role, and was cancelled due to public outrage. None of the shows exist, except for the on-set stills, they  remain the stuff of legends and rumor.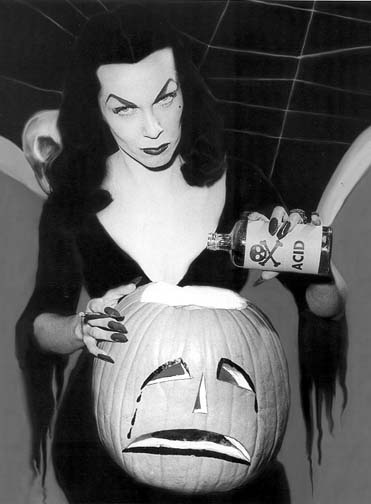 In 1959, she was "discovered" by Ed Wood Jr., the transvestite genius director of bad movies, and stole the show in Plan Nine From Outerspace, playing a grave robbing ghoul alongside wrestler Tor Johnson and Bela Lugosi. She can now afford a much needed rest and toast together with fellow ghouls Ed, Bela, Tor and her late paramour and best friend James Dean.
In her later years, Nurmi opened an antique store called Vampira's Attic and worked on the Kevin Sean Michaels documentary, Vampira: The Movie, released in 2006.
Hear one of the last live interviews with Nurmi where she talks about the creation of Vampira on You Tube. Learn more about this independent, unique and doomed actress at SCREEN SIRENS. Rest in peace, my lovely ghoul and as Vampira would say at the end of each show, "Bad dreams, darling."