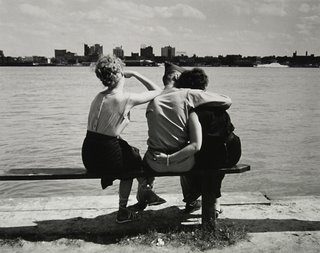 For the past several years, an informal group of photographers and photo educators have been meeting every 6-8 weeks in the Book Beat backroom gallery. The group began as a suggestion by Bill Rauhauser, dean of Detroit area photography.
At 86 years, Bill has seen and witnessed it all. For over four decades he taught photo history at the Center for Creative Studies. One of Bill's Detroit images was included in  Edward Steichen's famous "Family of Man" exhibit in the early 1960s and later adopted into a famous sculpture. Rauhasuer is also the author of several photo books all centered around Detroit.
At the photo group meetings we share technical advice, events, gossip, history and criticism. Discussions range from a marvelous intensity to the mundane. The meetings are always interesting and a chance to swap stories around a bottle of wine. The photo group is an eclectic mix of photographers who explore fine art, commercial work and anything in-between. There is no specific agenda beyond sharing  our common love for photography and its strange and evolving history.


A Detroit photo group exhibition was recently suggested at a meeting and is now on display through the end of January 2008 in the Book Beat gallery. Recent works by Marilyn Zimmerman, Bob Mosher, Chuck Cloud, David Griffith, Barry Roth, Eric Smith, Gene Meadows, Vincent Fregonara, Rick Lieder, Robert Shimmin, Carla Anderson, Mary Quinn, Cary Loren and Bill Rauhauser are now on view. It is an eclectic show that ranges from contact platinum prints to digital photographs made without a camera. This small exhibition demonstrates the diversity of approaches in a medium still trying to be understood, ripe with conflict and purpose. The Book Beat gallery is located at 26010 Greenfield in Oak Park, Michigan. Call 248-968-1190 for more information.
image above: by Bill Rauhauser chosen by Edward Steichen for inclusion in the Family of Man exhibition.