"Our lives begin to end the day we become silent about things that matter."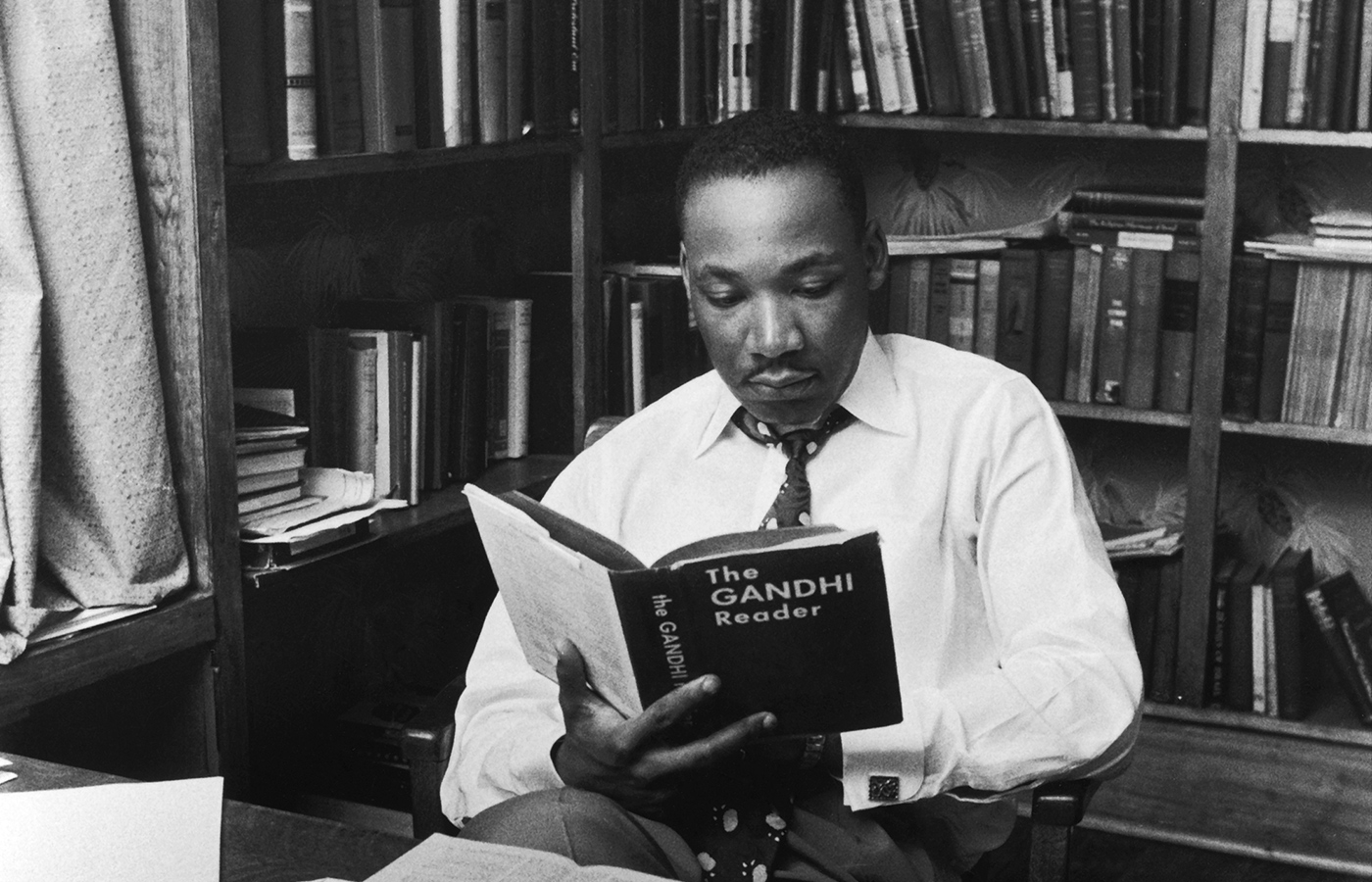 Dear Friends and Readers,
We'd like to give thanks and gratitude for your love of books and book-giving in 2021, and over the past 39 years as well. We sincerely appreciate your support which enables us to do what we love—to share books and ideas with our Metro-Detroit community. We wish you all peace, prosperity and health in the new year.
The year 2021 has been especially lucky for us. We have maintained an open shop with a requirement of masks worn for entry, we've remained healthy, and hope we've kept our customers safe as well. We have also recently signed a new lease with the expectations of remaining here for at least another five years. Our new lease includes an increase in rent of nearly 50% per month, an increase that will be hard to meet without the continued support of area readers and our online community as well.
We are trying to adapt to this new situation, and cover our expenses, so we have made the decision to end our discounting of children's hardcover books after the end of January. Teacher and institutional discounts will remain in place. Selected fiction and non-fiction bestselling hardcovers in stock will continue to receive a 10% discount.
Thank you for your continued support, friendship, and belief in bookstores. Together we hope to grow and present many more quality books and programs in the future. In August we will be celebrating forty years in business and are planning some fun events both virtually and in-store. We hope you can join us!
We hope you can spend time honoring Martin Luther King Jr. Day this year by learning more about his legacy of peace, non-violence, and civil rights. Below is a guide to some MLK resources.
Yours in good reading,
Cary, Colleen, and the Book Beat staff
---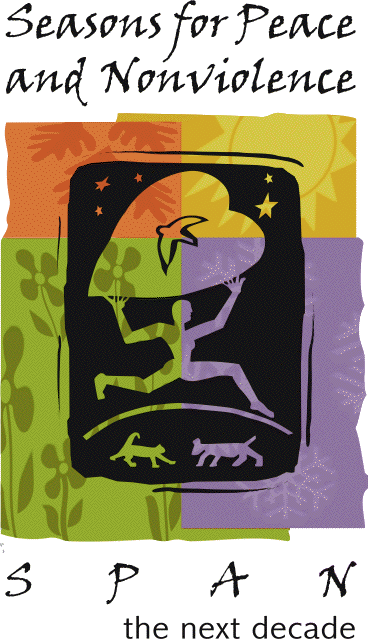 A Season for Peace & Non-Violence
"Nonviolence is the answer to the crucial political and moral question of our time – the need for man to overcome oppression and violence without resorting to violence and oppression. Civilization and violence are antithetical concepts." –Martin Luther King, Jr., Nobel Prize Acceptance Speech
The M.K. Gandhi Institute for Nonviolence is a nonprofit that equips people to use nonviolence to create a sustainable and just world for all. The Season of Peace and Non-Violence (SPAN) begins January 30 – April 4. SPAN takes place over a 64 day period to commemorate the assassinations of Mahatma Gandhi and Martin Luther King, Jr. respectively. SPAN honors their vision for an empowered, peaceful, nonviolent world, and was created by the Association for Global New Thought (AGNT). It celebrates four themes: Nonviolence, the Earth, Humane Service and Interfaith-Intercultural relationships.
Parents, teachers, and students are encouraged to look over the suggested reading list and resources available on the Gandi Institute page.
The values of nonviolence and love that Dr. King stood for and gave his life for, was in the service of protecting equality, justice and dignity for all people. These are ideals to be kept and continually taught. We can protect this legacy and celebrate the vision of Martin Luther King, Jr. by reading Dr. King's words, learning about his life and accomplishments, educating others about his dream, and by practicing kindness, anti-racism, and peace.
---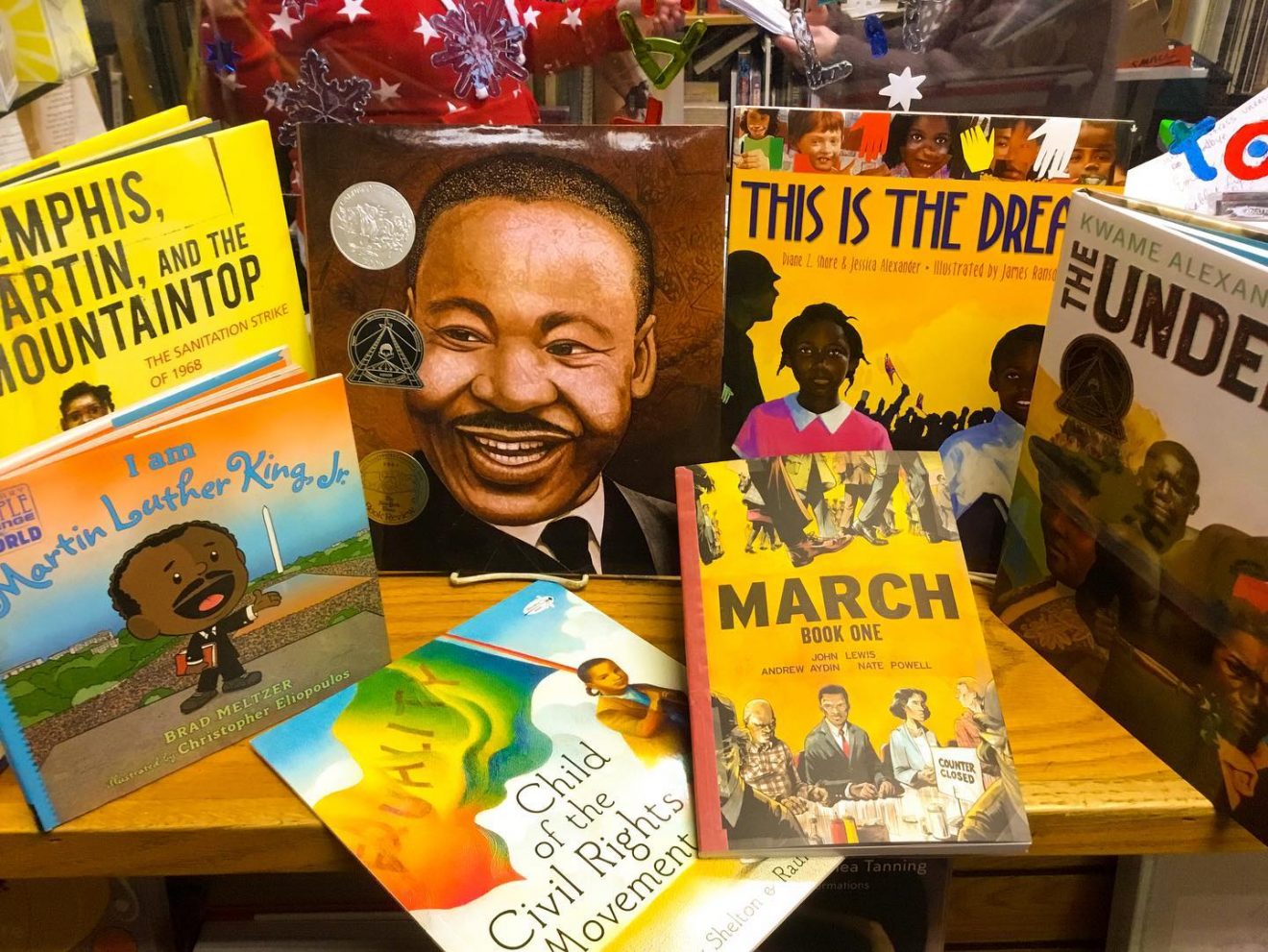 Stories for Martin Luther King, Jr. Day
Deepen your understanding of the history of civil rights in America by listening to the voices of people who lived it. This collection of StoryCorps conversations is in memory of Dr. Martin Luther King, Jr., and the true stories of those who carry the legacy of the civil rights movement with them. —The Story Corps.org
Visit or revisit our post on Anti-racism in Picture Books
---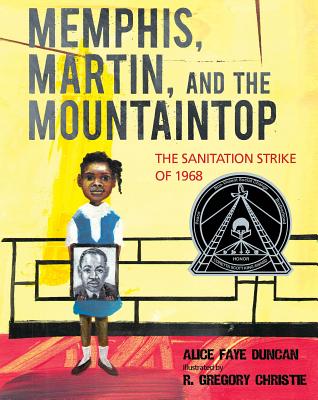 Memphis, Martin, and the Mountaintop: The Sanitation Strike of 1968
By Alice Faye Duncan, illustrated by R. Gregory Christie
A 2019 Coretta Scott King Illustrator Honor Book * A School Library Journal Best Book of the Year * A Booklist Editors' Choice * A Kirkus Reviews Best Children's Book * Booklist Top 10 Diverse Books for Middle Grade or Older Readers * A Chicago Public Library Best of the Best Books
[A] history that everyone should know: required and inspired. —Kirkus Reviews
This historical fiction picture book presents the story of nine-year-old Lorraine Jackson, who in 1968 witnessed the Memphis sanitation strike–Dr. Martin Luther King Jr.'s final stand for justice before his assassination–when her father, a sanitation worker, participated in the protest.
---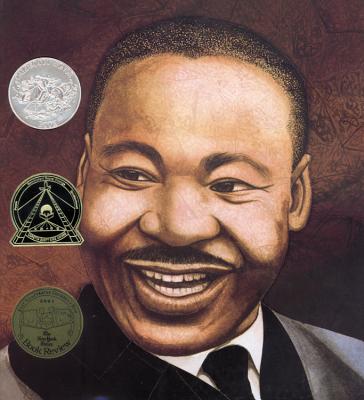 Martin's Big Words: The Life of Dr. Martin Luther King, Jr.
By Doreen Rappaport (Author) and Bryan Collier (Illustrator)
This picture-book biography is an excellent and accessible introduction for young readers to learn about one of the world's most influential leaders, Dr. Martin Luther King, Jr. Doreen Rappaport weaves the immortal words of Dr. King into a captivating narrative to tell the story of his life. With stunning art by acclaimed illustrator Bryan Collier, Martin's Big Words is an unforgettable portrait of a man whose dream changed America-and the world-forever.
---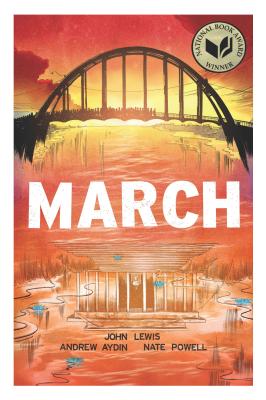 March A Trilogy
By John Lewis, Andrew Aydin and artist Nate Powell
March Book 3 Winner, National Book Awards 2016 for Young People's Literature
"Brave acts of civil disobedience… [give] March its educational value even as Powell's drawings give Lewis's crisp narration an emotional power."- The New York Times
"There is perhaps no more important modern book to be stocked in American school libraries than March." – The Washington Post
"Essential reading… March is a moving and important achievement… the story of a true American superhero." – USA Today
"An incredible accomplishment. It is the history of John Lewis, the Civil Rights Movement and his role in it… a book that explains – more deeply than anything else I've ever read – the methods and the moral foundations of the civil rights movement, how civil rights activists did what they did and won what they won, and how they had the strength to do it in the most difficult circumstances imaginable." – Rachel Maddow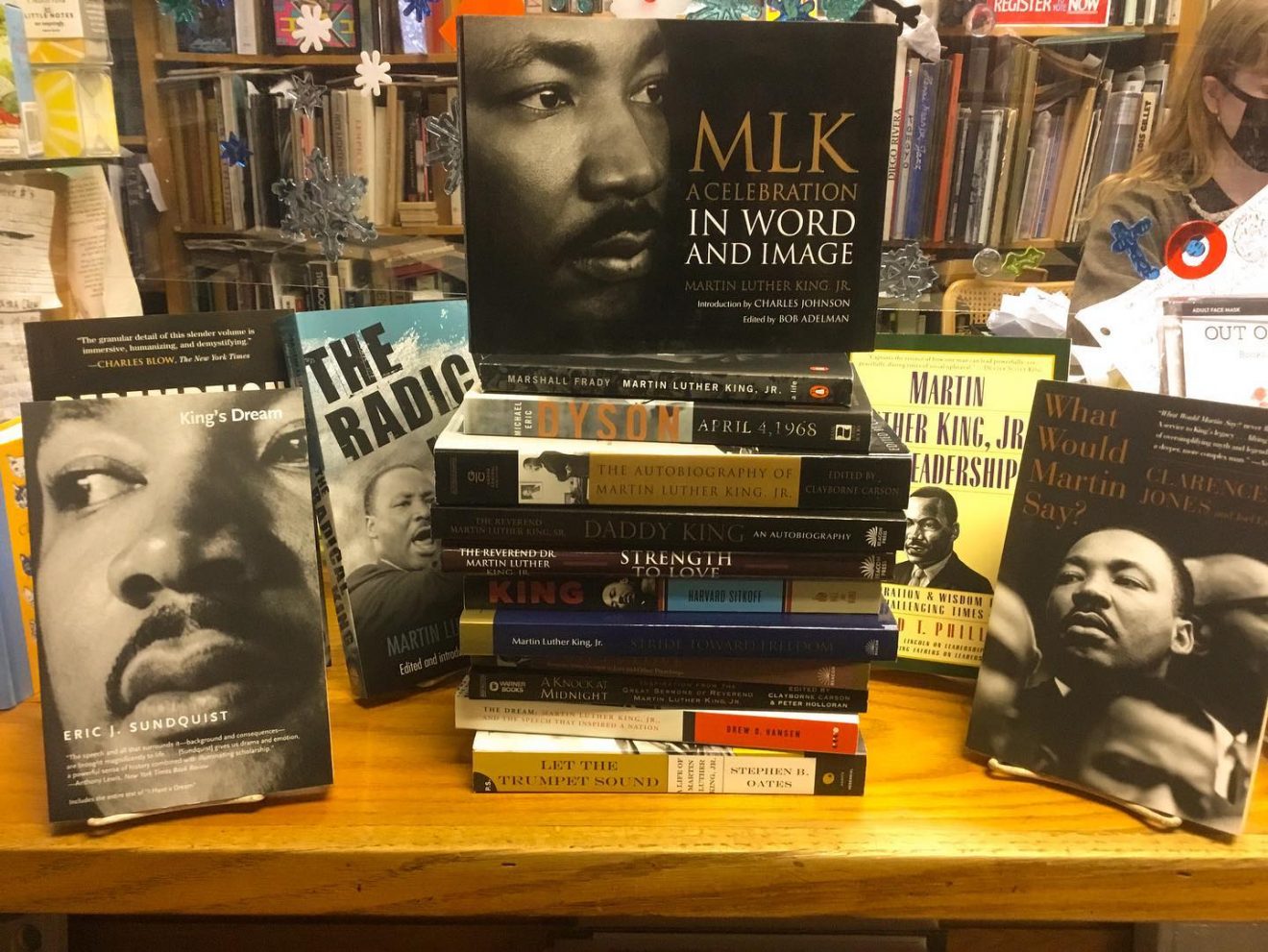 OTHER READINGS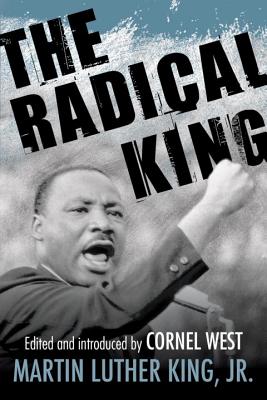 The Radical King
by Martin Luther KIng, Jr.,and Cornel West, editor
A revealing collection that restores Dr. King as being every bit as radical as Malcolm X
"The radical King was a democratic socialist who sided with poor and working people in the class struggle taking place in capitalist societies. . . . The response of the radical King to our catastrophic moment can be put in one word: revolution–a revolution in our priorities, a reevaluation of our values, a reinvigoration of our public life, and a fundamental transformation of our way of thinking and living that promotes a transfer of power from oligarchs and plutocrats to everyday people and ordinary citizens. . . . Could it be that we know so little of the radical King because such courage defies our market-driven world?" –Cornel West, from the Introduction
---
The Autobiography of Martin Luther King, Jr. Written in his own words, this history-making autobiography is Martin Luther King: the mild-mannered, inquisitive child and student who chafed under and eventually rebelled against segregation; the dedicated young minister who continually questioned the depths of his faith and the limits of his wisdom; the loving husband and father who sought to balance his family's needs with those of a growing, nationwide movement; and the reflective, world-famous leader who was fired by a vision of equality for people everywhere.
---
"The essence of nonviolence was a refusal to retaliate against evil, a refusal based on the realization that "the law of retaliation is the law of the multiplication of evil."
— David J. Garrow, Bearing the Cross: Martin Luther King, Jr., and the Southern Christian Leadership Conference
---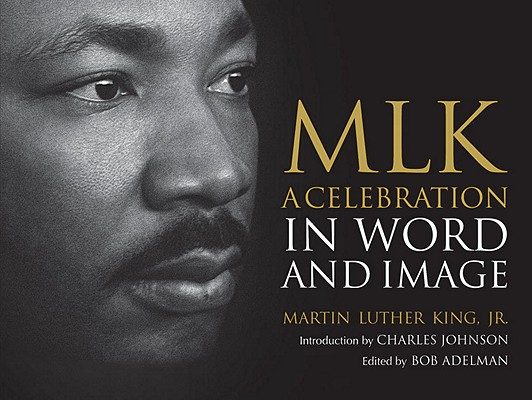 MLK: A Celebration in Word and Image, an unprecedented collection of black-and-white photographs combined with stirring quotations by Dr. Martin Luther King, Jr.
This treasured collection includes images by legendary photographers such as Henri Cartier-Bresson, Bob Adelman, and Flip Schulke, and is an unparalleled photobiography that presents intimate moments from King's personal and public journey. We see King in all his manifestations–as a new father and doting husband, as a civil rights champion leading racial protests, and as a charismatic speaker preaching electrifying sermons. Triumphant events like King delivering his "I Have a Dream" speech and marching in Montgomery are beautifully captured, as are private moments of him reflecting on his Nobel Peace Prize or working in his study.
---
Martin Luther King, Jr., on Leadership: Inspiration and Wisdom for Challenging Times
By Donald T. Phillips
Martin Luther King, Jr. provided inspired leadership during one of the most difficult times in American history. His success as a leader can be broken down into a few basic principles: preparing to lead by listening to others; guiding a movement by encouraging creative, flexible viewpoints; inspiring action by working with people; and ensuring future success by emphasizing a hopeful, compassionate dream.
---
Life's most persistent and urgent question is, 'What are you doing for others?
–Martin Luther King, Jr.
---
The Book Beat is open: Mon-Sat 10 AM-6 PM, Sun: 12-5 PM, curbside pickup is available. Call us at (248) 968-1190 for more information or to place an order. Orders and inquiries can also be sent to: BookBeatOrders@gmail.com Visit our affiliate store online at Bookshop.org