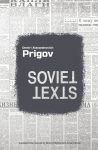 Soviet Texts
Dmitri Alexandrovich Prigov
Ugly Duckling Presse
A woman kicked me in the subway
Well, pushing and shoving, what can you do
But in this case she obviously crossed
The line and the whole thing shifted
Into an unnecessarily personal interaction
Naturally, I kicked her back
But immediately begged her pardon
Simply because I was a superior person
—from "Terrorism with a Human Face"
Poet of the late/post-Soviet era, meaning (1) Prigov's works tended to have few formal, legal distribution systems (which in no way diminished his reputation) and that, (2) during the Soviet era poets had little difficulty provoking the authorities, even when—and perhaps especially when, as here—the poet writes in the language of the authorities themselves. (American writers Vanessa Place and Peter Sotos do similar things in their investigations of rhetoric, and probably aren't invited to the smart parties, either.)
In some ways, Prigov's works satisfy the list held by every American of a certain age, regarding the miseries of Soviet lives: A sclerotic government inherited from a mass murderer, long lines, poor apartments, etc. And, apart from theory, Soviet people don't much like each other, either.
---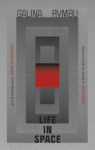 Life in Space
By Galina Rymbu (Joan Brooks, translator)
Ugly Duckling Presse / After Hours Editions
Life in Space is Galina Rymbu's first book-length collection of verse to be translated into English from Russian. As one might imagine from watching the fate of the Pussy Riot collective, feminism and the notion that women are fully human are not popular in Putin's Russia. The indignities heaped upon the human soul, and the brutalities visited upon the tens of millions of bodies during the Soviet era are somewhat different from those revealed by male Russian writers, but women suffered and continue to suffer their own special forms of indignity and brutality as the butt-end of opprobrium, governmental and male.
At one point in the long poem "White Bread," she plays with the notions of fire—as inspiration, as desire, as anger, as shooting a gun. As with Ginsberg's "Howl," Rymbu's world has much worth feeling passion toward:
I see you fire
I love you fire
knowledge rage emotion and fire
for those who have occupied our reality prison and fire
where all the squares are ours—fire
thinking what's next—fire
other galaxies books science fire
death to the anthropological machine fire . .
"To My Son," however, depicts a mother's steadfast, gentle love that endures poverty and harshness:
this strange and shabby life . . .
we look at each other and wait
for something better to come. . .
and down below, again I hear
the sharp knock of cars crashing into each other
and the shouts of drunk boys fighting, tired of working
for an unclear world, tired of carrying this life inside,
but I can feel it, and you, as in a dream see the intricacy of things. . .
There is even humor, especially in the poem about a run-in with authorities she and her father had when she was young, when the two were scavenging for copper wire to sell for extra cash, "We Made a Fire of Illegal Size on the Territory of Plant No. 5."
Perhaps those are the two natural elements Rymbu works with most: fire and love, in conflict with the law.
---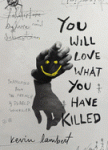 You Will Love What You Have Killed
By Kevin Lambert (Donald Winkler, translator)
Biblioasis
"In Chicoutimi, history doesn't happen very often, and that's just fine when you know about all the horrible, dumb things that go on there."
What better mine for pure comedy gold than a bitter childhood of peril and poverty? Imagine a cross between Edgar Lee Masters' Spoon River Anthology (as narrated by ghosts of children and teens), Lynda Barry's Cruddy, and what a novel about childhood by William Vollmann might read like (a different sort of Royal Family but living in the same neighborhood)—all told in a voice that combines haggard cynicism with Pip-like brightness—and you'll have an idea of the tone and attitude of You Will Love What You Have Killed. Toto, we're not in Our Town anymore.
The book describes a core of interconnected narrators and inhabitants of Chicoutimi—a blue-color town in Quebec on the skids—focusing on events occurring during their elementary and high school days.
Chicoutimi is a town in which the school's elementary school teachers are "imbeciles who sate their lust for power by intimidating eight-year-olds" and the school psychologist a person who "makes me copy out a hundred times that I have a problem with authority." Children frequently come to bad ends in this town, whether by accident or design. And tragedy brings out the worst in people, as when there is gloating over special presents and favorable treatment due to the misfortunes of others one doesn't much like (such as the death of one's parent).
Or tragedy may be alleviated by consolation prizes of questionable taste. To wit: Kevin (as in Lambert, the author) works in the North while his son, Croustine, is reared by his father, a taxidermist. Croustine loves clambering atop his grandfather's taxidermied animals, so that when Kevin brings home a live dog, Croustine immediately plops himself atop the dog, breaking its spine, though not killing it. The dog bites Croustine, who then kicks it across the room. After the dog is poisoned to end its misery, and to console his grandson's bad feelings about the dog, the grandfather makes Croustine a pair of slippers from its face.
Now, the spirits of the wronged children want revenge on the town for the ills the adults have subjected them to throughout its history.
---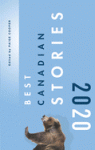 Best Canadian Stories 2020
Paige Cooper, Editor
Biblioasis
One thing Best Canadian Stories 2020 will demonstrate to U.S. readers is that, far from being Minnesotans by other means (mid-western self-deprecation and modesty writ large), Canadians are cosmopolitan—comfortably so, scattered among the world's continents—and emigré and sexually broad-minded. There are fantasy stories here, disturbingly real; ones concerning the banality of evil; systemic racism, Canadian style; and more, across 16 stories—a good way to eat away half a month if you read but one story a day. Here are my summaries of some of those stories:
"The Gas Station," by Souvankham Thammavongsa, is about a mid-30s single travelling CPA who a meets a gas station attendant in one town she's temporarily housed in, an attendant whose primary talent seems to leave women devastated by his love. And speaking of love, there's "Common Whipping" by Naben Ruthnum, about a movie composer whose fetish for extreme S&M (as the catcher, not pitcher) accounts for his success as a sensitive composer who gets pain right. (John Williams, we hardly knew ye. . .)
Canada's First Peoples get a voice in "Your Random Spirit Guide" and "The Last Big Dance." From "Your Random Spirit Guide" by Eden Robinson (think Kathy Y. Wilson's Your Negro Tour Guide, with similar attitude):
"My Haisla and Heiltsuk ancestors would never come to you in a dream. They have super stressful afterlives watching over their great-grandchildren as they make unfortunate dating choices at the All-Native Basketball Tournament or decide to put their lustrous, black hair in un-Indian man buns."
Conor Kerr's "The Last Big Dance" takes place circa WWII and the early years following. The narrator is sent at age 11 to live with her grandmother, a moonshiner located somewhere in rural Ottawa on government-relocation grounds for First Nations people. The story involves bigoted and violent Mounties and Uncle Jim, the narrator's uncle, a war veteran and drunk. Bigots, drunks, guns, and law enforcement: Some stories write themselves (in a good, not predictable, way).
Canada has a large immigrant community, many coming from oppressive regimes. In Michael Melgaard's "Drago," the narrator, Matt, describes working for a used bookstore / porn-DVD shop). One of his regulars, a mysterious guy with an accent and the occasional violent outburst, might just have one of Milosevic's thugs in the Yugoslav's People's Army, wanted for the murder of people sheltering in a building that was set on fire, the escapees from which were immediately shot. But who knows? Lots of Serbs who came to Canada are named Drago.
Other immigrants, however, come as people from formerly colonized nations. In Jeff Noh's "Jikji," the Korean-born narrator connects Korean history to French imperialism—and the reasons he is studying in Quebec a document housed in Paris. The document is Jikji, a Zen Buddhist document printed in the 1360s, nearly 80 years before Gutenberg.
Maxime Raymond Bock's "Beneath the Ruins" is a joy of storytelling well done. It's a Twilight-Zone-ish tale in which the mundane, everyday world suddenly transforms into a horrifying, unescapable new reality with no way back. Bock does a great job of structuring and describing the story to take the reader from unease to claustrophobia to nightmare.
---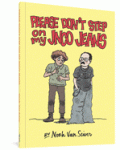 Please Don't Step on My JNCO Jeans
By Noah Van Sciver
Fantagraphics
Charlie Brown, I am happy to discover, is now middle aged, wears a porn stache, and takes the form of Noah Van Sciver—just another guy in a faceless midwestern suburb, trying to enjoy himself in a low-key midwestern way. Which means there's laziness, self-doubt, family lore, domestic chores, and anxiety galore, all with an eye to life's ironies. "I had a dream that you cheated on me with an incredibly handsome and successful man," Van Sciver confesses to a mate, who responds, "That's my dream too."
---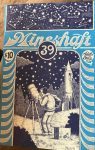 Mineshaft #39
Intermittently published since 1999, Mineshaft is a 54-page zine combining poetry, prose, and—most of all—prominent cartoonists from the golden age of comix and the heirs of their techniques and motifs. Contributions from R. Crumb, Jay Lynch, Robert Armstrong, and Drew Friedman are matched with Christopher Mueller, William Crook, Jr., Jim Blanchard, James Collier, David Collier, covering the joys of nature, the irritations of industrial development, and the emotional turmoil of modern life. An ample Letters section reads like an exchange of table talk among friends old and new in a way that's chummy, not clubby.
---
Anima Animals
By Mark Ryden
Abrams / Cernunos
Published in conjunction with Ryden's show this past summer in Shanghai at the Perrotin Gallery and Kasmin Gallery, Anima Animals presents the paintings and sketches commissioned for the show, the artist's statement about the work, and an essay on the reference sources of the works. Some aspects of Ryden's work remain consistent: earnest technique in the name of silliness. As with his forbear in the Low Brow / Pop Surrealism group, Donald "Roller" Wilson, the frames alone for the paintings are almost half the work—meticulous, fussy, beautiful, and absurd.
The spirit animals here are presented as portraits, preternaturally cute, eyes and mouths in bovine-like grinning docility. Modeled after rubber-faced plush toys—lengthwise parabolas, with wide, round eyes set at each focus—the faces exemplify the type of neoteny patented decades ago by Walt Disney. But beyond that, this collection amounts to an obsession with hair, the ultimate distinguishing trait among the yetis, bunnies, and bears.
Is it all silliness? Ryden seems to argue that humble objects can arouse in us contentment and connection, whether while we're children or in fond recollection—humble, cheap, common, kitschy toys, yet life-affirming. Kane's Rosebud was Warhol's soup.
---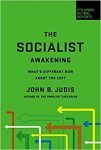 The Socialist Awakening: What's Different Now about the Left
by John J. Judis
Columbia Global Reports
In under 140 pages, Judis outlines the history and evolution of socialism largely in the context of U.S. and British politics. The pairing of the U.S. and Britain is apt since the two share a language as well as imperialist histories and cultural attitudes. How and why the two diverged politically are instructive for peoples of both lands, as well as what they each much do in common to earn the public's trust in what it means to set national agendas based on sharing with fellow citizens.
To do that, Judis argues that far-left Marxists who hope for political viability need to acknowledge the last 150 years' worth of evidence that highlights the significant limits to Marx's thought. The majority of people who claim to be motivated by democratic socialist values have little time for Marx or his acolytes and are more interested in channeling the dynamism of capitalism to raise money and wealth toward social goods than they are in restructuring society. You don't hear AOC quoting Marx.
To succeed and lead nationally, Judis says that the left side of the Democratic party must frame its social-benefit agenda in terms of nationalist interest rather than as universal goods. Older leftists will find hard to swallow the challenge to raise the U.S. flag again as a symbol of what is best about the nation and its citizens, rather than see it as a soiled symbol of world-historical cruelty. Young leftists will no doubt find valuable history here and appreciate the opinions of an author with decades of experience on the left.
---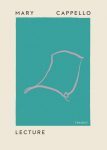 Lecture
By Mary Cappello
Transit Books
Where, outside of certain churches, where can a person hear a lecture that lasts over 90 minutes? Once upon a time, the lecture was a popular medium for disseminating knowledge, faith, and lore. Popular speakers toured and often spoke for hours on end to audiences of hundreds or thousands, without aid of amplification. Well-known lecturers, such as Ralph Waldo Emerson, sometimes developed a reputation in print as writers, and writers often note what they hear—one's person lecture becomes another person's note.
And "notes" implies a scrapbook-like approach to the essay (essays, notes, and lectures almost being synonymous in Cappello's usage), notes that may not have an obvious organization, an explicit connection to the putative topic, a peripheral-vision approach to the subject that allows for a (metaphorical) creeping up to—feints and parries, attempts at something—an "essay" in the sense that came to be associated with Montaigne, the person most identified as the genre's progenitor: as a test of ideas to see where they lead, without pre-conceived notions or hopes for where the ideas will lead.
Essays have their prescriptive form, too—as everyone can attest who had the five-paragraph essay form inflicted on them (and as the lyricist of Peggy Lee's "Fever" apparently never overcame). And the format of TED Talks has quickly ossified into easy parody. Let's call the non-prescriptive form the "art essay," the form that continues to resist form and codification, or "the Montainge essay." Emerson's essays have been attacked by some literary scholars because the paragraphs often teem interchangeable (and sometimes the sentences themselves, too), without leading toward some transcendent point (as might be expected of an American Romantic, such as Emerson). And yet, as readers of essays like Emerson's know (or listeners of speakers know), such essays and lectures convey coherent intelligence and urgency, an individual's unique voice, a tour a reader wants to take just for the view.
Capello begins her brief book on the lecture discussing and illustrating the freedoms offered by notes; by their randomness of topic and possible randomness of placement on page; the underlining, circling, connecting passages with arrows, adding pictures, etc. While this collage-effect can't be visually duplicated on stage, the juxtapositions of moods, ideas, and observations can be conveyed through words.
But Capello tempers such flights with more prescriptive comments in the second half of the book, which—while not encouraging the use of templates—could result in lectures as predictable as any given TED Talk if her suggestions regarding listening, looking, and note-taken, for example, were followed by more than just her students. As I tell my own students, "A well-engineered solution is a well-engineered problem," so I'm more hesitate about her ideas in the second half of the book.
That's the idea of a lecture, though, isn't it? To provoke more ideas than answer questions tidily? To have no need or expectation of an audience agreeing with or being convinced by a lecturer is one of its freedoms.
---
Books reviewed by Tom Bowden can be purchased direct from Book Beat or by following the links provided to Bookshop.org or their publisher. To read more small press reviews of 2020 click on the combined posts of: I arrogantly recommend… by Tom Bowden.