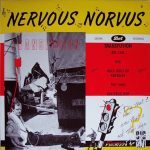 Nervous Norvus was a genius songwriter of the mid-50s with a string of novelty hits that began with "Transfusion" in 1956. The song was created from a 2″ demo tape San Franciscan trucker Jimmy Drake sent to his local wild-man DJ: Red Blanchard. Red added tire squeals and car crash sound effects -and created a top ten hit in two hours. "Transfusion" had immediate popularity selling 500,000 copies in a week, but was also a fast victim of radio censorship. As a novelty song it's one of the greatest, but perhaps all the gore, blood and road madness was too much at the time.
Toolin' down the highway doin' 79
I'm a twin-pipe papa and I'm feelin' fine
Hey man, dig that — was that a red stop sign?[squeeeeeeeal … kee-RASH!]Transfusion, transfusion
I'm just a solid mess of contusions
Never never never gonna speed again.



Slip the blood to me, Bud.
---
Some fellas have a way with words, but none quite like the late Jimmy Drake a.k.a. Nervous Norvous – the only true poet in the history of rock 'n' roll. Read more at: WFMU NERVOUS NORVUS
---
Nervous Norvus' 1956 follow up to Transfusion, The Fang, — was a fast-paced tale of Martian mayhem at the teenage hop, released during the mid-50s UFO saucer scare. It opens with Telstar rocket-ship space effects, and THE FANG tearing into a red-hot space rap about teenage woo. Doff your shades and cop a listen to one of the all-time classics of rock 'n roll space-rap:
One morning, I was born on the planet Mars
I gassed up my cradle and I shot through the stars
And I landed on Earth with a solid bang
I'm the Fang
I'm the Fang
I'm the Fang…
My feet started flashin' like the noonday sun
And my blue suedes were hotter than a two-dollar gun
And the chicks all yelled, 'Daddy-o, you're the one!'
'You're the Fang!'
'You must be the Fang!'
'You're the Fang!'
Very little history is known or written about Norvus. There's rumor of a large reel of unreleased works floating around Seattle.. musical 'historian of the uncanny' Phil Milstein's probing article hits on every known fact and nerve: The Many Mysteries of Nervous Norvus.
---
The Nervous Norvous Backstory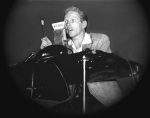 Richard Bogardus "Red" Blanchard, Jr. (June 11, 1920 – June 16, 2011) was a 1950s live wild-man radio personality, big-band trombonist and record producer/collaborator with Nervous Norvus, a person so reclusive that they never met in person. Nervous was a word Blanchard made popular on his show, the Norvus part Drake came up with on his own. "He just thought of a word to be alliterative with Nervous," says Blanchard. And so Nervous Norvus it was -double-meaning, alliterative, and vastly cool…" In 1956, Time Magazine did a feature on Drake and his songwriting method; "All I do is just take it easy." said the poet, "I sit in my own backyard, and I got dark glasses on… I take it cool, and there's nobody irritating me in my own backyard."
At his online website: Red Blanchard, amassed a thick archive of his radio shows, interviews, music and ephemera going back to the the late 40s. Be Zorch and check out Red.
In the video below, created the year he passed away, Red discussed his collaborations with Drake at his Bay area radio station: KCBS. He also tells the story of how the reclusive Drake turned down the Ed Sullivan show, and how his liver fell off.
"Backed by Paul Weston & His Orchestra, Blanchard's biggest hit was a 1955 Columbia release entitled "Captain Hideous," with the title character a kind of clueless Flash Gordon. Its B-side was "Zorch!," whose lyrics demonstrated one of the lynchpins of Blanchard's radio show. Zorch was a mock-jive lingo created by his writers, inspired in part by Slim Gaillard, whose patois Blanchard had absorbed when their bands shared bills in the 1940s." –Source: Phil Millstein
ZORCH by Red Blanchard
Um bully bully bully bully bully bully
Zorch means its Edgar
Edgar means its dimph
dimph means its there
Zorch man its nervous
nervous that's the most
Zorch oh its threatened
threatened means its new
Zorch ain't it nervous
nervous its the most
[Note: "Be Zorch, Daddy-O, GO APE!" was first published on Book Beat's blog in 2006]