09/15/20
Dear Friends and Readers,
September is a month of change. The weather is cooler and leaves will soon be showing off their warm colors.
Returning to school has increased the stress levels of everyone. A return to normal life seems a distant hope, yet there are some positive choices close at hand. A positive outcome in the national election could return strength and normalcy to our nation and the world. Four more years of MAGA would likely extend these apocalyptic times. November is our chance to choose reason over disinformation and vote for Science, Planet Earth, Antiracism and the 99%.
Adapting to the pandemic "new normal" is difficult but it's a journey we take together. These may not the best of times, but they can bring out best in us. In slowing down the rat-race, we can benefit ourselves by getting closer to nature, helping the Earth to heal, and opening a future that is more inclusive, sharing, lasting and real.
Books have a special place in these demanding times: they are central to education on all levels, and by entertaining us, taking us on a different journey, books can help take the edge off. As the late beloved children's author-illustrator Tomie dePaola once said: Reading is important, because if you can read, you can learn anything about everything and everything about anything. By learning something new, we widen our experience and escape to places where our thoughts and imagination roam freely. Read and you'll change your life forever. "Just travel with your mind" — as the Seed's song goes.
This will be a crowded season of books, as many titles from last spring and summer were delayed and and are fighting for shelf space with fall releases. Compounding this is a shortage of printers. As this recent New York Times article points out, the situation is "disruptive on a number of levels." With publisher warehouses slowing down under Covid, the book-world is overstressed. October is not the new December as I've heard some business leaders say –but we should prepare for slowdowns as delays in shipping are also expected. Books containing color pages such as art, graphic novels and children's books, are often shipped from overseas. Reprints may be long to arrive or even cancelled.
Large book tours and in-person author signings are naturally not happening this fall. We hope to stay in touch more often by email and newsletter, bringing you book news, interesting reviews, and gift-giving ideas. Many new releases are hitting the shelves, and we've received most of our new calendars for 2021.
Sharing books with friends and loved ones is a great way to stay in touch and let them know you're thinking of them. We are continuing our shipping offer of $3 per package for direct orders from Book Beat to anywhere within the USA. With personal visits at a minimum, we encourage mail-ordering as much as possible.
Local artist and educator Harry Onickel recently created for us: So You Want To Read A Book! ; a delightful mini-comic which we are enclosing free in our next 200 direct mail-orders. It is also free on request with any in-store purchase.
Making an appointment for in-store browsing is fast and easy. Our hours are Mon.-Sat: 10 AM-7 PM and Sunday 12-5 PM. Just call (248) 968-1190 –and let us know when you'd like to visit. You will need to wear a mask properly and sanitize your hands before entering. Call for an appointment soon, we'd love to see you!
We've also restarted our outdoor sales table last month and have been filling it with some great titles. No appointment is necessary to purchase. If you'd like to make a purchase just knock on our front door or call.
In this September's newsletter we have small press reviews by Tom Bowden, a Virtual Literary Walk produced by ML Liebler, Laginappe & Lettered: two sets –a numeric and alphabetic reading list compiled by MM Serpento and a short essay on Paris booksellers Sylvia Beech and Adrienne Monier by Cary Loren.
Thank you for your time and continued support. We are here for the community and to provide good books. Remember: we are just a phone call or email away: (248)968-1190 BookBeatOrders@gmail.com Keep reading in comfort and safety. L'Shana Tovah & Happy September!
Love, peace & books,
Cary, Colleen and the staff at Book Beat
---
Speculative YA Fiction reviewed by staff member Gwyne Richard
Below is a new 10 minute video as part of a series (episode #1) of recommended books we hope to continue as "Book Beat Presents" (until we can find a better name). Gwyne Richard from Book Beat reviews some of her favorite speculative fiction for Young Adult readers (and for anyone who loves reading YA fiction.)
To order books direct, contact Book Beat at (248) 968-1190 or write to: BookBeatOrders@gmail.com –books are also available online at: http://Bookshop.org/shop/Bookbeat/
Check out more reated books in our Characters of Color catalog. And check out more of our specially curated lists on Bookshop.org
---
Booker Prize Short List Announced
Four of the shortlisted books are by women. The nominated debuts include Douglas Stuart's Shuggie Bain, a violent tale of a child growing up in 1980s Scotland; and Brandon Taylor's Real Life, about a Black gay graduate student navigating campus life.
Diane Cook's The New Wilderness, set in a dystopian future in which almost all of the natural world has been destroyed; and Avni Doshi's Burnt Sugar, about an artist's struggles to cope with her aging mother, are the other two debuts on the list.
Set during Mussolini's 1935 invasion of Ethiopia, The Shadow King by Ethiopian author Maaza Mengiste, takes us back to the first real conflict of World War II, casting light on the women soldiers who were left out of the historical record.
This Mournable Body is a searing novel about the obstacles facing women in Zimbabwe, by Tsitsi Dangarembga, one of the Zimbabwe's most notable authors.
The winning title will be unveiled at a ceremony in London on Nov. 17. Its author will receive 50,000 pounds, or about $64,000. –source compiled from the New York Times
---
The immortal Charlie Parker lives in The Yardbird Suite by Detroit poet and playwright Bill Harris: "taken from events real and imagined" — backed by all-star musicians; Wendell Harrison, Marion Hayden, Pamela Wise, Trunino Lowe, and Louis B. Jones III — this was a real treat to see happen on Bird's centennial birthday, born Aug. 29, 1920 in Kansa City, MO.

---
Jacqueline Woodson and Albertine Win Hans Christian Andersen Awards, 2020
The winners of this year's Hans Christian Andersen Awards—considered the Nobel Prize for children's literature—were announced May 4, by the International Board on Books for Young People as part of the virtual edition of the Bologna Children's Book Fair. U.S. author Jacqueline Woodson received the prize for writing, and Swiss artist Albertine was awarded the honor for illustration. Jury President Junko Yokota announced the 2020 winners of the IBBY Hans Christian Andersen Award here.
---
Flash! Just Announced! A Promised Land, President Barak Obama's Autobiography!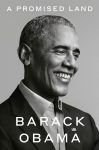 A Promised Land is extraordinarily intimate and introspective–the story of one man's bet with history, the faith of a community organizer tested on the world stage. Obama is candid about the balancing act of running for office as a Black American, bearing the expectations of a generation buoyed by messages of "hope and change," and meeting the moral challenges of high-stakes decision-making. He is frank about the forces that opposed him at home and abroad, open about how living in the White House affected his wife and daughters, and unafraid to reveal self-doubt and disappointment. Yet he never wavers from his belief that inside the great, ongoing American experiment, progress is always possible.
This beautifully written and powerful book captures Barack Obama's conviction that democracy is not a gift from on high but something founded on empathy and common understanding and built together, day by day.

A Promised Land releases 11/17/2020 and is available for preorder from Book Beat. Just call or email us and we will put you on a list! A Promised Land can also be preordered from our Bookshop.org affiliate page.
---
SUBSCRIBE TO OUR NEWSLETTER
If you're not receiving our newsletters direct, please consider subscribing. You'll receive store updates, reading recommendations, and other book related news. We value your privacy and never share or sell information with third parties. To subscribe, simply enter your email at the Book Beat Homepage.
---
A Gallery of Recent Books & Images around the Bookstore
(click on image to enlarge)
---
Life starts all over again when it gets crisp in the fall.
— F. Scott Fitzgerald, The Great Gatsby
---