We don't create a fantasy world to escape reality, we create it to be able to stay.
–Lynda Barry
The Greatest of Marlys, by Lynda Barry
I love everything by Barry but, like a lot of people, I feel most closely bonded to Marlys.
Buddy Does Seattle, by Peter Bagge
Just so accurate.
Spiderweb for Two, by Elizabeth Enright
This was one of my mom's favorite childhood books. (In my copy, the illustrations have been carefully watercolor tinted by my mother as a child). My mom was named Randi and she strongly identified with the character who shared that name. We both loved all of the Melendy family books, but this one made us happiest, since it centers on loneliness abated through intrigue.
Next of Kin, by Roger Fouts
A critical and personal account of the ethics of conducting research with captive non-human primates.
I have been in Sorrow's kitchen and licked out all the pots. Then I have stood on the peaky mountain wrapped in rainbows, with a harp and a sword in my hands.
–Zora Neale Hurston, Dust Tracks on a Road
Dust Tracks on The Road, by Zora Neal Hurston
For this list I made a point of not focusing on books I think are most important in my work as an anthropologist, and to instead focus on books I read just for pleasure. But Hurston would appear on a list based on either criterion.
An island can be dreadful for someone from outside. Everything is complete, and everyone has his obstinate, sure and self-sufficient place. Within their shores, everything functions according to rituals that are as hard as rock from repetition, and at the same time they amble through their days as whimsically and casually as if the world ended at the horizon.
–Tove Jansson, The Summer Book
The Summer Book, by Tove Jannson
I love the Moomin books as well, but I spent a lot of time being cared for by a gentle and thoughtful grandparent and this book evokes that dynamic so beautifully.
My Struggle 1-6, by Karl Ove Knausgaard
I wanted to be put off by the hubris involved in the title choice and decision to write autobiographical novels of such length. But I love them so much. During a summer when I had terrible insomnia, it was such a relief to be able to stay up reading these all night and trust that I wouldn't run through them too fast.
A Suitable Boy, by Vikram Seth
I like my novels long. I'm grateful to Seth for creating such a sustained world, in which I can spend so much time.
Look at everything always as though you were seeing it either for the first or last time: Thus is your time on earth filled with glory.
-Betty Smith, A Tree Grows in Brooklyn
A Tree Grows in Brooklyn, by Betty Smith
Certain, very specific, images from this book (e.g., the description of how a pickle can revive an appetite; or what it's like to knuckle though waves of painful emotions) have stuck with me and are always a pleasure to revisit.
I Capture the Castle, by Dodie Smith
It's not the romance I like so much, but the tension between constraint/want and energy/possibility. I sometimes read it to cope when I'm feeling claustrophobic or stuck.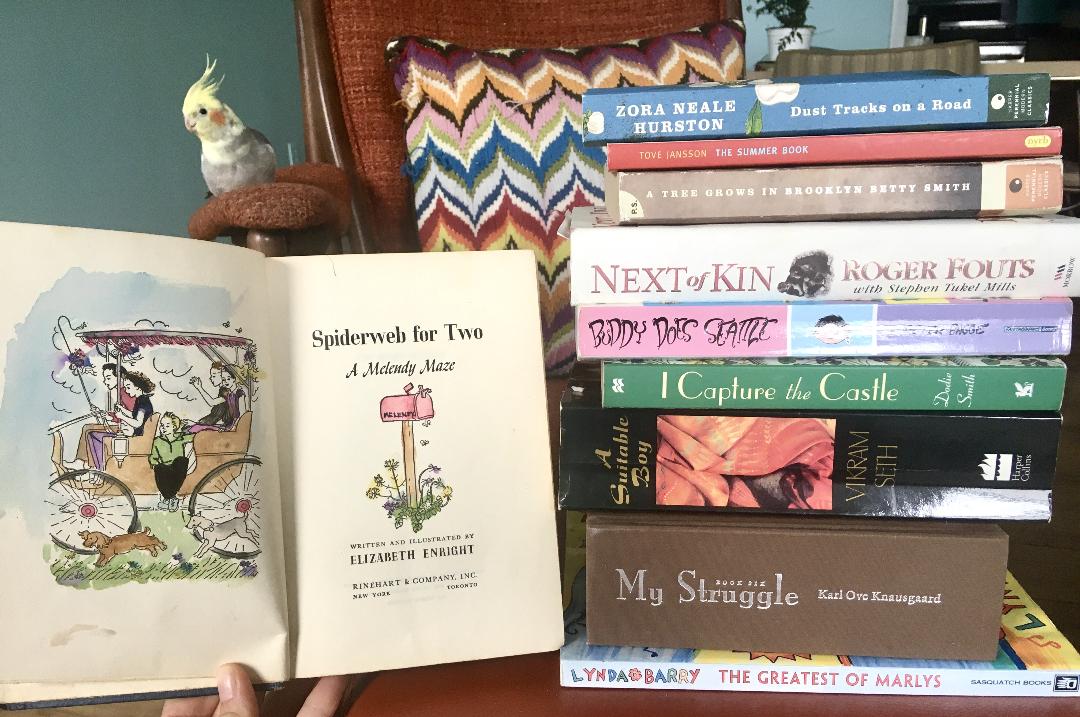 Erika Hoffmann is a friend, a former staff member at Book Beat, and Associate Professor, Department of Anthropology, Oberlin College.
A selection of Erika's reading list appears in our Bookshop.org catalog.