Here is a selection of things I am looking at right now. I'm working in my studio as I usually am, bouncing back-and-forth between developing my studio art and editing projects for Rotland Press. One requires working in solitude, the other requires reaching out to artists around the world.
With the various bits of printed ephemera and old publications I pull graphic design cues, illustration styles, approaches to optimistic mid-century messaging, and above all, strategies for visual and written humor. Most of these publications and printed materials have a wonderful musty smell to them: they are in the process of decaying, and yet all of them advertise what was new, what was coveted, what was sure to delight at the time they were printed.
I am currently working on two projects: In the studio, I am developing a series of cardboard relief drawings called "The Black Marquee Project," which revolves around the movie palaces and movie houses that once proliferated in the city of Detroit. It relies heavily on the optimistic architecture these "dream spaces" once employed.
I am also editing a new project for my small press, Rotland Press, that emerges from the time of quarantine we are all in. Titled "the PLAGUE REVIEW: for the sheltered-in-place," it takes the form of "the Paris Review," but for those living in a time of plague. I am collecting art, comics and visual reportage from around the world, and am conducting interviews with visual makers and thinkers from their place of quarantine.
This will be a series that lasts as long as "the scourge" lasts. One issue every month or so, 32 pages long, released online, for free. When life stabilizes once again, the issues will be collected and printed in a small run.
Here is the first issue, designed by S. William Schudlich, with an image by Fred Stonehouse; View PLAGUE REVIEW #1 online at Rotland Press.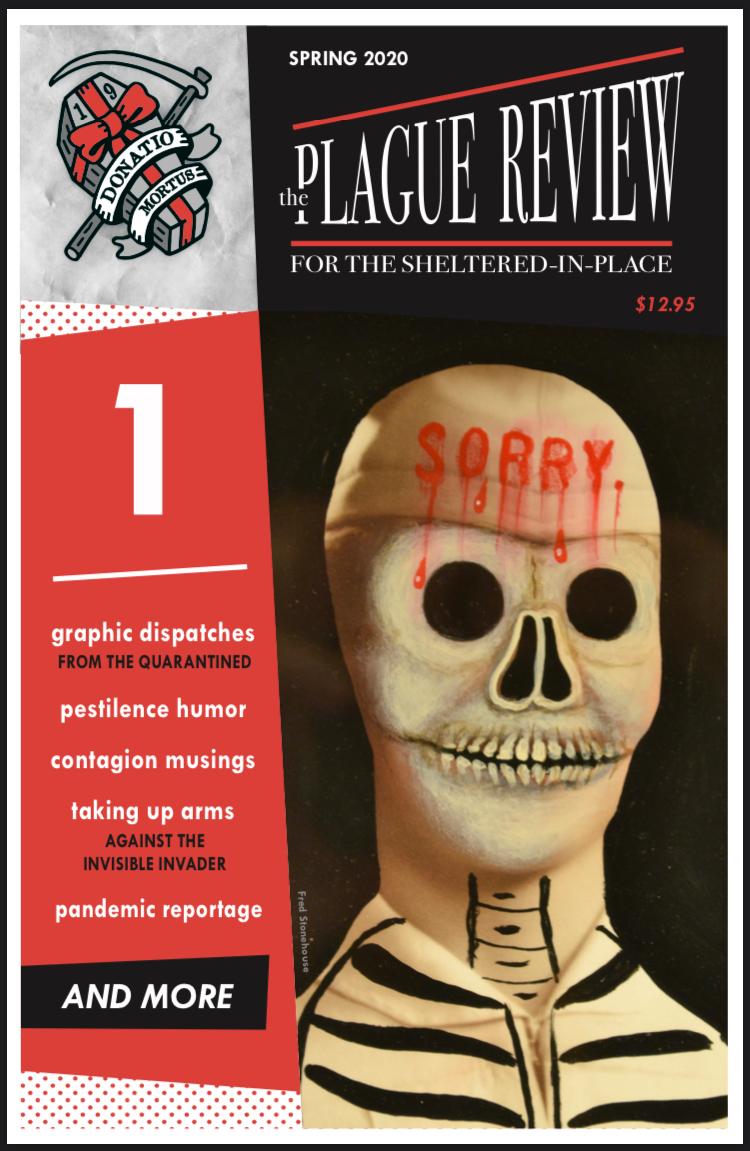 Ryan Standfest's top ten:
1. Werner Herzog: A Guide for the Perplexed: Conversations with Paul Cronin (Farrar, Straus and Giroux)
2. René Daumal': Mount Analogue: A Novel of Symbolically Authentic Non-Euclidean Adventures in Mountain Climbing (Exact Change)
3. Walter Serner: At the Blue Monkey: 33 Outlandish Stories (Wakefield Press)
4. Erich Mühsam: Psychology of the Rich Aunt:Being an Inquiry, in Twenty-Five Parts, Into the Question of Immortality (Wakefield Press)
5. Roland Topor: Head-to-Toe Portrait of Suzanne (Atlas Press)
6. Alejandro Jodorowsky: The Spiritual Journey of Alejandro Jodorowsky, the Creator of El Topo (Park Street Press)
7. Seth: Clyde Fans (Drawn and Quarterly)
8. William Gropper: Alay-Oop (New York Review Comics)
9. William Kentridge: Six Drawing Lessons (Harvard University Press)
10. Unica Zurn: The House of Illnesses (Manuscript Facsimile Edition) (Atlas Press)
Most of Ryan's top ten books can be found in our bookstore: BookBeatOrders@gmail.com and in our online bookshop catalog; Shelter & Read!