I arrogantly recommend is an irregular column of book reviews by our friend Tom Bowden, who tells us, "The title comes from the British comic Stewart Lee in his occasional emails, about the books, movies, and music he listens to. (He's a huge Cage and Derek Bailey fan.)."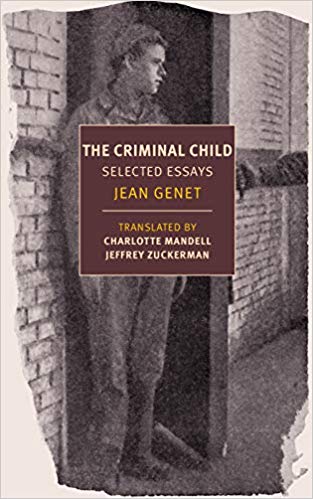 Criminal Child: And Other Essays
(New York Review of Books Classics)
Jean Genet
Genet exemplifies what can happen to a naturally bright, questioning, and moral person raised (from the age of 7 months) in environments hostile to such qualities (institutions, reformatories, and prisons): expressions that are insightful and sensitive to nuance, yet shot through with a pride girded by a self-loathing on par with Bukowski's line, "you get so alone at times that it just makes sense." The writing here is uneven, the strongest essays being the first and last two, but death (as an elegant performance) is a constant, an erasure of self (and sometimes of lover) that simultaneously transcends and supports the moral sense that the punishment fits the crime—of being homosexual. Genet, like Burroughs and Ginsberg, assumed that, were it not for key events in their lives, they would've felt heterosexual inclinations; yet they wore their fate proudly as a mantle about their shoulders: If is this is who I am, then so be it. As with other French writers, Genet likes to imbue acts—like tightrope walking—with a philosophical-poetic significance that graces these acts with a timeless dignity, but if you're not in the mood for such rhapsodizing, the writing feels overwrought and unconvincing.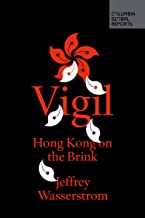 Vigil: Hong Kong on the Brink
(Columbia Global Reports)
Jeffrey Wasserstrom
In 2047, Hong Kong will formally be absorbed by mainland China, with no current likelihood that Hong Kongese will have any more say in the government's decisions than mainlanders currently do. Under Xi's rule, Beijing has expressed little interest in honoring the terms of the handover negotiated with England in 1997, at least within the 50-year time frame of the agreement.
Is it, then, a done deal, the absorption of Hong Kong by the so-called Communist Party? Are protesters able to at least slow the rate of absorption? The Hong Kongers most directly involved in the anti-Beijing protests will be reaching retirement age when 2047. They can look across the river and see what mainlanders are subject to, the protesters' own future.
Wasserstrom reports on the latest bout of protests in Hong Kong—with demonstrations producing historically high turnouts—their history, the players, and the stakes.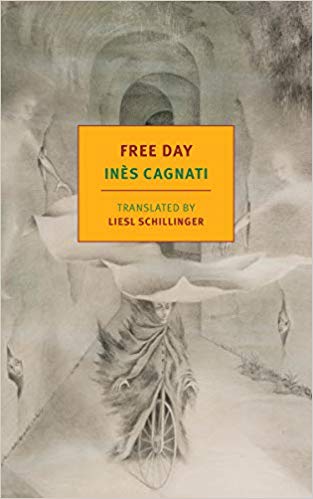 Free Day
(New York Review of Books Classics)
Inès Cagnati
A short, beautiful novel told from the point of view of a 14-year-old girl. The oldest daughter in a seemingly endless stream of daughters born to poor farmers, Galla lives at a high school 20 miles from her home, and bicycles home every other weekend to help her mother. Her mother's sacrifice (allowing Galla to attend high school) amounts to a significant loss of help on the farm and emotional support. The story takes place in the early 1950s, and the poverty is stark: So that Galla will have something to carry her schoolbooks in, her mother gives up her only shopping bag, which she otherwise uses for farming tasks. On the weekend this novel takes place, Galla decides to surprise her mother by making an unexpected trip home. If Galla has an American counterpart, it might very well be another 14-year-old, Mattie Ross of "True Grit," but without a hardened gunslinger to set wrongs aright.
I think of my chorus as Mr Truman Capote.
He was a good friend, he told me the truth.
You'll never admit it when you've made a mess,
he said to me once
and that was true. –Anne Carson
Norma Jeane Baker of Troy
(New Directions)
Anne Carson
Greek drama and poetry specialist Anne Carson continues to make her case for the linguistic modernity and social relevance of the literature of ancient Greece, this time updating Euripedes's "Helen" (which I haven't read), the putative reason for the start of the Trojan war, who appears here as Marilyn Monroe (neé Norma Jeane Baker). Carson's prose is terse, incisive, often true and funny, although the subject is women at the receiving end of men's quest for power, usually in the forms of rape and victim-blaming. My only question about this stage work is the evoking of post-WWII figures Marilyn Monroe, Truman Capote, and Arthur Miller as contemporary icons to replace ancient Greek gods: Who, under the age of 55, has heard of any of these three, let alone can name a single work by any one of them? Readers of Carson's generation (yes, that's my hand raised there) will "get it," but any one younger may find the parallels hard to appreciate.
The fate of our times is characterized by rationalization and intellectualization and, above all, by the disenchantment of the world.

–Max Weber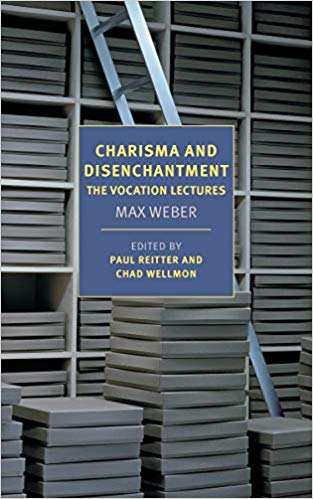 Charisma and Disenchantment
Max Weber
(NYRB)
Charisma and Disenchantment (miserably and unhelpfully titled; the original "vocation lectures" hardly does better) consists of two lectures on the topic of what it meant, a hundred years ago, to take up the calling (vocation) of academics and politics. Although well-attended by the undergraduates they were intended for, the students took Weber's messages with somber disillusionment.
For students interested in academic life, Weber felt compelled to dash their Romantic impressions that university studies focus on the search for capital-T truth and the evangelical dissemination of that truth from a lectern. Instead, Weber said, they would become specialists in a field they would never fully master, the point of which was to provide those who come after with the means of even greater mastery, and thus erase the contributions of those who came before them: you will work diligently, that is, in hopes of being forgotten.
As for politics, his assessment is nauseatingly prescient. Although he was speaking of the times (post-WWI Germany), authoritarianism was on the rise, and the corruption it naturally leads to (he maps it out, and you can play today's headlines along with it) and the venality of such leaders and their supporters reeks yet today. It was an assessment of the day, in the context of historical precedents. History has only confirmed that trend, since Weber gave his lecture over a hundred years ago.
Whether or not a tyrant rules, Weber argues that the worst rulers are those who most strictly adhere to their ethical principles. The members of a culture do not necessarily share the same principles or give those principles equal ranking. A refusal to see this or compromise because of it leads to tyranny. Thus, Weber asserts that ethical infidelity is a necessary quality for those who would succeed in politics.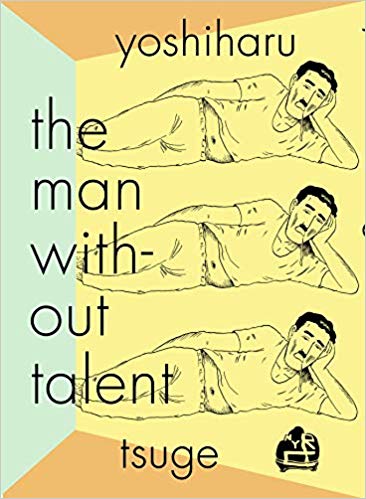 The Man Without Talent
(New York Review Comics)
Yoshiharu Tsuge
Male cartoonists have created a sub-genre of stories about or told by self-loathing, self-destructive men who are only too self-conscience of these traits. One result is that the story is alternatingly funny and whiney. While self-loathing, self-destructive men aren't unique to fiction, the fact that those who do it best tend to be the most professionally successful in comics: it's self-doubt minus the actual justification. Another result is that, if patience for the self-hating ain't your than, pass on.
Anyhow, our hero, Sukezo, is a former (successful) cartoonist determined to give it all up for selling stones—stones from a local river that he finds particularly attractive, names ("Cloud"), and sells as "art stones" from a tent by the banks of the river. When a would-be customer asks Sukezo what the difference is between the rocks Sukezo is selling and those the customer is standing on, Sukezo just stares back.
Undeterred by the lack of sales, Sukezo decides to take the stones to an auction house in a different city. The auction, devoted exclusively to buying and selling rocks, is attended only by duffy old men in second-hand clothes. And yet, even at the lowest price the auction house is willing to accept bids for, no one is interested in Sukezo's stones. The application fees to the auction, housing for his family, and food clearly are well above what he can afford: his gamble failed. And yet, rather than just dump the stones at the side of the road, per his wife's suggestion, Sukezo pays to have the rocks shipped back home. Non-spoiler alert: there isn't a Hollywood ending.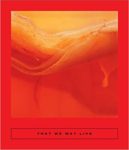 That We May Live: Speculative Chinese Fiction
[Two Lines Press—no editor listed]
Since 1994, Two Lines Press has published translations, first as a biannual journal, then quarterly, and then the quarterly journal plus half-a-dozen books a year. With "That We May Live," they introduce a new series, Calico, that focuses on "one moment of the present moment" (whatever that means), in this case, seven "speculative fictions" from six contemporary Chinese authors, three from the mainland, three from Hong Kong. "Speculative fiction" here means something like the tales from "The Twilight Zone": often realistic, but with touch of the fable—minus ferries and elves—and its moral. The writing and translating here is fine, but the tales are hit-or-miss, especially if your taste for the speculative is usually indifferent. Alienation is a common theme—from work, from history, from domestic life, from familial and cultural expectations—and relevant to vanishing traditions (increasingly delegated to fading memory) and the encroaching sense that individual lives do not matter.
"This remarkable anthology of Chinese speculative fiction offers seven tales of societal responsibility and individual freedom. . . . By turns cryptic and revealing, phantasmagorical and straightforward, these tales balance reality and fantasy on the edge of a knife."?Publishers Weekly, starred review