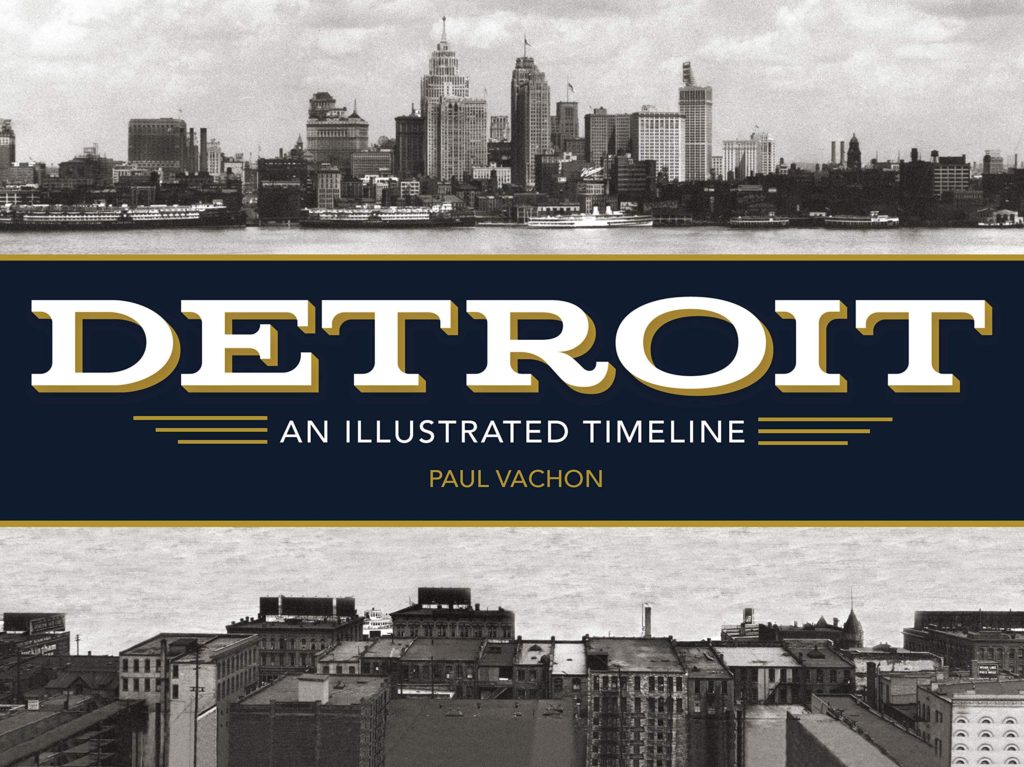 Two authors, Paul Vachon and Jeff Morrison, will celebrate two beautiful new gift books on Detroit history. The book launch takes place at Book Beat (26010 Greenfield Rd) on Sunday, May 5th from 2:00 to 3:30 PM. The authors will discuss and present their books, and will be available to sign.
Detroit: An Illustrated Timeline, traces Detroit's history as far back as three centuries, pointing out many of the seminal events and turning points of Detroit's long journey, from the obscure to the epochal.
Chapters devoted to the twentieth century highlight Detroit's underappreciated architectural heritage, the development of its notable cultural institutions, as well as the exploits of assorted scoundrels, such as the Black Legion, the Purple Gang, Harry Bennett and Father Charles Coughlin. Triumphant sports teams, the contributions of religious leaders, and courage of civil rights leaders are all brought to life, completing this chronological sketch of America's city of the straits.
Paul Vachon is an author, freelance writer, public speaker, and a lifelong resident of the Detroit area. He possesses a strong interest in Detroit history, and has written four previous books devoted to the subject. He's also written guidebooks on Michigan travel. Paul is a member of the American Society of Journalists and Authors. In his spare time, Paul enjoys traveling and nature photography.
---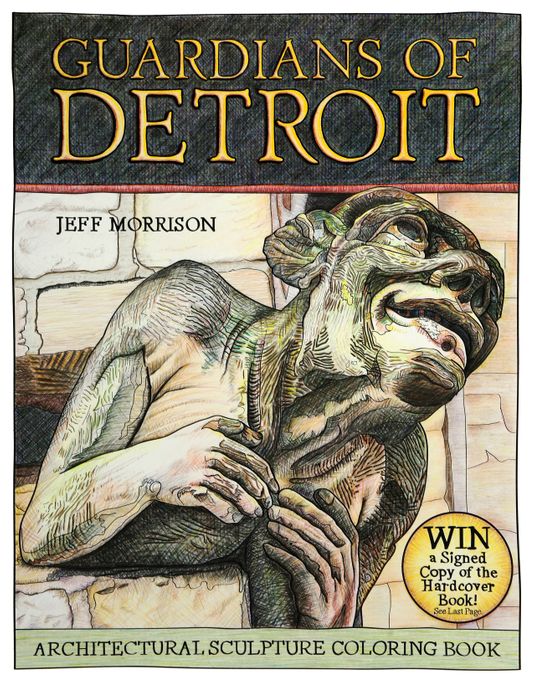 Jeff Morrison's Guardians of Detroit is a visual and historical tour through the city's remarkable, ornamented past, focusing especially on the host of gargoyles, grotesques, and other silent guardians that watch over the city from high above its streets and sidewalks. Morrison will celebrate the launch of a coloring book, based on the book, at Book Beat on Sunday, May 5th.
A must-read for any Detroit enthusiast, a thoroughly engaging visual and historical tour through the city's remarkably ornamented past. Morrison writes with a light, knowing touch, every bit as easy with architecture as the sculpture adorning it. His crisp photographs illustrate a Detroit most of us have never seen, alive with griffins and gargoyles, while his pictures of familiar buildings are often fresh and indelible. This is a book worth savoring, one that will stimulate interest in Detroit on the part of anyone lucky enough to page through it.
– Michael H. Hodges, author most recently of Building the Modern World: Albert Kahn in Detroit (Wayne State University Press, 2018)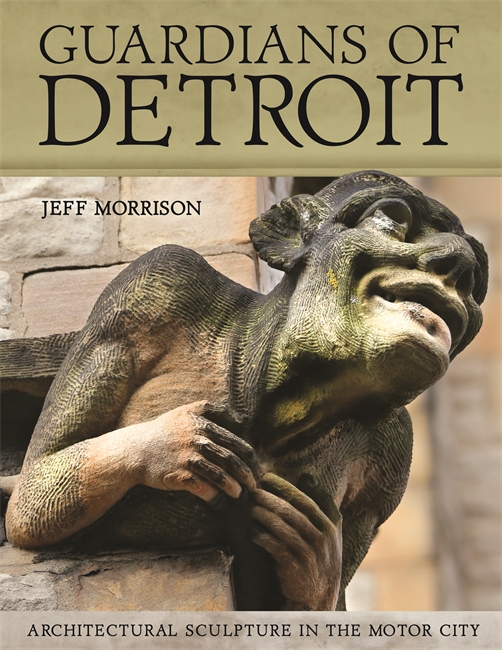 Detroit is home to amazing architectural sculpture—a host of gargoyles, grotesques, and other silent guardians that watch over the city from high above its streets and sidewalks, often unnoticed or ignored by the people passing below. Jeff Morrison's Guardians of Detroit: Architectural Sculpture in the Motor City documents these incredible features in a city that began as a small frontier fort and quickly grew to become a major metropolis and industrial titan.
Detroit developed steadily following its founding in 1701. From 1850 to 1930 it experienced unprecedented population growth, increasing from 21,019 to over 1,500,000 people. A city of giants, Detroit became home to people of towering ambition and vision who gained wealth and sought to leave their mark on the city they loved. This aspiration created a massive building boom during a time when architectural styles favored detailed ornamentation, resulting in a collection of architectural sculpture unmatched by any other U.S. city. Guardians of Detroit is a first-of-its-kind project to explore, document, and explain this singular collection on a building-by-building basis and to discover and share the stories of these structures and the artists, artisans, and architects who created them. Using a 600-millimeter lens and 23-megapixel camera, Morrison brings sculptural building details barely visible to the naked eye down from the heights, making them available for up-close appreciation. The photos are arranged in a collage format that emphasizes the variety of and relationships between each building's sculptural ornamentation. Well-researched text complements the photography, delving into the lives of those who created these wonderful works of architectural art.
Guardians of Detroit is an extended love letter to the historic architecture of a city that would become the driving force of America's industrial and economic power. Fans of art, architecture, and hidden gems will love poring over these pages.
Jeff Morrison is a historian and photographer who has been taking pictures since his parents gave him his first camera at age nine. He has a bachelor's degree in history and art from Eastern Michigan University and over thirty years' experience as a graphic artist. Jeff lives in Oxford, Michigan, with his lovely wife, Susie, and their wonder dog, Manfred.