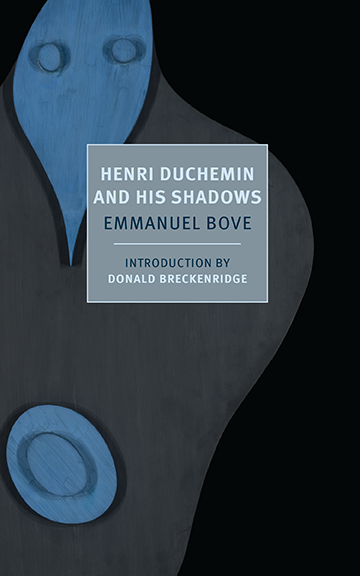 This month's reading group selection is Henri Duchemin And His Shadows by Emmanuel Bove, translated by Alyson Waters, with an introduction by Donald Breckenridge.
The Book Beat reading group will meet Wednesday, February 6th at 7:00 pm at Goldfish Tea Cafe, located at 117 W. Fourth Street in Downtown Royal Oak. All are welcome.
Get 15% off on the Current Reading Group Selection.
From the back cover:
"Henry Duchemin and His Shadows is the ideal introduction to Bove's world, with its cast of stubborn isolatoes who call to mind Melville's Bartleby, Walser's "little men," and Rhys's lost women. Henri Duchemin, the protagonist of the collection's first story, "Night Crime," is ambivalent, afraid of appearing ridiculous, desperate for money: in other words, the perfect prey. Criminals, beautiful women, and profiteers threaten the sad young men of Bove's stories, but worse yet are the interior voices and paranoia that propel them to their fates. The poet of the flophouse and the dive, the park bench and the pigeon's crumb, Bove is also a deeply empathetic writer for whom no defeat is so great as to silence desire."
"The writing is so clear, so modest, and yet not at all modest. It's a form of writing that doesn't exist before him, nor since. It's like drawing with very clear lines." – Peter Handke
" The richness of psychological detail and existential weight contained within these stories elevate them beyond the confines of the weird or the macabre, and explain the enduring appeal of Bove's work." – Zack Ravas, in ZYZZYVA
"One of the best novelists to emerge in France during the interwar years…a unique, powerful, and insightful stylist." – The Review of Contemporary Fiction
---
Emmanuel Bove was one of the most original writers to come out of twentieth-century France and a popular success in his day. Discovered by Collette, who arranged for the publication of his first novel, My Friends, Bove enjoyed a busy literary career, until the German occupation silenced him. During his lifetime, his novels and stories were admired by Rilke, the surrealists, Camus, and Beckett, who said of him that "more than anyone else he has an instinct for the essential detail."

Born in 1898 in Paris, Emmanuel Bove was the son of a Ukrainian Jew and a housemaid from Luxembourg. ("Bove" was a shortened version of his father's surname – Bobovnikoff.) His family were among the myriad poor of Paris, where Bove had a hard childhood. As a teenager, he was a waiter in a café, washed dishes in a restaurant, worked in the Renault factory, drove a tramway car, and served a month in prison. His ambition, however, was to be a writer, and Colette became his sponsor. Bove ended up writing over a dozen novels and books of short stories. During WWII Bove was a Gaullist and under Vichy rule he refused to publish and he and his wife had to go underground. Bove died in Paris in July 1945 of malarial fever.