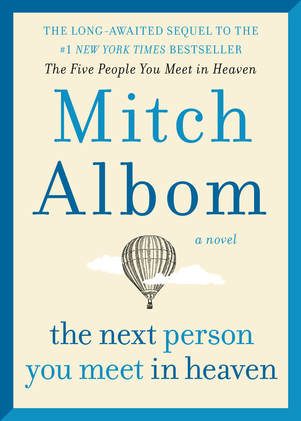 An Evening with Mitch Albom is a fundraiser for the homeless and an hour long presentation featuring Mitch Albom Live on stage, followed by a book signing. Mr. Albom will be presenting his latest book THE NEXT PERSON YOU MEET IN HEAVEN. The event is ticketed and takes place THURSDAY, DECEMBER 13 at 7:30 PM, at the Warren Civic Theater, 5460 Arden Ave, Warren, MI 48092.A $30 donation includes a signed book.
"The Next Person You Meet In Heaven" is the sequel to Mitch Albom's best seller "The Five People You Meet in Heaven." Read an excerpt from the new book in The Detroit Free Press.
Hosted by Warren Civic Theatre to benefit S.A.Y Detroit's Working Homes/ Working Families and MCREST, which provides meals, lodging, life-skills training, housing assistance, job readiness training, and emergency shelter 365 days each year to Macomb County's homeless population.
$30 donation includes a copy of Mitch's latest novel, THE NEXT PERSON YOU MEET IN HEAVEN. If you can't attend, please call Book Beat (248)968-1190 to reserve an inscribed or autographed book.
Mitch will be making an hour-long presentation, then, after a short break, he'll be signing books while Warren Civic Theatre provides entertainment and a gift wrapping table. Book Beat will be providing books and will have extra copies along with a selection of Mitch Albom titles perfect for gist giving. A portion of all sales will be donated to S.A.Y Detroit's Working Homes/ Working Families and MCREST.
Tickets are available at Warren Civic Box Office at Warren Community Center
And 24/7 at www.WarrenCivic.Org and (800) 838-3006
MITCH ALBOM is an internationally renowned author, journalist, screenwriter, playwright, radio and TV broadcaster and philanthropist. His 13 books have collectively sold more than 35 million copies worldwide and have been published in 49 territories, in 45 languages, and have been made into Emmy Award-winning and critically-acclaimed TV movies.A longtime panelist on ESPN's "The Sports Reporters" and co-host ofits new iteration as a podcast, Albom has also penned films, plays, and a musical. For more than a decade, he was named top sports columnist in the nation by the Sports Editors of America, the highest honor in his field. In 2006, he founded S.A.Y. Detroit, an umbrella organization that now operates nine charities dedicated to improving lives of the neediest Detroiters. He also runs an orphanage in Port Au Prince, Haiti, the Have Faith Haiti Mission.He lives with his wife, Janine, in Michigan.