We are pleased to announce the return of author, activist and educator Bill Ayers, presenting his latest book: Demand the Impossible! A Radical Manifesto  in a live appearance at Book Beat, 26010 Greenfield in Oak Park on Thursday, February 2, 2017 at 7 PM. Please call 248-968-1190 to reserve books or for more information.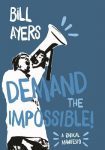 "History shows that progress only happens when we refuse to limit ourselves to the art of the possible."
–Bill Ayers
In an era defined by mass incarceration, endless war, economic crisis, catastrophic environmental destruction, and a political system offering more of the same, radical social transformation has never been more urgent or seemed more remote.
A manifesto for movement-makers in extraordinary times, Demand the Impossible urges us to imagine a world beyond what this rotten system would have us believe is possible. In critiquing the world around us, insurgent educator and activist Bill Ayers uncovers cracks in that system, raising the horizons for radical change, and envisioning strategies for building the movement we need to make a world worth living in.
Demand the Impossible: A Radical Manifesto from Rising Up With Sonali on Vimeo.
"Demand the Impossible is more than a book, more than a manifesto. It is a torch. Bill Ayers' vision for a humane future is incendiary—fire that incinerates old logics and illuminates new paths. If we do not end the violence of militarism, materialism, caging, dispossession, debt, want, ignorance, and global warming, our very survival is impossible. Read aloud."
—Robin D. G. Kelley, author of Freedom Dreams
"With the beautiful idealism of a young radical and the sage wisdom of an elder, Bill Ayers is making trouble again, and we should all be grateful. In Demand the Impossible Ayers troubles the waters of staid political practices, insisting that we close our eyes for a moment and think creatively about what a better world might look like, and then open our eyes wide and organize boldly to make that world a reality. This is an elegant and provocative manifesto for our time, one that honors the social justice organizing currently in motion."
—Barbara Ransby, author of Ella Baker and the Black Freedom Movement

Bill Ayers in conversation with Peter Werbe on Nightcall WRIF radio 10.16.2016:

Demand the Impossible is just what the world needs right now, a manifesto that challenges us to imagine bigger, love harder, create more expansively, and struggle toward a liberatory future in spite of our deepest doubts. Bill Ayers wakes us up and shows us that even the most entrenched, most permanent-seeming institutions—the military, the prison, the police, capitalism itself—are no match for the creativity and determination of the "universal family" and the "better angels of ourselves." Demand the Impossible is a call to abandon the illusory American Dream wholesale, and, in its place, to unleash our own collective, revolutionary dreams into the universe. I dare you to not be inspired by this book.
—Maya Schenwar, editor of Truthout and author of Locked Down, Locked Out

"This is a deeply refreshing book, reminding us of why the core principles of socialist and anarchist thought—peace, justice, freedom, equality—are grounded, not in utopian fantasy, but in the joyous work of the creative imagination in everyday life. In large ways (an end to the military-industrial complex and the U.S. prison system) and small (the rebirth of community and public life in neighborhoods) Ayers offers a program that is long on ideals and even longer on actually existing programs, groups, movements, and individuals working toward a humane future. By turns alarming in its realistic assessment of the madness and stupidity of the present global system, and inspiring in its down to earth proposals for alternative human futures, this is a must-read for discouraged progressives everywhere. It is a book that could be a clear and present danger to Western civilization as we know it—and in the very best way."
—W. J. T. Mitchell, editor of Critical Inquiry and author of Seeing Through Race and Cloning Terror
"Every once in a while a book comes along that not only changes the way one thinks, but opens a new space for imagining and then acting to create a better world with commitment, courage, and a heightened sense of ethical and social responsibility. Demand the Impossible is one of those books, and it ranks right at the top of the list. Ayers has a gift—he not only writes like a poet but he never fails to deal with rigorous and important ideas in an accessible and moving style. Touching on a range of issues extending from police violence and racism to ecological destruction, Ayers raises all the right questions and connects the dots that provide a tapestry for energizing the radical imagination. This may be one of the best books written in that tradition. Powerful, insightful, prodding, challenging, and most of all hopeful—if you want to understand the problems facing a society tipping into the abyss of authoritarianism, this book is a must-read, a kind of master text for those of us figuring out how to change a world that seems at time beyond our reach."
—Henry Giroux, author of Theory and Resistance in Education and The Violence of Organized Forgetting

"Demand The Impossible provides the imperative we need now. As public consciousness and despair heighten in our various locales, we must be willing to engage lessons from the past and present while building a future that is reflective of our commitment to justice. If we're serious about this, we know there is no choice: all we got is US!"
—David Stovall, author of Born Out of Struggle

"Ayers fearlessly confronts the intersecting crises of our age—endless war, surging inequality, unchecked white supremacy and perilous planetary warming—while mapping emancipatory new possibilities. From the first page, his courage is contagious."
— Naomi Klein, author of The Shock Doctrine
"For Bill Ayers, it is the freedom of our collective imagination that links the contemporary world— ensconced as it is in pervasive militarism, racist violence, and environmental devastation…This is a manifesto that should be read by everyone who wants to believe that 'another world is possible.'
— Angela Y. Davis
Bill Ayers is a social justice activist, teacher, Distinguished Professor of Education (retired) at the University of Illinois at Chicago, and author of two memoirs, Fugitive Days and Public Enemy. To learn more visit: https://billayers.org/
Save
Save