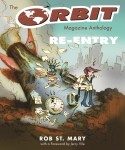 Join author Rob St. Mary at Book Beat (26010 Greenfield Rd., Oak Park, MI) on Thursday, September 10 from 7:00-9:00pm to celebrate the release of The Orbit Magazine Anthology: Re-Entry. Hear stories of punk rock excess & success outlining the creation of the magazines (White Noise, Fun and Orbit) as well as the lasting impact of these innovative Detroit publications… AND MORE! Special guests are expected – so, maybe sure you show up, buy a copy of the book, get it signed as we start the 25th birthday celebrations for Orby! This event is free and open to the public. Books will be available for sale and signing at the event. For more information or to reserve a copy of the book, please call Book Beat (248) 968-1190.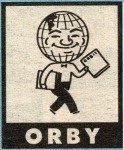 With a mischievous globe-headed mascot that appeared in every issue and even on Quentin Tarantino's T-shirt in Pulp Fiction, Orbit was an instantly recognizable arbiter of 1990s Detroit culture. But its irreverent tone and unique editorial features could be traced to two earlier local publications from creator Jerry Peterson, a.k.a. Jerry Vile—White Noise (1978–1980) and Fun: The Magazine for Swinging Intelectuals [sic] (1986–1990). In The Orbit Magazine Anthology: Re-Entry, author Rob St. Mary details the full run of White Noise, Fun, and Orbit, collecting two decades' worth of Detroit's alternative publishing history into an over-sized, heavily illustrated volume that situates the publications in the city's pop culture and media history.
St. Mary shows that while other alternative papers followed a tried-and-true focus on lefty politics and the arts, Vile's publications found their niche in biting satire and sharp design that fed on popular culture. From the 70s punk scene in White Noise to audacious articles and irreverent "news" in Fun and a blend of reporting, satire, and culture in Orbit, St. Mary shows that Vile's publications were distinctive in their content and uniquely Detroit in their tone. In sections devoted to each magazine, St. Mary details their recurring features (including dining, movie, and music reviews) and interviews former staffers. Numerous images and page spreads reveal the notable Detroit musicians—like Destroy All Monsters, the Gories, ICP, Jack White, Kid Rock, and Derrick May—and artists—including Niagara, Glenn Barr and Tristan Eaton—that graced their pages.
A foreword by Jerry Vile, an afterword by Ben Blackwell, and a cover designed by Glenn Barr round out this one-of-a-kind volume. Anyone interested in Detroit arts and culture or the history of alternative publishing will be grateful for The Orbit Magazine Anthology.
Join our Facebook event page here
Rob St. Mary is a Metro Detroit native and award-winning reporter. He has worked in radio newsrooms across Michigan and currently lives in Aspen, Colorado, with his two cats.