Join us at Book Beat on Sunday, August 16 from 2:00-3:30pm to celebrate the releas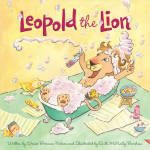 e of two new books by beloved local authors: Wong Herbert Yee, who will be on hand to present his latest release My Autumn Book (the latest in his seasonal book series), and Denise Brennan-Nelson & Ruth McNally Barshaw, who will be presenting their first book together, Leopold the Lion. The authors will be speaking as well as signing copies of their work. This event is free and open to the public. For more information or to reserve copies, please call Book Beat (248) 968-1190. A poster for this event you can print, post, and share can be downloaded here: Double Book Launch Poster
Wong Herbert Yee is the author & illustrator of dozens of beloved children's books, including such favorites as: Fireman Small, Hamburger Heaven, Mrs. Brown Went to Town, Eek! There's a Mouse in the House, and the Mouse and Mole series. He has been a published author for over twenty years, and incredibly his first book is still in print! My Autumn Book is his latest release and the conclusion to his ever-popular series on the seasons. We're very proud to consider him a great friend at Book Beat and hope you can join us for this special event! Visit his website here.
Denise Brennan-Nelson is the author of numerous children's books including: Willow, My Momma Likes to Say, My Teacher Likes to Say, Little Michigan, Maestro Stu Saves the Zoo, He's Been A Monster All Day!, Tallulah: Mermaid of the Great Lakes, and her latest book as an author Leopold the Lion (along with illustrator Ruth McNally Barshaw). Visit her website here.
Ruth McNally Barshaw is the author & illustrator of the popular Ellie McDoodle book series. Leopold the Lion (with author Denise Brennan-Nelson) is her debut as a picture book illustrator. Visit her website here.
The Oakland Press has a story about this event here!