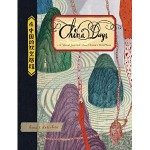 Internationally renowned artist and author Henrik Drescher will be making an appearance at Signal Return (1345 Division Street, #102 Detroit, MI 48207) to promote his latest book, China Days,on Thursday, October 16 at 6pm. Drescher will discuss his work and sign copies of his latest book. While in the Signal-Return studio, Drescher will also produce a limited edition of color prints. Proofs of the prints created will be available for viewing and orders will be taken for purchase.This event is free and open to the public. Books will be available for sale at the event courtesy of Book Beat. For more information, contact Signal Return (313) 567-8970.
The nation of China is a constant source of fascination, yet we rarely glimpse life beyond its urban centers. Far west of Beijing and Shanghai, in the remote Chinese province of Yunnan, pioneering artist Henrik Drescher settled over a decade ago. While residing in his adopted home, Drescher records his experiences and observations in his illustrated notebooks, capturing everyday life in settings ranging from street markets to mountainscapes. These richly illustrated pages are compiled here for the first time. Drescher's loyal fans will appreciate this window onto the life of the artist at the height of his powers, while those with an interest in Chinese culture will marvel at this rarely seen view of a country in the global spotlight.
Visit Henrik Drescher's website here
Henrik Drescher is the award-winning author of dozens of books for adults and children, including Turbulence and Postal Séance. He lives in Dali, Yunnan, China.