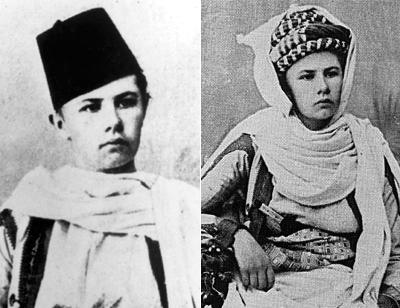 This month's reading selection will be The Oblivion Seekers by Isabelle Eberhardt (1877-1904). The reading group will meet July 30th at 7 PM at the Goldfish Teahouse in Royal Oak. Book selections are discounted 15% at Book Beat.
"By advancing into unknown territories, I entered into my life." –Isabelle Eberhardt
Eberhardt's collection of short stories were written as she explored the deserts of North Africa disguised as a man in order to gain the confidence of members of Arab society. With the freedom of her male identity she was able to gain access to a secret Sufi brotherhood. Prior to her death in a desert flash flood she converted to the Muslim faith. The original manuscript to The Oblivion Seekers was lost in the same flood, but a copy remained and was translated for the edition we are using by author Paul Bowles.
"Eberhardt's extrodinary life detailed in the introduction by Paul Bowles is as interesting as her stories – especially as a female negotiating the Arabian world of the mystics. Her short pieces are sometimes eloquent petitions for the rights (and the joy and the rewards) of the penniless wanderer."
"This volume contains 11 short stories, a diary excerpt and a letter to the editor defending her integrity. Paul Bowles has provided in the preface a reasonably detailed account of her life. The book would be valuable solely as a historical piece – a sympathetic view of the natives who are in the process of being subjugated by France."
Below is an excerpt from an opera based on her life by Missy Mazzoli: