Book Beat's February Reading Group selection is Tenth of December by George Saunders. The Reading Group will meet Wednesday, February 26 at 7pm in the Goldfish Teahouse (117 W 4th St #101, Downtown Royal Oak). Books are discounted 15% at Book Beat. All are welcome!
"The best book you'll read this year."—The New York Times Magazine
"A feat of inventiveness . . . This eclectic collection never ceases to delight with its at times absurd, surreal, and darkly humorous look at very serious subjects. . . . George Saunders makes you feel as though you are reading fiction for the first time."—Khaled Hosseini, author of The Kite Runner

"A visceral and moving act of storytelling . . . No one writes more powerfully than George Saunders about the lost, the unlucky, the disenfranchised."—Michiko Kakutani, The New York Times
"He's making an intelligent critique of not just how we are, but how we think. That's more realistic than "realism." -Huff Post Blog 
"I grew up in Chicago. Humor was the way you communicated all emotion, you know…" – George Saunders, Prince of Short Stories 
"One of the stories in the book ('The Semplica Girl Diaries') took 14 years to finish—but honestly, even that was sort of pleasurable. I love the feeling of being on the hunt—the feeling that the story is refusing to be solved in some lesser way and is insisting that you see it on its highest terms.: -George Sanders Interview National Book Foundation
One of the most important and blazingly original writers of his generation, George Saunders is an undisputed master of the short story, and Tenth of December is his most honest, accessible, and moving collection yet.
Writing brilliantly and profoundly about class, sex, love, loss, work, despair, and war, Saunders cuts to the core of the contemporary experience. These stories take on the big questions and explore the fault lines of our own morality, delving into the questions of what makes us good and what makes us human.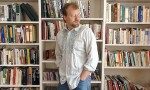 Unsettling, insightful, and hilarious, the stories in Tenth of December—through their manic energy, their focus on what is redeemable in human beings, and their generosity of spirit—not only entertain and delight; they fulfill Chekhov's dictum that art should "prepare us for tenderness."
"It's a little facile, maybe, and certainly hard to implement, but I'd say, as a goal in life, you could do worse than: Try to be kinder." —George Saunders's Advice to Graduates