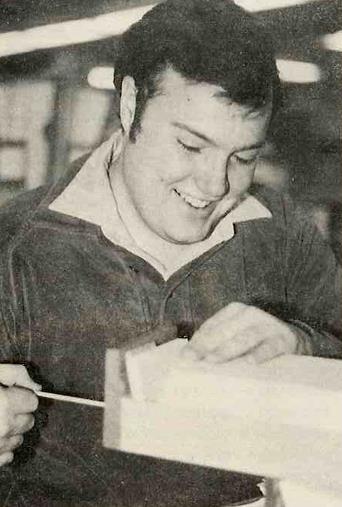 Peter Sieruta was an author, book reviewer, and online blogger who also worked full time as a librarian at Wayne State University. Peter created the Collecting Children's Books blogsite, that became from the start, an outstanding resource for writers, readers, collectors, and fans of children's books. The personal knowledge, passion, humor, and flair he put into his writing, made the site a magnet for children's book lovers and enthusiasts. His last blog was written on May 13th, 2012; a remembrance on the legacy of Maurice Sendak. Peter's web activity led him (along with two other children's book bloggers) into a deal with Candlewick Press, who will publish in 2014, Wild Things!: Acts of Mischief in Children's Literature.
For over twenty years, Peter was a long-time friend and supporter of Book Beat. He attended our 11th anniversary party and at our 25th anniversary, (a huge thunderstorm prevented a large turnout) – only a few guests arrived. Peter was among them. He communicated regularly over the telephone with Book Beat owner Colleen Kammer. And every Friday Peter would stop by the store like clockwork. He'd make a selection from his private hold box and look over the new arrivals.
Colleen and Peter shared a special relationship through children's books. They read voraciously and were enthusiastic fans of good writing. Nothing escaped them. Colleen encouraged Peter to begin his weblog "Collecting Children's Books", which became a perfect outlet for his thoughts on books. The weblog allowed him freedom to pursue his ideas without the constraints and pressure of commercial writing.
Colleen and Peter spent the weeks leading up to the ALA Awards in deep study, comparing notes, constantly on the phone consulting each other, reading and analyzing potential Newbery and Caldecott nominees. The Awards were a culmination of focus after a year of reading hundreds of new books. Their prognostications were an annual rite, and amazing to watch.
At a book launch and photo exhibit on March 17th, 2012 held for Step Gently Out, Peter was able to meet author Helen Frost, photographer Rick Leider, along with other authors in attendance; Kathe Koja and Sarah Miller (author of Miss Spitfire). Peter came to many of our Young Adult and children's author events and always stayed in the background. He was an extremely shy and private person, but this event was different. He loved every minute,
At the signing for Step Gently Out, Peter was out of his element but had a great time and stayed near the end to talk and meet informally with everyone. This may have been Peter practicing public relations. His new book was being planned for release soon, and he knew he would need to be making public appearances.This made him nervous beyond measure.
In early May, Peter had an accidental fall in his house and broke his leg. This happened while trying not to disturb his parents who were sleeping on the ground floor. Peter was trying to quietly climb down the stairs without turning on the light, and tumbled down in the dark.
That May it was announced Book Beat had won the Pannell Award, a prize given to bookstorew for excellence in children's bookselling by the Women's National Book Association. Peter was happy for the store and upset about missing our the 30th anniversary party being planned that summer. Colleen told him even if he needed to come in a wheel chair, there was no party without Peter, and we would pick him up if needed.
Peter began watercolor painting soon after he moved into his new house. It was a way to relax and enjoy his spare moments. He painted his surroundings, nature scenes, and childhood memories in a simple straightforward, flat and gentle style.
What interested Peter were the feelings and emotional connections he could have and communicate through his subjects. His self-taught artwork was honest and directly felt, reminiscent of many renowned folk artists. At the Book Beat's 30th anniversary party in August 2012, we were lucky to be able to share his artwork (thanks to his brother John) in our backroom gallery.
Peter died following complications after his accidental fall from his second floor bedroom. His death at the age of 53 stunned his family, friends and the online children's book community. Publisher's Weekly said, "He was known to many for his knowledgeable and opinionated posts about the books (and book creators) that were of passionate interest to him. Those fondly remembering him these past days all over the kidlitosphere also recalled his quick wit and great sense of humor, which he displayed to great effect in several April Fools' Day postings on his blog."
Peter's colleague and co-author in the Wild Things! book project was Julie Danielson, creator of the blog Seven Impossible Things Before Breakfast.She wrote, "It was my pleasure to work and write with Peter over the past three years. He had a keen wit, a kind heart, and a brilliant mind. He was an avid reader; every time we turned around Betsy and I were amazed, but not surprised, by the number of children's lit-related stories he had stored in his brain and the knowledge he held on the subject."
The third member of the Wild Things! project was Betsy Bird of Fuse 8 who said, "The heart of the matter is that he loved kids books. Loved them more than anyone else I know. Some of us talk about dedicating our lives to them. Peter actually did it and with his death there is absolutely no one to fill his shoes. Peter didn't just know the history of children's literature, he made it accessible to the masses. When I discovered his blog Collecting Children's Books all those years ago it was like stumbling on a veritable goldmine. His writing wasn't just smart. It was funny, infinitely witty, and easily put my own to shame. Nobody knew as much as he did or was as good at conveying that info in such an engaging way."
The Kirkus review said, "Friends and acquaintances will miss his Facebook status updates, mini-memoirs about his family, and playful stories about his pie-baking experiments and attempts to learn watercolor painting. One of my favorite recent status updates was his attempt to paint a woman's face: "This morning's test painting: Let's see, the pupils of her eyes are square, her lips are about two inches left of her nose, and her chin is as big as a dinner plate. Also, she kind of looks like a man to me. (Painting can be a drag!)…"
Roger Sutton at the Horn Book (where Peter was once a book reviewer) said, "Peter always had the best historical gossip about children's books and he would track a rumor to its source like a bloodhound. There was no one in this field like him, and he will be missed."
Peter's enormous library of first edition Newbery books was built up over his lifetime and became the centerpiece of his new home he thoughtfully shared with his aging parents. It was his last wish to have his collection donated one day to Wayne State University where they could be shared and studied by researchers and fans of children's books in the future.
Peter was a gifted writer and kind person. He valued privacy, family and friendships, and in his unique way, taught us what he knew. It's been a year since Peter has passed and we all still miss him dearly.
Here is a short memory his brother John wrote to us last year; "When we were kids we went to the Edison Library on Joy Road. Peter picked out 5 or 6 books which was typical – I was holding them on the handle bars and fell off. Face first onto the street. Peter's concern wasn't me…he said "How are the books? Are they scuffed?"
The following is an autobiographical statement written by Peter at the age of 12 for a school assignment, shared soon after his passing by his brother John;

…please, dear reader, If you find my story too sweet, sour or bitter with dramatization, Please understand. By the way if you MUST shed a tear, please use a Kleenex and not this page, for if you use this page the ink will smear.
I entered school September 4, 1963. The school I entered was Horace Mann. Miss Distin was my teacher. I had always looked forward to starting school!? We had several activities in kindergarten. I enjoyed drawing.
I did not join many organizations in school, I only joined two. Library staff was a rewarding organization. It taught me many library skills. I am forever grateful to Miss Weil.
Once when I was in school there were some signs posted around the room announcing a Spelling Bee. I ran home and started practicing. I practiced for the whole week. That day I was very nervous. Somehow, I won! ? The winning word was appetite. The test word was argue. I won a handsome dictionary from the Detroit News.
I have no real plans for the FUTURE. But I know I will go to school and then on to college. I think that teaching might be fun. The End.