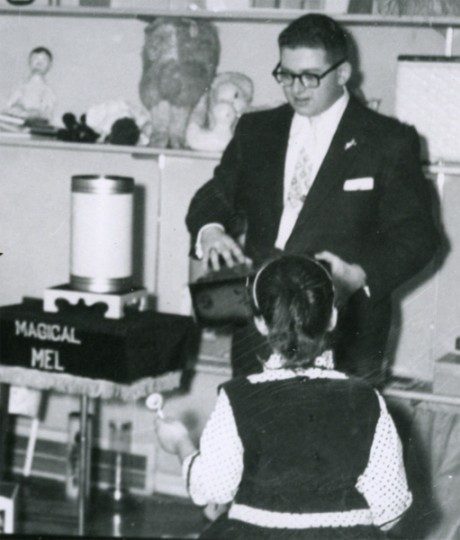 Mel Eisenberg (1935-2012) was a  regular at Book Beat, a  person deep into magic, illusions, the supernatural, playing cards and the circus. During every visit,  Mel would drop off a a few yellow legal pads of paper as a gift that we used  to write up inventory sold during the day. Mel managed printing companies by profession but his passion was the world of magic.
October 31st, 1976 was the 50th anniversary of Houdini's death at Grace hospital in Detroit. On that day, Mel organized a gathering with five fellow magicians who came together in the same room in which Houdini died, in an attempt to contact his departed spirit. The event was covered in newspapers and on TV.
At a signing for Daniel Waldron's; Blackstone, a Magician's Life: The World and Magic Show of Harry Blackstone, 1885-1965, Mel entertained the audience at Book Beat with amazing card tricks and stories about the great magicians he knew. For most of his life, Mel was a professional magician in the Detroit area known as "Magical Mel".  During the 1970s, Mel ran a local magic shop in the Telex-mall at 10 mile and Telegraph known as "The Emporium of Magic." It became a local hangout where kids and adults could learn about magic and tryout their routines. Mel loved to pass along his enthusiasm and love for magic. He passed away on March 2nd, 2012.
STEP RIGHT UP! Beginning in the last week of October and throughout December 2012, Book Beat will be selling and displaying Mel's specialized collection of magic books and ephemera in our backroom gallery. Included in the sale is a a large grouping of books related to the circus; sideshow entertainers, freaks, P.T. Barnum, posters, magazines, photo stills and biographies of magicians (many of them signed) and over 40 rare and seldom seen tarot and cartomancy decks. Mel's private library represents a lifetime of passionate collecting. The majority of books have been priced below online values and offer a great opportunity for both the novice or advanced collector. Mel's wife Rosalie penned the following short biography: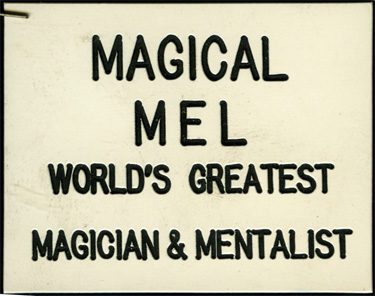 MAGICAL MEL
Mel Eisenberg was born Nov. 12, 1935 in Detroit, Michigan, where he lived until he married and moved to Oak Park.  He attended Central High School and graduated in 1953. He then went to Detroit Institute of Technology, graduating Cum Laude, with a Bachelor's Degree in Marketing.   He was a member of Omega Alpha Pi, an honorary fraternity.
He married his childhood sweetheart, had two children, and a long career in the printing industry as General Manager of several companies in the Detroit area.  His last position was as a printing forms salesman, which put him in contact with the public, which he truly loved.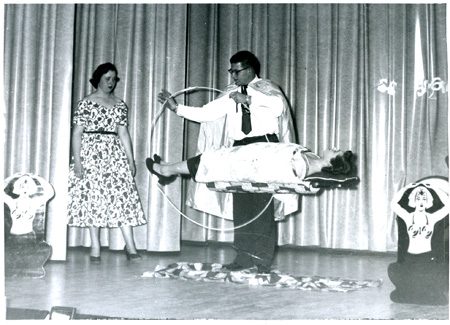 His interest in Magic started as a young boy in his pre-teens.  He obtained several books and learned as much as he could from them.  When he was old enough to work, he got a job in a Magic Shop in downtown Detroit, where he had the opportunity to meet many local magicians, as well as visiting magicians who always sought out the local magic shop to browse through. His earnings always went towards buying equipment and eventually he put an act together and started entertaining at children's birthday parties, school functions and wherever he could find a captive audience. Magic became his passion and he spent much of his free time practicing new tricks and developing new acts.  He entertained children of all ages (3 to 93). He taught classes at the Jewish Community Center and many of his first time students have made magic their career.   He was a mentor to many.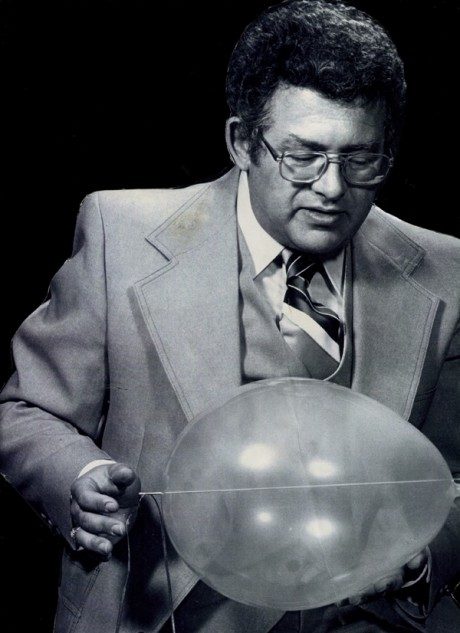 In the 1970's he was asked to become a partner in a magic shop in Southfield, and he jumped at the opportunity.  The Emporium of Magic became a place for all the local magicians to hang out. It had a stage, where they could perform at any given moment.  They also offered classes for children, as well as adults.  The shop closed a few years later but he continued to help old and new magicians from his home.
Mel was a member of the Int'l Brotherhood of Magicians, the Psychic Entertainers Association and the Society of American Magicians.
During his lifetime he had many hobbies, one of which was collecting magic and circus books. He has a collection of approximately 500 books which are on display for purchase at the Book Beat, in the Lincoln Center, Greenfield and Lincoln, Oak Park, MI.
Mel was well respected both in his business and personal life. He died on March 2, 2012 at the age of 76.  At his funeral he was honored by having a "Broken Wand" ceremony, performed by one of his early students of 50 years ago.
Note: All photos above are from the estate of Mel Eisenberg; from the top; Mel performing at about age 15, Mel's cloth pin he wore on his jacket, Magical Mel pin, Mel performs a levitation with his assistant Rosalie, Mel performing balloon magic.