American Bikers; Photography & Book Signing Thursday, September 16th at Book Beat
Thursday, September 16th at 7 PM a special exhibition of the "Flash Collection" photography by  Jim "Flash" Miteff will be presented by his daughter Beverly V. Roberts at the Book Beat Gallery at 26010 Greenfield in Oak Park.  This photographic exhibition and signing for her newest book; Portraits of American Bikers: Inside Loking Out, will happen at the Book Beat backroom gallery from 7-9 PM. This exhibition will continue through November 8th, 2010.  Please call 248-968-1190 for further information.
The Portraits of American Bikers book and exhibition features many photographs of the Detroit chapter of the Outlaw bikers taken in the mid-1960s by Jim "Flash" Miteff. This is the second in a series of biker portrait books recently published by Miteff's daughter Beverly V. Roberts. The photographs provide a previously unknown insider's look into the everyday lives of Midwest bikers from the late 50s to the late 60s.
These images are unique in the history of photography. Nothing like them has ever been compiled or seen publicly in book form before. These are authentic and rare evidence of a hidden world; a subculture previously unrepresented, shown only through the stereotyped sensationalism of comic books and mass media. These photographs provide a totally raw and unblinking view through the window of local Detroit and Midwest biker culture. The imagery of Jim "Flash" Miteff  marks the opening of new territory unreported before in documentary photography and deserving of our attention and understanding.  These are historic photographs of solid artistry and craftsmanship. Fresh. Newly discovered, vibrantly alive.
Miteff's images are both participatory as 'life-in-action' and as a subject of observation at the same time. His work has the same unshakable and gripping authenticity as Diane Arbus, who is his natural contemporary. There is wildness in abundance, rough-housing, drinking, laughter, darkness and joy. He shows the same sincerity, devotion and access to subculture as a Larry Clark or Nan Goldin, but Miteff here is working a decade or two earlier and is the far better technician; knowing his way around the large format camera as well as Weegee or a street-wise  Atget. Miteff's up-in-your-face stark style is like many of the older masters, an instantly recognizable style totally his own.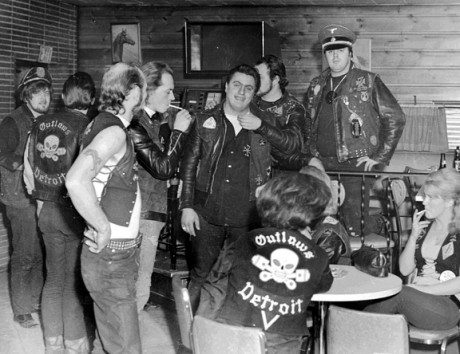 A comparison to the Bikeriders, a 1968 series of biker photos by Danny Lyon is unavoidable, and the differences here are most noticeable.  Lyon who rode with the Chicago chapter of the Outlaws reads foreign, self-conscious and somewhat distant, almost as a stranger entering a world he is framing and trying to explain. Some of  this difference can be explained in the tools each photographer used. Miteff  seems more comfortable inside this world, like an older statesman, taking the viewer by the hand on a poet's journey.  He  is a totally self-assured photographer, knowing exactly where to position himself and when to shoot. Lyon took photos on the fly, quickly capturing time and images like a bandit, hit or miss, shooting from the hip, a style dependent on the Robert Frank and the snapshot aesthetic. Lyon maybe viewed his life with the Outlaws as an undercover -anti-Life-magazine assignment. Miteff is a slow-moving image taker, careful, plodding and organic. With a passion similar to the classicist Atget, famous for lugging his out-sized 19th century view camera through the streets of Paris,  Miteff  shows us the world of bikers in way that is both generous and truthful, and he's a rare 1960s artist laying outside the circle of those following the lead of Robert Frank.  He's earned the respect and friendships made inside a band of fellow brothers, who are equal and sharing co-conspirators in this survey.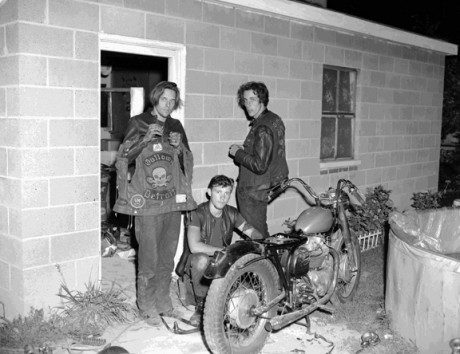 Jim "Flash" Miteff made the Graflex Speed Graphic press camera his weapon of choice. It was a tool made famous by Weegee, the dark genius of  New York City Murder, Inc.  journalism of the 40s and 50s and author of Naked City. The comparison to Weegee is natural. Both photographers were at ease on the streets, using humor, high contrast printing and straight shooting the unadorned truth as their core value and simple bare-bones aesthetic. Photography in their hands was more than a recording device; it was a way to expose and rip apart the 'American Dream'; a land they saw filled with inequality, mediocrity, oppression and social injustice. The 1960s in these photos takes on a patina borrowed from the 40s and 50s, partly the outcome of the camera used but also due to the fact of MIteff's rank and trusted presence. He was also a skilled mechanic and repairer of motorcycles, an artisan always in need.
The Speed Graphic is a large format, heavy and imposing camera, the one always used by news hounds in cartoons and in old Noir films. Photogs with an outlandish comical camera always broke behind the police lines. However, the Speed Graphic is an odd choice of camera for a shooter in the sixties, made obsolete by faster more nimble 35mm SLRs., but Miteff was no ordinary photographer.  The Speed Graphic made him stand out in a crowd, it screamed 'photographer' and he knew it – people reacted to Miteff  in a way that was both posed and natural.  Speed and fast shooting was not Miteff's game. He recognized the wild zeitgeist of the 60s MC world and saw it like classical theater; this was Shakespearean drama unfolding in front of his eyes, and he wanted to preserve it in the most rigorous and beautiful way possible, and so the older more stable Speed Graphic became a trusted companion. The camera produced  rich 4×5″ negatives, a perfect size for contact printing or the richest detailed enlargements.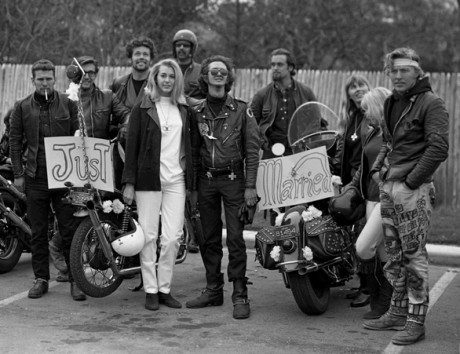 Miteff's photographs were carefully planned out compositions, almost reminiscent of stage plays or movie sets but blended with the humorous and absurd chance happenings of real life.  The photographer was clearly passionate about the material and subject matter.  The photos have retained their intimacy of subject matter with an eclectic vitality rising over and beyond sheer nostalgia. There is something nearly immortal about these biker portraits.  Here are everyday activities happening inside club houses, bars, the streets and woods;  pool players, smoking, drinking, driving, picnics and weddings; and at the center stands the motorcycle, a shinning symbol of freedom and the road. The images were created with such care and reverence that their power and resonance seem undisturbed by time. These images  speak to our humanity, zest for life and deepest fears. They are photos steeped in the 1960s a very specific time and reality, yet are also connected to the rich heritage of the MC stretching back to the 1920s. The Outlaw MC  worldview is one few citizens will rarely experience, yet here it is accessible as  an open book, a history exposed without limits and unsifted through the tentacles of the mass-media.
The public identity of  bikers has been made primarily through dangerous acts, perversity and the taboo. Here in the starkness of black and white are hundreds of images that tell a different story, taken from the golden age of the Motorcycle Club; most rarely seen and never published before. Like hidden treasure, these images were kept in storage for over 40 years and are only now being brought into the light.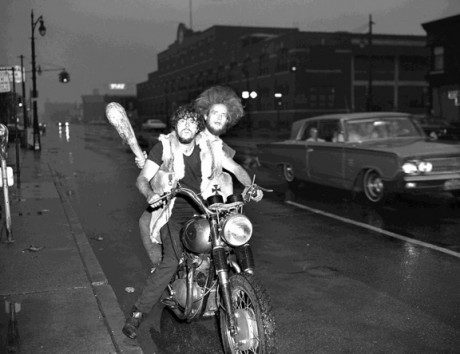 The story of their appearance is one of a daughter's love and determination to bring attention and light to her father's artistry and unusual lifestyle. Beverly who was practically raised on a motorcycle, sought after the identity of everyone living or dead in each photo and was granted access into the closed world of the Outlaws who have sanctioned this work and see it as a true record of their time and history. Like sacred Native American hieroglyphs these images convey a history and code of life nearing extinction. The book is brought up-to-date with some of Beverly's own images that chart the passage of time for some bikers now into their 70s. During his lifetime Miteff had shot hundreds of images of the Outlaws 1%-er MC, and now they are available to all; to be shared and savored for their raw power and intense energy. These photos are a pledge to the outsider-as-individual and the brotherhood law of the road. With beauty, humor and depth of style, Jim "Flash" Miteff has pulled off a moment of time preserved, a moment of truth understood.
The "Flash Collection" is an archive of photographs taken by Jim "Flash" Miteff while he was a member of the Detroit Chapter of the Outlaws Motorcycle Club during the 1960s. The Outlaws MC is one of the largest 1%-er motorcycle clubs in the world today.
The term "One Percenter" (1%er) derives from a Life Magazine comment by the AMA (American Motorcycle Association)  describing a 1947 Hollister, California  'Riot' that 99% of bikers were law abiding citizens and that 1% were outlaws.  This tag has been used to describe the Bandidos, Hells Angels,  Outlaws and Sons of Silence. — source; Wikipedia
Autographed books, posters and original photographs will be available for sale through the Book Beat gallery.
A review of  Portraits of American Bikers by "The Road Captain" can be read here ; http://roadcaptainusa.com/2010/05/20/portraits-of-american-bikers-life-in-the-1960s/
Beverly V. Robert's first book of biker photos is reviewed here at "Thunder Press"; http://www.thunderpress.net/MONTH_ARTICLE-pdfs/2009/0209/PortraitsRevie/PortraitsRevie.shtml
source: all photos (c) Flash Collection 2010, Beverly V. Roberts