Masterworks of economy and acuity, these brief, trenchant tales by Russian author and playwright Ludmilla Petrushevskaya, selected from her wide-ranging but little translated oeuvre over the past 30 years, offer an enticement to English readers to seek out more of her writing. The tales explore the inexplicable workings of fate, the supernatural, grief and madness, and range from adroit, straightforward narratives to bleak fantasy. -Publisher's website
The Book Beat reading group meets the last Wednesday of every month. At our next meeting we will be discussing the contemporary cult and mystical classic There Once Lived a Woman Who Tried to Kill Her Neighbor's Baby: Scary Fairy Tales (Paperback) Our next meeting is Wednesday, April 28th at 7:00 PM at the Goldfish Teahouse, 117 W. Fourth Street in Royal Oak. Meetings are free and open to the public. Please call 248-968-1190 for more information. Book club books are discounted 15% at Book Beat.
Petrushevskaya's own brand of fairy tale straddles the line between reality and utopia, intermingling the dismal oppressiveness of life in a Moscow apartment with the joy that can be found in a children's home. "I think of myself as a documentary writer," she has said, "collecting documents about people's lives and reworking them."  — The Nation review
"Write down strange things you hear people say, stories people tell you, strange thoughts that you have." -Ludmilla  Petrushevskaya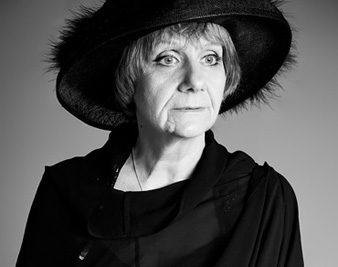 "What is shocking and memorable about the stories is not the sudden, supernatural junctures but the utterly bleak and believable details of the character's lives. In the seventies and eighties, Petrushevskaya, then primarily known as a dramatist, was reputed for her bracing realism. Her recent fairy tales follow the trajectory of this work.  While fantastical, There Once Lived a Woman Who Tried to Kill Her Neighbor's Baby reverberates with the grim realities of Soviet and post-Soviet Russia." —  Truth through Fairy Tale: Despair and Hope in the Fiction of Ludmilla Petrushevskaya –Dissent Magazine review
If these stories are gray, blocky walls, the images, poetry and metaphor within them are beautiful, fluid cement that binds them. Shadows of ghosts hover around murderers. Characters break from tension and the ground shifts from the land of the living to the land of the dead, or from home to America. People trade money to bring their loved ones back to life. In some of the stories, the bribes work. When people write about Ludmilla Petrushevskaya, they remark on the hope that clusters around the bleak stories. I am not so certain I read hope in these pages but there is redemption within them, something that keeps the fantastical and mystical events that do not often end happily from seeming ripe with despair. For me, maybe it is just the act of storytelling that is redemptive. Someone lived to tell the tale. –online review from "The Millions"
Sighting Ludmilla, the author speaks (briefly)
Wearing black fishnet sleeves, jewels on every finger, and a feathered black hat with matching shawl, Russian author Ludmilla Petrushevskaya looked like a character from her new book, There Once Lived a Woman Who Tried to Kill Her Neighbor's Baby: Scary Fairy Tales. On Tuesday, Sulzberger Parlor's North Hall was filled with people who had come to hear her read stories like "The Arm," about a man who digs up his dead wife to retrieve an airplane ticket from her grave; and "Pretty Woman," in which a Julia Roberts-like character, awaiting her Richard Gere, grows fungus all over her body. — from The Columbia Daily Spectator
Read Ludmilla's story THE FOUNTAIN HOUSE published in the New Yorker.
For decades, the writer Ludmilla Petrushevskaya was banned in the Soviet Union. She wrote stories about domestic despair and Soviet censors demanded optimism. Petrushevskaya's writing was just too dark, but today she's a living legend in Russia. And she's always reinventing herself. Her newest endeavor? Cabaret. Recently Petrushevskaya visited New York City at Samovar and sang for an audience of Russian émigrés. Kiera Feldman reports. Hear the author singing (click MP3 link at the top of page)
Ludmilla's Dark Cabaret