Mountain eyes, peeping out of his head
Sipping tea composing in his bed
A hundred hands working on a musical of old Debussy and Mendelssohn,Handel and Dvorak of old
Child star protege of Mister Gormez
Who said you'd go far
Child star, they do not see
just what a precious gem you'd be
Sad to see them watching you fade into invisibility
Twelve years old, your elvish fingers kiss your
Beethoven hair
The awesome people stare
They're unaware of all the angel sounds they see and hear Child star and when you died at just thirteen
they wept and wrung their hair
Sad to see them mourning you
when you are there
Within the flowers and the trees
—Child Star by Marc Bolan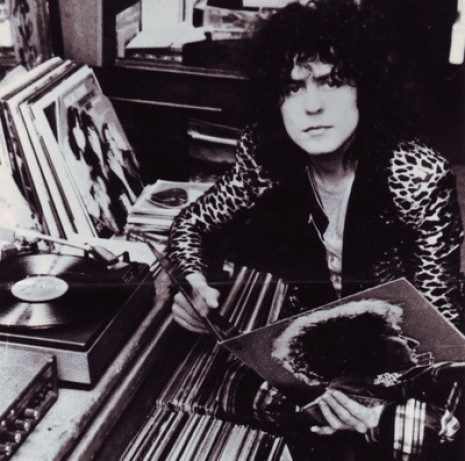 On the 16th of September, 1977, Bolan's Mini-Coop, driven by his girlfriend Gloria Jones, smashed into a tree on Richmond road outside of London. As the tree met metal on the passenger side, Bolan was plowed into the back seat and died instantly. Many of his songs celebrated cars, and although Bolan loved the automobile, and owned many, he never learned to drive them.
Within hours of his death, rabid fans broke into his home and stripped it bare. Clothing, papers, photographs, music tapes, memoribilia and all his personal items were stolen and never recovered. The next day tax collectors entered his office and demanded over 5 million dollars due in back taxes. Bolan never finalized a will and his estate was left in a mess.
The site of the crash has since become a 'Marc Bolan rock shrine,' with street decorations, grafitti, ribbons and memorial plaques that get continually ripped off and replaced. In 2002, at the 25th anniversary of his death, a large memorial statue of his bust was installed beside the tree crash site. The statue was erected and paid for by TAG (The T-Rex Action Group) the self-proclaimed legal leaseholders of the 'Bolan Tree', a dying note-riddled Sycamore. In 2005, the TAG group installed five plaques for deceased T-Rex associates; Steve Currie, Steve Peregrin Took, Mickey Finn, Dino Dines and June Bolan (nee Child).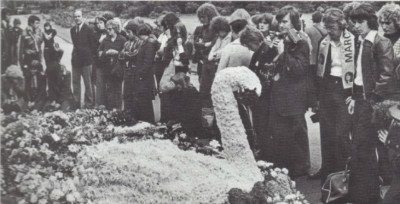 At Bolan's funeral, his coffin was covered in a huge swan-shaped floral tribute, in recognition of his first breakthrough hit single "Ride a White Swan." Bolan's first four albums recorded under Tyrannosaurus Rex are classics of some of the weirdest outsider folk-rock ever recorded. Its trance-like Eastern and Celtic rhythms are beautiful, intricate and intense, but not for everybody. "Drugged out, spacey, acoustic hippie crap," one critic noted. This period was an odd mix of Bolan's heroes; Syd Barett, Tolkien and Bob Dylan. (One theory is that his name change from Feld to Bolan was a nod to Bob Dylan.) But his vocal delivery (and subject matter) was other-worldly, angelic, magical and 'elvish', somewhere between Oz and Mars. Bolan's syntax and poetry is unique in music. Nothing close to his impish imagination has been done before or since. Neologisms were invented. Strange metaphors abound. In a rare Japanese interview Bolan comments, "Metal Guru is very much like one of your local deities, I mean its a personal god, in as far as a superhero if you want, you know, its someone who would help you, and I was just trying to get down somehow a religious sentiment without it being religious, you know, sort of rock n roll god, that sort of thing. Each verse just indicates really how I saw that person, you know. In fact there's one line, at the time when I wrote it I was being fucked up with telephones. I don't like telephones, and it was ringing all the time, so my idea of where god would be at would be all alone without a telephone, you know, which you can interpret as sitting in a cave in Tibet if you want, or being down the Biblos, or something. Whatever you want, I mean you know, your choice. For me it was being on my own you know." Bolan's last single in 1977 was 'Celebrate Summer' which had the ironic refrain: "Summer is Heaven in '77″…
And there I died,
sliced by my own image
yet freed by my own enemy
my flesh on a pyre,
and me silver limbed
a lyre for the heroes of the ages
to play tender love lays
in my hearts' house
to serenade the beings of the beginning,
like an orchard,
ripe and rewarding.
— Marc Bolan, fragment from Warlock of Love (1969)
More Bolan interviews, reviews and stories can be found at: TILL DAWN.NET Listen to an mp3 of: BALLROOMS OF MARS. Those true hard core fans of the early Tyrannosaurus Rex underground should visit, "THE most misunderstood & under valued singer/songwriter/musician of the 20th century": STEVE PEREGRIN TOOK (Bolan's early partner, so called 'acid casualty' and inspirational bandmate).
In 1995, Gloria Jones remarried and moved to South Africa where she has opened schools for HIV children. Their son Rolan, now lives in Los Angeles where he is trying to kick-start a career as rapper/rock star. You can watch Rolan doing a cover of his dad's 'Cosmic Dancer' at ROLAN ON YOUTUBE.This year marks the 30th anniversary of Bolan's death. As Marc himself once said, at the end of a televised concert, "Always keep a little Marc in your heart."
A Marc Bolan documentary with some color film from his funeral: