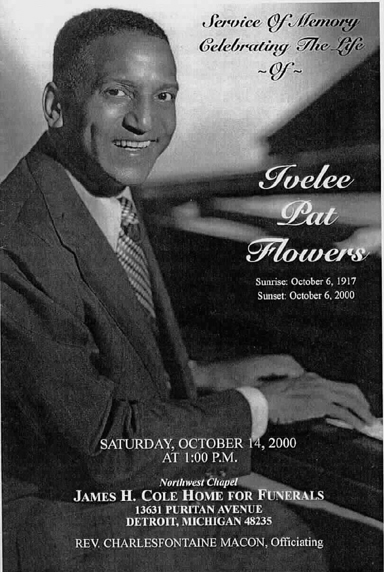 Pat Flowers (1917-2000) was a friend and weekly customer at the Book Beat for almost 20 years. He was a sweet and kindly man, looking many years younger then his age. He had an enormous passion for reading and was obsessed with health and diet. On weekends we'd sometimes share a big salad and drank fruit smoothies at the local Pita Cafe. His reputation as a great stride pianist was established in the 40s and 50s. Pat was the principle student and musical heir to Fats Waller. His recordings were long out-of-print but remained alive as actively traded bootlegs that circulated around the world, easier found in Japan than in the USA. He never earned a dime from them. Listen to this beautiful MP3 of the Pat Flowers trio from a Decca recording in 1941: AFTER THE SUN GOES DOWN
Pat was a mainstay at the early Baker's Keyboard lounge (established in 1934). "The main attraction up until 1954 was local pianist Pat Flowers, who was so popular that Clarence Baker no longer served food as the principal means of support, he provided entertainment nightly. Pat had Clarence change the name to Baker's Keyboard Lounge. By the fifties Baker was booking jazz trios and quartets such as Fats Waller, Meade Lux, Errol Garner, Art Tatum, Tommy Flanagan and George Shearing."
Baker's Keyboard Lounge is still active as a landmark Detroit jazz showplace, it is acclaimed as "the world's oldest jazz club" and during its 73 year history has had "almost every jazz musician of national importance" performing on its bandstand.
The following Pat Flowers article appeard in the Metro Times as "Jazzman Extraordinaire" by Kim Heron:
For decades he was a lost man of Detroit jazz, and when he passed away Oct. 6, (2000) at age 83, the word spread slowly. We might not have noticed here but for an inquiry to the Metro Times by a diligent librarian on behalf of a curious patron. Pat Flowers? His name rang a bell faintly as having been the pianist who had played at Baker's Keyboard Lounge when the keyboard was the key to the club, back when, we were told, the club at Eight Mile and Livernois had cornfields for neighbors.
Calls to Jim Gallert and Lars Bjorn, authors of a forthcoming history of Detroit jazz, filled in details, as did a short piece that appeared in the newsletter of the Southeast Michigan Jazz Alliance. It outlined a career that might have been much more.
A conservatory-trained Cass Tech grad, Flowers was appearing at local clubs before he was out of his teens and became "an almost permanent fixture at Baker's Keyboard Lounge … from about 1939 to the mid-1950s." In the mid-1940s, Flowers recorded in New York with several of Fats Wallers' former sidemen. His repertoire, according to the newsletter, ranged from Chopin to Waller to titles such as "Eight Mile Boogie."
He had, in fact, been a Waller protégé, said Gallert. A Coda magazine article quotes Waller introducing Flowers around, saying, "This young man will carry on when I leave off." When Waller died in 1943, Flowers was billed as his successor, performing and recording with former Waller sidemen.
And if he didn't have the Waller charisma, he certainly had the sound. "You knew you were in the presence of greatness," Gallert said. But after Flowers' career faltered in New York, he returned to Detroit and drifted off the main axis of the jazz community. Just what went wrong is hard to pin down. "He was one of the most private people," said Gallert. And despite prodding, Flowers rebuffed Gallert's attempts to interview him. He was working at the Grosse Pointe Yacht Club at the end. "He was a genius living in our midst," said Gallert.