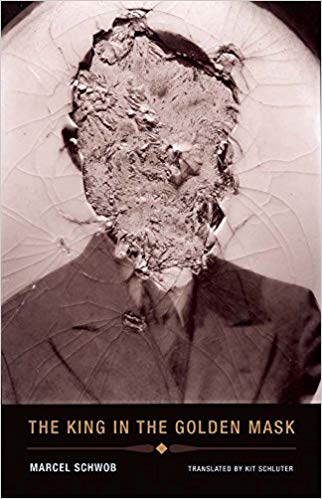 This month's reading group selection is The King In The Golden Mask by Marcel Schwob, translated from the French by Kit Schluter.
The Book Beat reading group will meet Wednesday, December 4th at 7:00 pm at Goldfish Tea Cafe, located at 117 W. Fourth Street in Downtown Royal Oak. All are welcome.
Get 15% off on the Current Reading Group Selection.
"Know that all in this world is signs and signs of signs." — Marcel Schwob
First published in French in 1892 and never before translated fully into English, The King In The Golden Mask gathers together twenty-one of Marcel Schwob's cruelest and most erudite tales. Melding the fantastic with historical fiction, these stories swarm around moments of unexplained violence both historical and imaginary, often blending the two through Schwob's collaging of primary source documents into fiction… To read Schwob is to encounter human history in its most scintillating and ebullient form as it comes into contact with his unparalleled imagination."
"Schwob disbelieved in originality. Everything had been said, had been done, but he trusted in the creative spirit. His stories both draw on historical sources and forfeit narrative by instead acknowledging that thieves, pirates, street urchins and prisoners are equally cursed to be human, and to be human is to indulge in casual cruelty. This confluence is unexpected, even jarring. Indeed, the mystery and inexplicability of the stories often result in something profoundly moving." — Tristan Foster, Music & Literature
"He wanted to compose books by means of quotation and citation and recycling. He was constantly masking himself. His subject position is one of loan, collage, theft. He was a scholar. He wrote about François Villon, he wrote about Robert Louis Stevenson, he wrote about Paul Verlaine. But the other books still reek of Marcel Schwob. You can tell that he's the one writing them—he has a very distinct voice." — Kit Schulter, The Paris Review
---
Marcel Schwob (23 August 1867 – 26 February 1905), was a Jewish French symbolist writer best known for his short stories and his literary influence on authors such as Jorge Luis Borges and Roberto Bolaño. He is the author of six collections of short stories: Cœur double ("Double Heart", 1891), Le Roi au masque d'or ("The King in the Golden Mask", 1892), Mimes (1893), Le Livre de Monelle ("The Book of Monelle", 1894), La Croisade des Enfants ("The Children's Crusade", 1896), and Vies imaginaires ("Imaginary Lives", 1896). In addition to over a hundred short stories, he wrote journalistic articles, essays, biographies, literary reviews and analysis, translations and plays. He was a true symbolist, with a diverse and an innovative style. His name stands beside Stéphane Mallarmé, Octave Mirbeau, André Gide, Léon Bloy, Charles Péguy, Jules Renard, Alfred Jarry, Édouard Dujardin in French Literature. Marcel Schwob was a scholar of startling breadth and an incomparable storyteller. The secret influence on generations of writers, Schwob was as versed in the street slang of medieval thieves as he was in the poetry of Walt Whitman (whom he translated into French). Alfred Vallette, director of the leading young review, the Mercure de France, thought he was "one of the keenest minds of our time", in 1892. Téodor de Wyzewa in 1893, thought Schwob was "tomorrow's taste in literature itself."