A guide for Author Signings on Bookstore Day, April 30.
Book Beat is open 10 am – 7 pm, Saturday April 30, (Bookstore Day!) Authors will be here between the times noted below. Thank you for stopping by!
from 11-12 pm: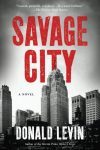 • Donald Levin is a retired dean and Professor of English at the former Marygrove College in Detroit. His latest novel Savage City is set in Detroit at the height of the depression in 1932, when fear and corruption, the Black Legion and the Purple Gang ruled the streets. Savage City is told through four main characters who converge together during a violent week of labor unrest at the bloody Ford Hunger March. Levin has written seven Martin Preuss mysteries: In the House of Night (2020), Cold Dark Lies (2019), An Uncertain Accomplice (2018), The Forgotten Child (2017), Guilt in Hiding (2016), The Baker's Men (2014), and Crimes of Love (2011).
---
from 1-3 pm: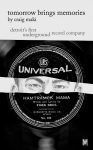 • Craig Maki will sign his recent book: Tomorrow Brings Memories (Wax Hound Press, 2022). Here's the untold story of an unlikely pair of tattooed hustlers: an ex-con, and a shell-shocked World War I vet, plus: jukeboxes, the mafia, Hamtramck mamas, Wayne County grifters, the first all-female western swing act on records, the first rockabilly trio—all playing roles in sensational music originally pressed on 78 rpm discs that document the dawn of Detroit's recording industry. Maki is the co-author of the acclaimed Detroit Country Music: Mountaineers, Cowboys, and Rockabillies (with Keith Cady, University of Michigan Press, 2013).
---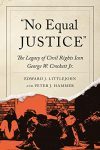 • Peter J. Hammer is the A. Alfred Taubman Professor of Law and director of the Damon J. Keith Center for Civil Rights at Wayne State University Law School. He is co-author with Edward Littlejohn of No Equal Justice: The Legacy of Civil Rights Icon George W. Crockett Jr. (Wayne State University Press, 2022).
"There is no equal justice for Black people today; there never has been. To our everlasting shame, the quality of justice in America has always been and is now directly related to the color of one's skin as well as to the size of one's pocketbook." This quote comes from George W. Crockett Jr.'s essay, "A Black Judge Speaks" (Judicature, 1970). The stories of Black lawyers and judges are rarely told. By sharing Crockett's life of principled courage, No Equal Justice breaks this silence.
---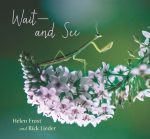 • Rick Lieder is a photographer, artist and a favorite collaborator of poet Helen Frost. Their latest book is Wait and See, (Candlewick, 2022). This sixth stunning collaboration between Helen Frost and Rick Lieder urges young readers into the wild outdoors, inviting them to "wait and see" what wonders patient observation has in store. Helen Frost and Rick Lieder team up for a breathtakingly beautiful glimpse at the praying mantis—and entice us to take the time to open our eyes to the world in front of us. Other books in the series include: Wake Up! Wake Up! Step Gently Out, Among a Thousand Fireflies, and Sweep Up The Sun.
---
from 2-4 pm:
• Alan Franklin has been best known as a songwriter/singer with Detroit's anarcho ska-punk band, the Layabouts. During that same time, his prose writings have appeared in riverrun magazine, the Fifth Estate, the Daily Barbarian, Subversions (Montreal), Dispatch Detroit, ThreeFold and Autonomedia. He's also author of the recently published Lives of the Saints (Black and Red, 2022), a collection of ironic stories and subtle rants that teach the "condition" of sainthood in existential times.
---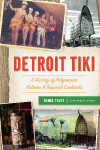 • Author Renee Tadey & Dave Chow (forward) have put together Detroit Tiki: A History of Polynesian Palaces & Tropical Cocktails (History Press, 2022) an ephemera rich collection of the tiki craze as it happened in the Motor City. When the South Sea craze swept over the nation in the mid-twentieth century, the wave of island-themed décor and tropical cocktails did not pass by Detroit. The Tropics and Club Bali offered a warming escape from dreary Midwest winters. At its completion in 1967, the Mauna Loa was the most expensive restaurant built east of the Mississippi. With its lush interior and celebrity patrons, it did not disappoint. The Chin Tiki, with its exquisitely handcrafted features, was no less an exceptional destination. Even today, long after the Polynesian craze faded, a new generation has taken up the tiki torch and brought island flavor and flair back to the city.
---
from 3-5 pm: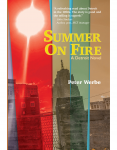 • Peter Werbe is a member of the Fifth Estate magazine's editorial collective. His professional career included hosting WRIF'S "Nightcall," the longest-running talk show in radio history, as well as DJ-ing on Detroit rock stations WCSX, WWWW, and WABX. His first book Summer on Fire debuted last year and continues to be a steady seller. Werbe's characters are thrust into tumultuous episodes of the 1967 Detroit Rebellion, anti-war demonstrations, fighting fascists, rock and roll, drugs, anarchism, the White Panther Party, Wilhelm Reich, and a bomb plot that provide "a people's history and radical folklore of Detroit." The setting is seven weeks in a critical year that demands ethical choices by all involved, ones which mirror today's crises.
---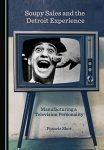 • Fran Shor, was an active anti-war organizer and draft resister. He has sustained a commitment to peace and justice, having served on the Boards of Peace Action of Michigan and Michigan Coalition for Human Rights. Retiring in 2014 after forty years of teaching at Wayne State University, he continues to publish in both scholarly and popular journals. Shor has written two recent books; Soupy Sales: The Detroit Experience (2021) a cultural history of the Soupy Sales phenomenon in Detroit and Passages of Rebellion (2022), a novel based on Shor's anti-war activism of the sixties.
---