The library is inhabited by spirits
that come out of the pages at night.–Isabel Allende
Trick-or-treating in person and attending Halloween parties might be something to postpone this year, but reading scary stories to yourself (or out loud to others), making your own decorations, costumes, and Halloween treats at home, can be a rediscovery of old traditions made new –fun and thrilling during windy October nights.
Here are some catalogs from our Bookshop site to get you in the October mood… books are also available curbside or indoors at Book Beat– where you can always find a friendly good fright! call (248) 968-1190 or write: BookBeatOrders@gmail.com
•Halloween Fun for Kids is for young children, with some stay-at-home activity books.
•For science minded monsters: check out the Mad Scientist club (home version)!
•Some of our most popular YA books are found in our Young Adult Fantasy and Science Fiction catalog.
•For a collection of Weird and Spooky adult tales, visit our: Gothic, Horror & Weird Tales catalog.
• A catalog of books by and about Edward Gorey is found at: The Aimless World of Edward Gorey
---
•Folklore, fairy tales, and mythology is a catalog with various classic folk-tales and supernatural stories from around the world.
---
•Try out some of these: Spooky and Fun Halloween Crafts for Kids!
•Oprah Magazine recently featured these 70 do-it-yourself Halloween Decorations You Can Make on the Cheap With Household Items
•Here are ten different monster make-up ideas, taken from Hollywood make-up artist Dick Smith's Do-It-Yourself Monster Make-Up (1965) –recreating ideas from the book: Max and Courtney Make Monsters.
•And here are some cool Vintage Halloween collectibles seen on pinterest.
---
Perchance to Dream: Selected Stories
Charle Beaumont, Penguin
The profoundly original and wildly entertaining short stories of a legendary Twilight Zone writer, with a foreword by Ray Bradbury and an afterword by William Shatner
It is only natural that Charles Beaumont would make a name for himself crafting scripts for The Twilight Zone—for his was an imagination so limitless it must have emerged from some other dimension. Perchance to Dream contains a selection of Beaumont's finest stories, including seven that he later adapted for Twilight Zone episodes.
Beaumont dreamed up fantasies so vast and varied they burst through the walls of whatever box might contain them. Supernatural, horror, noir, science fiction, fantasy, pulp, and more: all were equally at home in his wondrous mind. These are stories where lions stalk the plains, classic cars rove the streets, and spacecraft hover just overhead. Here roam musicians, magicians, vampires, monsters, toreros, extraterrestrials, androids, and perhaps even the Devil himself. With dizzying feats of master storytelling and joyously eccentric humor, Beaumont transformed his nightmares and reveries into impeccably crafted stories that leave themselves indelibly stamped upon the walls of the mind. In Beaumont's hands, nothing is impossible: it all seems plausible, even likely.
"[Beaumont's] imagination, as Perchance to Dream amply shows, was more than most writers enjoy in the longest of lifetimes." -NPR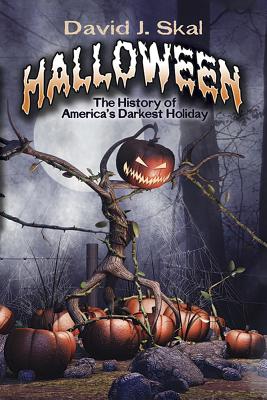 Halloween: The History of America's Darkest Holiday
David J. Skal
"Wonderfully well-written, outrageous, and provocative." — Booklist
Acclaimed cultural critic David J. Skal explores one of America's most perplexingly popular holidays in this original mix of personal anecdotes and social analysis. Skal traces Halloween's evolution from its dark Celtic history and quaint, small-scale celebrations to its emergence as mammoth seasonal marketing event.
Skal takes readers on a cross-country survey that covers remarkably divergent perspectives, from the merchants who welcome a money-making opportunity that's second only to Christmas to fundamentalists who decry Halloween a form of blasphemy and practicing witches who embrace it as a holy day. He also profiles individuals who revel in this once-a-year occasion to participate in elaborate fantasies. Their narratives, combined with the author's cultural analysis, offer a revealing look at an intriguing aspect of our national psyche.
"Entertaining … and scholarly … Like a bag of Halloween candy, the book is a lot of fun." — Boston Globe
"Fans of cultural history will devour each chapter … like a toothsome treat." — Christian Science Monitor
A gallery of haunted Halloween photos & postcard greetings: