Dear Friends and Readers,
August 28, 1982, marks the opening day of Book Beat at Lincoln Shopping Center in Oak Park 38 years ago. To our friends, relatives, readers, educators and others who've supported our small bookshop: THANK YOU!!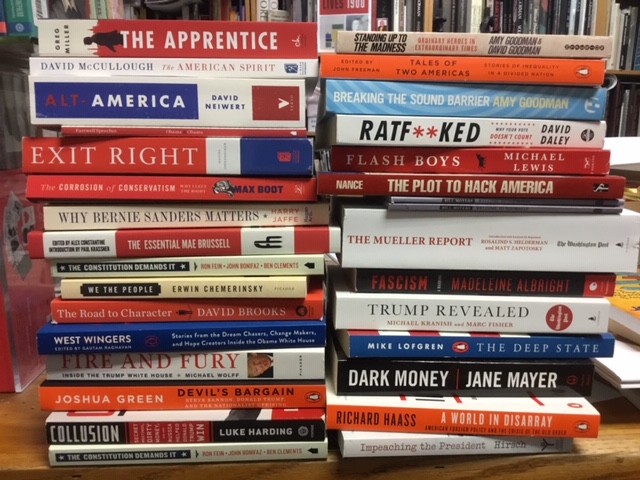 We've had many milestones along the past 38 years, but this year with its pandemic and economic crisis, we feel especially lucky to just be healthy and working. We are foremost a community bookstore, and are here to help you find the best and most interesting new books.
A storm of political books and tell-all memoirs has been an ongoing feature of this strange election year. We will discuss some of the best of these in our next newsletter. The emergence of new books on anti-racism, the Black Lives Matter movement and on criminal justice reform is another positive sign of support from publishers. We support and applaud freedom of the press, diversity, multiculturalism and an informed, educated citizenry. Please make a plan and vote!
This month's newsletter has more small press titles reviewed by Tom Bowden, including an interview with Detroit writer Leila Taylor, a look at the recent Joseph Jarman poetry reprint, and a post on the book and HBO film series Lovecraft Country. We hope you enjoy these updates. Your comments are appreciated. If you know of someone who might enjoy our newsletter please pass it on.
We will not be fundraising, and are not yet fully opened. We are dependent on special orders, mail-orders, curbside pickups and appointment browsing. If you need a gift, please think about giving books first. If you need study aids, art books, a classic, a romance, a mystery, a puzzle, or school books for children — we can deliver fast! Stay safe! And thank you for your support.
Peace, Love & Books,
-Cary, Colleen and the staff of Book Beat
Reading should not be presented to children as a chore, a duty. It should be offered as a gift. —Kate DiCamillo
YOUR PRIVATE BOOKSTORE APPOINTMENT
•For appointment browsing to work, we are asking people to call ahead before they visit. (248) 968-1190 You may call the same day you'd like to visit.
•We are trying to avoid congestion in our single entrance/exit shop and still supply the best service we can with a limited staff. If you can discuss your needs or interests that will help us gather or organize books for your appointment.
•Appointments for browsing can be made from Noon until 7 PM, in 30 minute (suggested) increments. There will be a limit of four customers at any time, and we will also continue to provide curbside pickup. We can ship books for $3 per box locally or stateside.
• Do check out the two new floor murals in the art and music sections of Book Beat, they were painted by artist Kevin Weeder.
• Excuse our dust. Sections of the store may still be blocked off due to renovations.
---
NEWSLETTER
If you're not receiving our newsletters direct, please consider subscribing. You'll receive store updates, reading recommendations, and other book related news. We value your privacy and never share or sell information with third parties. To subscribe, simply enter your email at the Book Beat Homepage.
---
---
CATALOGS FROM OUR BOOKSHOP.ORG STORE (also stocked at Book Beat)
• Homeschooling for curious youth and the art of raising a Mad Scientist
• On reading the Nobel Prize Winners
• Hot off the press! Here comes Indie Next selections for September 2020
• Quality Lit Potpourri: these are backlist titles we love to sell!
• The solid cool-beanz guide to Jazz Books
• In case of emergency break open: Puzzle Mania!
• Kid's Indie Next list: Fall 2020
• A new catalog for children (and adults too!) on Music History Books & Musicians
---
WAYS TO SUPPORT BOOK BEAT:
Order Direct: for books or questions, call us at (248) 968-1190 or email BookBeatOrders@gmail.com We offer safe curbside pickup and a flat rate mailing fee of $3 for any sized package mailed anywhere in the USA.
Our store central with News & Events and all things Book Beat
Order books safely at Bookshop.org — a percentage of your sales will help our store.
Order our out-of-print and rare books at Biblio.com.
A new website for unique collector's items, featuring signed, rare and out-of-print books, photos, art and objects. Stay tuned… we will be adding more soon.
For fans of audio books; most titles are $14.99 and your purchases will support Book Beat.
Subscribe to our newsletter at: http://thebookbeat.com/, follow and review us at: Facebook Instagram, Google and Twitter.