we pray o God
for the ego
death
and that the power
of the evil vibration
be taken
from our presence
— Joseph Jarman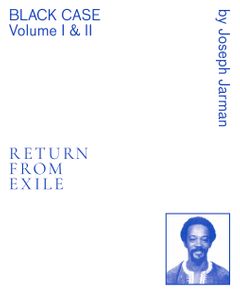 Black Case Volume I & II: Return From Exile is a book of poems, fragments, short essays, sheet music, and photos, first self-published in 1974 by musician, poet and Shin Buddhist priest Joseph Jarman. Reissued this year by Blank Forms Editions, the book is a facsimile that preserves the original in full; adding a peaceful soft blue tint to the type and photos, and two brilliant introductory essays.
Jarman was a spiritual, poetic, performative and creative force within the Art Ensemble of Chicago (AEC). Black Case spans the years 1960-1975, and is aligned with the growing Black Arts Movement of free-jazz, also called spiritual jazz.
Jam session–
Just play wild joy music and sound–
turn on to the music
and make beautiful love and scream
loud for the power —
the joy music yes! –Joseph Jarman
Jarman's poetry has a warm autobiographical tone that follows his life story, (although not chronologic) within a larger historic context of the revolutionary sixties. There's an inherent musicality in the poems, an abstract sometime chant-like structure. Sections of Black Case could be a manifesto for the AEC's motto: GREAT BLACK MUSIC: ANCIENT TO THE FUTURE. A continuous connection to music and song is made — song and chant as a practice towards peace and self-realization. Jarman's poetry reads like sheet music on the page: to be played and heard– they are rolled into his embracing phrase: "The bell ringing across the universe."
do not fight life, rather live it freely/ this is the message of GREAT BLACK MUSIC –embrace it and sing — you will feel better and you will learn through your own life to praise GOD. –Joseph Jarman
Jarman's former wife, the author and educator Thulani Davis, writes in her forward, a personal remembrance in terms of friendship, insight and reflection. "The first time I visited Joseph he was listening to Jimmy Cliff and Sidney Bechet," said Davis, "He played me 78s of Charlie Parker. Just life as it should be, it seemed."
Columbia University professor Brent Hayes Edwards presents a detailed overview of Black Case— it's impact on AEC recordings and how it fits into a tradition of literary works by jazz musicians. John Coltrane, Marion Brown and Sun Ra are cited for their blending of language with music and sound.
In his introductory essay, Edwards shows how the poems evolved to became bridges for performance works. He explains; "To see words and music as part of this "much larger toolkit" is to recognize that this element is linked to the commitment to theater (implying not only language and sound, but also character, costume, dance, spacing, and visual aesthetics) that represents another key thread in Black Case, as well as in the "soundmovement" of the Art Ensemble."
we live in the sound of what we are…
–Joseph Jarman
Buddhism first came to Jarman as a way to deal with leg injuries and psychological trauma he suffered as a paratrooper in the late 1950s in a Vietnamese village. Many of the poems deal with this trauma and are encoded through works like People of Sorrow, Odwalla, What's to Say, Erika, Dreaming the Master, and others –works that also found their way into AEC recordings. Other poems speak to drug abuse, Chicago, Cook county jail, sex, enlightenment, and meditation.
Two directions infuse Black Case. A mystical path that connects to eternal matters and the universal nature of freedom and sound; and a political path that speaks to history –to a connection with Black struggle and daily life. Jarman's work connects these pathways and is a bridge between them.
Jarman's prophetic balanced form of Afro-futurism lies between Sun Ra and Amiri Baraka. He takes Sun Ra's zen-like position of "nothing is" and marries it to the slogans of "Black Power" — Jarman mixes magic and nature, dreams and protest. "Approach the music," Jarman says, "as you would a sunset or the act of breathing/ NATURALLY."
AACM MUSIC POWER MOVE MENT to sav cause facts of culture
reaching inside the body of the people
giving voice to their spirit to offer
revelation to revolution… –Joseph Jarman
Jarman has had a long and strong connection to Detroit, performing often in the city as a guest of the Artist's Workshop. He often stayed at the Workshop in the mid-60s, and later at the Trans-Love Energies commune/collective. James Semark, (a composer, fellow Buddhist and founding member of the Workshop) befriended Jarman and often stayed with him in Chicago. Together they studied buddhist texts, visited temples and meditated. The poem TRANS-LOVE POEM 2, could be an homage to the Trans-Love commune and his friendship with Semark. Jarman writes:
"first it's like
Jim said
"coast is clear
baby,
go –"
Jarman was 81 when he died on January 9, 2019, just before this reissue of Black Case was published. In a Downbeat Magazine memorial they wrote, "Jarman was, in some ways, the most political and confrontational member of the AEC; photos exist of him stripping naked in concert." That was probably correct, but Jarman also brought face-painting, costumery, and performance art to AEC concerts.
From an interview in Perfect Sound Forever, Jarman mentions his early use of theater and costume: "I've always been interested in blending all the elements, and people were saying it was unique or unusual, and some even claimed I was the first quote — unquote jazz musician to incorporate what they now call "multimedia." We were doing performance art as far back as 1965, just not calling it that….I've found also in other cultures that all of these things are blended in together. Only here, because of the illusion of intellectualism, our society separates the validity of human expression."
In Nate Chinen's New York Times obituary , he mentions a multimedia solo piece by Jarman that grew into a large scale work. "His concerts often involved dancers and performance artists," writes Chinen, "One large-scale work, "Bridge Piece," presented in 1968, supplemented music with elaborate extras, including strobe lights and a juggler." Black Case can be read as a complete multi-media work itself; it takes multiple directions: floating freely between ideas, times and places. It also functions as bridge towards peace and freedom.
The words themselves will not give the reader any idea of how Jarman's playing sounded, but will drive the reader to become a listener. And for those already familiar with Jarman's musicianship, his writing is intuitively like his playing—warm, grounded, with a strong core and a gentle hand, self-effacing with a guileless sweetness and humanity. — George Grella, The Brooklyn Rail review of Black Case.
Jarman's poetry and essay-poems are for anyone interested in the connections between free-jazz, poetry and the Black Arts Movement of the sixties and seventies. Black Case is a manifesto for those players inside the performing arts and finally, it's an uplifting, radical art form in itself, it makes its case in plain unadorned language and has arrived now, at a much needed moment in time. Innovative and expansive in its thought and design, Black Case is a cultural milestone.
— INTENSIFY THE STRUGGLE
SEIZE THE TIME —