Award-winning author Carl Weber will be at the Oak Park Library on Wednesday, January 18th, from 6:30 to 7:30 PM. Book Beat will be selling books at the event. If you have any questions, or would like to reserve a book beforehand, please call Book Beat at (248) 968-1190. This event is free and open to the public.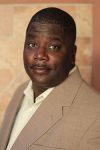 Book mogul Carl Weber is commonly known as the P. Diddy of the African American publishing world. With 14 New York Times bestselling novels under his belt and twenty-two novels in total, Weber is considered one of the premiere African American authors in the country. However, being an author can hardly be considered his day job. As president, CEO and Publisher of Urban Books LLC, Weber has published more than 2500 hundred books and grown Urban Books into the largest African American owned publishing company in the world. He is a past recipient of the Blackboard Publisher of the Year award. Weber also successfully ran the Urban Knowledge chain of bookstores, and has received the Blackboard Bookseller of the Year award. He has now branched out into screen writing and has written and produced three of his bestselling novels (The Man in 3B, The Preacher's Son, and The Choir Director) into independent films with his production company, Urban Books Media LLC. Weber is a graduate of Virginia State University and holds an MBA in marketing from University of Virginia.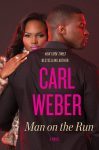 Mr. Weber will be promoting his new book, Man on the Run.
It was the night before his wedding, fifteen years ago, that the nightmare began for Jay Crawford–locked up for a crime he never committed. Now, he's escaped prison and wants nothing more than to clear his name and protect his family. To get justice, he'll need the help of the three best friends who have always had his back–Wil, Kyle and Allan. But a man on the run requires absolute trust…and Jay may just be setting himself up for the ultimate betrayal.
"An exciting read replete with treachery, betrayal, and some spicy love scenes… Weber is a master at taking the reader on a roller-coaster ride."?RT Book Reviews
"Weber's skill at turning the four flawed friends into sympathetic characters affirms his trademark approach to tales of characters making terrible choices. …The clever conclusion will shock readers. Kimberla Lawson Roby's fans will also appreciate this adventure."
?Booklist
"4 1/2 stars. Top Pick! Captivating, thrilling, sexy…Once again, Carl Weber crafts exceptional drama."?RT Book Reviews on Choir Director 2