This December, Book Beat will be participating in the Society of Children's Book Writers and Illustrators Merry Mitten Holidays. On Saturdays and Sundays in December, Children and Young Adult authors and illustrators will be at Book Beat to sign their books for holiday gifts. If you have any questions, please call Book Beat at (248) 968-1190.
Here are the dates and authors for the Merry Mitten Holidays:
Saturday, December 3rd
Josef Bastian is a Midwest author and poet whose sense of humor, depth of spirit and reflective imagination resonate within his poetry and prose. Josef currently has more than a dozen books in print that focus on the power of storytelling for people of all ages. His current projects include the Nain Rouge Trilogy – A Crimson Three, that resurrects a 300-year folk legend from Detroit. Josef has also launched Folkteller Publishing, a storytelling company that targets regional folk tales and legends from around the world.
He will be here from 1-3 PM.
Saturday, December 10th
Jean Alicia Elster  is the author of the novel The Colored Car, selected as a 2014 Michigan Notable Book by the Library of Michigan. Elster was awarded the 2014 Midwest Book Award in Children's Fiction for The Colored Car by the Midwest Independent Publishers Association. The Colored Car was chosen as an Honor Book for the 2014 Paterson Prize for Books for Young People. Elster is, also, the author of the novel Who's Jim Hines?, selected as one of the Library of Michigan's 2009 Michigan Notable Books.
She will be here from 1-3 PM.
Sunday, December 11th
Patrick Flores-Scott was, until recently, a long-time public school teacher in Seattle, Washington. He's now a stay-at-home dad and early morning writer in Ann Arbor, Michigan. Patrick's first novel, Jumped In, has been named to the 2014 YALSA Best Fiction for Young Adults list, a Walden Award finalist, a Washington Book Award winner, an NCSS/CBC Notable Book for the Social Studies, and a Bank Street College Best Books of 2014. He is currently working on his second book, American Road Trip.
He will be here from 1-3 PM.
Saturday, December 17th
Kathryn Madeline Allen is a children's author who writes picture books that promote parent-child interaction and that help teach babies and young children about nonverbal communication, diversity, manners, and love. With Eric Futran's beautiful photographs of real children, Show Me Happy and A Kiss Means I Love You work well in any preschool or early elementary setting. Young children enjoy imitating the actions depicted in the colorful photos, learning at the same time.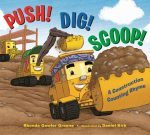 Rhonda Gowler Greene was an elementary learning disabilities teacher before she received her master's degree in educational media. She is the author of over a dozen books, including Firebears, The Rescue Team, Barnyard Song, and At Grandma's. She lives in West Bloomfield, Michigan, with her family.
They will be here from 1-3 PM.
Sunday, December 18th
Amy Goldman Koss is the author of several highly praised teen novels, including "The Girls," an ALA Best Book for Young Adults, and ALA Quick Picks Top Ten selection, and an IRA Young Adult Choice. She lives in Glendale, California, with her family.
Deborah Aronson is a prolific writer of clever stories in rhyme for picture books.  She is a retired social worker and lives with her husband in Bloomfield, Michigan. She is the author of Where's My Tushy? and Dragons from Mars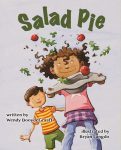 Wendy BooydeGraaff is the author of the picture book Salad Pie which has inspired several children to go outside, pick up shiny gum wrappers at the park and add them to a pretend pie. She lives in Michigan with her family. You can find out more at her website.
They will all be here from 1-3 PM.
Celebrate With Books.
Books are great gifts for kids. But books signed by Michigan authors and illustrators are awesome gifts. With that in mind, twenty-eight Michigan children's authors and illustrators are teaming up with six Michigan bookstores for a one-of-a-kind event: A Merry Mitten Holiday.
What it is: Bookstores across the state are hosting Merry Mitten signing events, each as unique as the store hosting it, whether the authors are greeting customers, strolling around the store helping out, or at a table answering questions. It's a great opportunity for parents and children to meet favorite authors and illustrators, while purchasing a truly original gift: a signed book.  Books for kids from preschool through young adult will be available for sale and signing.
Who it is: All participating authors and illustrators belong to The Society of Children's Book Writers and Illustrators (SCBWI), one of the world's largest existing organizations for writers and illustrators. It is the only professional organization specifically for those individuals writing and illustrating for children and young adults in the fields of children's literature, magazines, film, television and multimedia. Several of the most prestigious children's literature professionals sit on the SCBWI Board of Advisors.
The SCBWI acts as a network for the exchange of knowledge between writers, illustrators, editors, publishers, agents, librarians, educators, booksellers and others involved with literature for young people. For more information, click here.
Save
Save
Save
Save