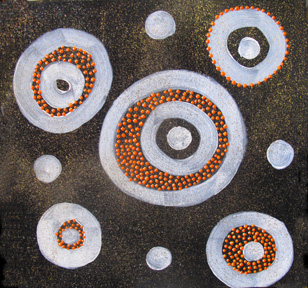 Box #1 is a loose journal of multiples produced by the Museum of Contemporary Art Detroit (MOCAD),  and was published in conjunction with the installation "Vision in a Cornfield" at the museum  September through December, 2012.
The project came together during meetings held  at Eastern Market beginning in March of 2012. Present during the early phase of discussion were Leon Johnson, Megan O'Connell, Lynn Crawford, Rebecca Mazzei and myself. At one meeting, we  brought objects from our own collections that "broke the mold" in unusual and unbound formats. One object titled  "Box" was from Mazzei's collection. It was a fluxus inspired 12 inch square black box stuffed with a variety of hand-made booklets, blueprints, broadsides and posters published by the California Institute of Arts in 1971. At that meeting, we discussed creating contents related to Afro-futurism and I mentioned an old Destroy All Monsters  sound-sculpture idea and collaboration with Aaron Ibn Pori Pitts's Ogun collective. Rebecca was interested in making that happen for the fall at MOCAD, and  "Vision in a Cornfield" was put on the calendar to open in the fall of 2012.
We  responded to the LP format, and decided on the  underlying theme of Afro-futurism as a focus.  We were not attempting to define the concept, but simply acknowledge  its widespread influence as inspiration among  the artists we discussed. Soon, various artworks, booklets, poetry, interviews, recordings , posters, postcards, photos, stickers and buttons made there way into the box. Each box was uniquely  designed, hand-painted, bejeweled and 'Africanized' by artist/musician Efe Bes, who transformed them into magical vessels. Several nights of  pizza parties were spent  painting and decorating the box lids in large group jams with Efe, Mo and the staff at MOCAD.
The Box includes a 12" vinyl LP of  unreleased works by Sun ra (performed at the Detroit Jazz Center on New Year's Eve 1979) and Aaron Ibn Pori Pitts, along with a reprint of Toward a 'Ratio'nal Aesthetic, a deep and dense music manifesto and Sun Ra-like equations called  "Faruquisms" by Faruq Z. Bey, who revised and worked on the book just shortly before his death.
I discovered Ibn's personal recordings through M. Saffell Gardner, by way of recording engineer Ras Kente. Ibn hired at his own expense, some of the best musicians from the Detroit area and laid down his highly charged poetry arranged as upbeat raps and sermons alongside free-form Jazz riffs and reggae/dub beats. Recorded in 1987, these studio recordings were known only within his immediate circle of friends and unreleased. Produced in the manner of a "Last Poets" album, they are another testament to the passion and diversity this multi-gifted artist.
The Box was edited by Rebecca Mazzei and myself in an edition of 200 of which 150 are for sale to the public. Special thanks to all the artists, writers and musicians who helped contribute to Box #1, and to Megan O'Connell and the staff and interns at MOCAD who helped collate the edition. Box #1 may still be available and ordered from Book Beat.check HERE
Contents of  Box #1 are in an edition of 200 unless otherwise noted.
Recordings;
Sun ra & Aaron Ibn Pori Pitts; Spirt Songz a 12″ vinyl LP, contains  live  Sun Ra Arkestra recordings from the Detroit Jazz Center on New Years Eve, 1980  followed by a side of Aaron Ibn Pori Pitts'  studio recorded words and music.  Sun Ra tracks include; Journey to Saturn and excerpts from;  There is Change in the Air, Are You Spotless? and When There is No Sun. The Sun Ra recordings were edited and digitally re-mastered by Warren Defever and Cary Loren sometime in the late 90s from tapes produced by John Sinclair. The recordings were licensed by MoCAD from Artyard in the UK who now hold the rights. The LP side of  Aaron Ibn Pori Potts' compositions was recorded in 1987 at Lion Sound Studios by Ras Kente, all words and music © Aaron Ibn Pori Pitts, the music was edited and mastered by Cary Loren. Musicians performing beside Ibn include;  James Carter, Amp Fiddler, Ron Smith, Titilaya, Ron Rutherford, Mellow Man and Ras Kente. The title "Spirit Songz" comes from the name of one of Ibn's unreleased albums. Spirit Songz was pressed in an edition of 300 copies.
Various Artists; The Spell of Jadoo, is a 16 track, 74 minute CD compilation featuring tracks by Sun Ra, THTX, Warren Defever & Furuq Z. Bey, Aaron Ibn Pori Pitts, Baba Akunda, Little Princess, Slither, Efe Bes, Kim Fowley, The Impaler, Destroy All Monsters, Monster Island and James Semark, 2012. All the tracks have never been released before.  The music was compiled and edited by Loren with assistance from Matthew Smith. Pressed in an edition of 300 copies.
Text inside Box
Faruq Z Bey: Toward a 'Ratio'nal Aesthetic, is a second edition reprint of  Faruq's rare music theory booklet, first published by Ridgeway press in 1989. This 68 page perfect bound edition was re-designed by Megan O'Connell at Salt & Ceder Press in 2012, and produced by MOCAD in an edition of 300 copies.
Rob Tyner  & John Sinclair; "Motor City Afrofuturism," an interview with Rob Tyner by John Sinclair is a reprint from the Ann Arbor Sun from 1967, with 3 added photos of Rob Tyner by Leni Sinclair, printed on 12×12″ newsprint, re-edited and arranged by John Sinclair in 2012. The "poem  for the liner notes to Pinkeye's Live Deathless album" by James Semark  is also reprinted from the CD released in 2009.
Pedro Bell & Cameron Jamie: "Ammagamma-Goo-Chee," an interview with Afro-futurist & Funkadelic artist Pedro Bell by Cameron Jamie. Chicago, 2009.
Sun Ra; "A Profile of Sun Ra" interview by Grant Martin, reprinted from the Detroit-based Tribe Magazine, 1975.
Destroy All Monsters; The Swamp Gas Gazette, a UFO 8 page tabloid newspaper zine, produced by DAM in an edition of 5000 copies in 2002.
James Semark; "The Judgment of Edmund Zwingy," short story by Semark, reprinted from Night-Vision Express, cover drawing; "Each One is Real, Each Real is One" also by Semark, Detroit Artists Workshop Press, 1965
Sun ra; "Cosmic Equation," poem by Sun Ra (date unknown) designed and printed by Salt & Cedar Letterpress, 2012. Edition of 150 numbered and 50 lettered copies.
Sun ra "The Endless Realm," poem by Sun Ra (date unknown) designed by Salt & Cedar Letterpress, 2012.Edition of 150 numbered and 50 lettered copies.
Amiri Baraka; "I Liked Us Better," poem,  2012.
Terry Blackhawk; "For Dudley Randall," poem, 2003
M. L. Liebler; "Trembling in the Temple of Tears at the Feet of Buddha," poem, 2010.
Aaron Ibn Pori Pitts; "The Path" and "Ogun; In the Modality of Modified Metal as a Metaphor"  – two poems  (date unknown)
Kcalb Gniw Spirit; "Ogun Urban Monumentz" -flyer about the OGUN collective from a book catalog.
Artworks inside Box
RAMM:ELL:ZEE / Super Heroes & Villains;  Monster Models & Garbage Gods (1991) a collection of Rammellzee's  21 monster sculptures with text. Photography by Adam Reich, courtesy  The Suzanne Geiss Company, New York City and the estate of RAMM:ELL:ZEE, 4×5.5″  20 pages, staplebound booklet with two page pink text insert, designed by Loren, produced by MOCAD in an edition of 200. Pictured left; "Chimer" on the front cover of the booklet.
Gary Grimshaw; Sun Ra and His Myth Science Arkestra in Concert with MC5 20×24″ folded poster reprint by Gary Grimshaw. 1967, 2008. Edition of 250, three color silkscreen.
Frank Bach In Residence In Concert Detroit Sun Ra and His Omniverse Jet-Set Arkestra 12×17″ folded poster by Frank Bach. 1979-80, produced by MOCAD as an LP cover with Spirit Songz credit information on back. 2012, edition of 300.
Gilda Snowden; A 5×7″ original acrylic stencil painting, unique work by Snowden signed and dated on the reverse.
Jerome Feretti; 7×7″  print with hand coloring crayon additions by signed recto. (some boxes may contain a small signed hand-made brick by Feretti.
Barry Roth; A 5×7″ photograph in two different editions of 100 each by Roth, signed and numbered in an edition of 100 each on the reverse.
Maurice Greenia; Original pen and ink drawing on 11×11″ paper, signed, titled and dated recto, each drawing is unique.
Ryan Standfest; Ardent Boner, a 8.5x 5.5″ staplebound 16 page booklet of drawings based on Andre Breton's African art collection by Ryan Standfest, © Rotland Press, 2012, signed and numbered edition of 200.
Tom Carey; "Yakub's Folly", three color hand pulled woodcut by Tom Carey; titled, signed and numbered on recto, edition of 200.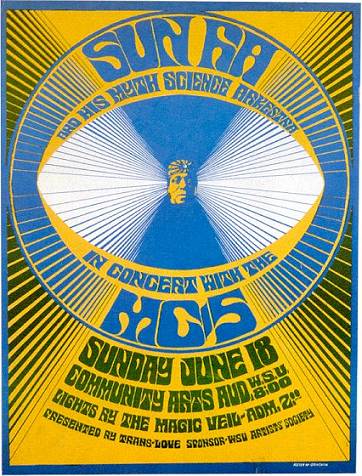 M. Saffell Gardner; "Sun Ra's U",  woodcut by M. Saffell Gardner, titled, dated, signed & numbered edition of 200 on recto. Saffell is a member of the OGUN collective.
Dianetta Dye; "Urban Etch #13 Man" unique monoprint by Dianetta Dye , signed, titled and dated on reverse. Dye is a member of the OGUN collective.
Chris Riddell; 8.5×11 Xerox collage by Chris Riddell, signed and numbered on recto, 2012
Leni Sinclair; 6 postcard photos by Leni Sinclair in an envelope includes; Faruq Z. Bey color (1975),  Sun Ra in black and white (1977), Sun Ra in color (1977), June Tyson color (1977), Alice Coltrane black and white (1972) and Roscoe Mitchell color, Art Ensemble of Chicago performance (date unknown) by Leni Sinclair.
8.5×11″ glossy photo of Sun Ra and His Omniverse Jet-Set Arkestra with Detroit musicians at Detroit Jazz Center by Leni Sinclair,  Dec. 31st,  1979.
Jimbo Easter & Cary Loren; red, silver or gold silkscreen of alien writing and DAM "cosmic clip art" over spray-painted backgrounds (on acid free 8.5×11″ or irregular hand-cut paper shape) numbered on reverse.
Efe Bes; Each Box lid has a unique hand design, painted by Afro-futurist musician Efe (with assistance from Mo and the staff of MOCAD) – using acrylics, tempura, markers, glitter, glue and spray varnish. Efe uses traditional and symbolic African based patterns that he improvises with and molds into his own shapes, creating a relief pattern with jewel-like illuminations. The covers are each hand signed and numbered on the side.
Jim Shaw; Peanut Butter (3×8″ DAM sticker) design by Shaw, 1996/2012, edition of  250
Dave Mueller; What Would Sun Ra Do?  (2.5 x9″  bumper sticker) design by Dave Mueller 2004/2012 edition of 250
Aeron Bergman and Alejandra Salinas: Race (2 x4″ sticker) design by Aeron Bergman and Alejandra Salinas. 2012
Apetechnology: Detroit (1×2″ sticker) by the Apetechnology collective (open edition)
Destroy All Monsters; Spaceman or Mexican Zombie ( 3″x2″ sticker) design by Loren from an edition of 1000 each.
Various artists; 3 buttons in a bag freaturing; Alice Coltrane, Aaron Ibn Pori Pitts and Destroy All Monsters.