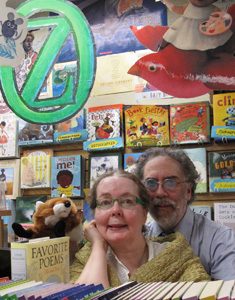 The Book Beat was one of two stores to receive the national Pannell Award, given by the Women's National Book Association to; bookstores in the United States that excel at inspiring kids' interest in reading, as well as creatively bringing books and young people together.
"The jurors praised Book Beat for its "passion and true understanding of children's books and young readers," for its "tremendous success as an independent haven within a tough urban environment," and for going "beyond expectation to support and expand children's and YA services programs and events." –Publisher's Weekly article
"This year's winning bookstores: Book Beat in Oak Park, MI and Monkey See, Monkey Do in Clarence, NY….  Particularly impressive to the judges was the store's initiation of the celebration of International Peace Day in local schools. Owners Colleen Kammer and Cary Loren graciously accepted their $1000 prize, plus an original illustration by Coretta Scott King Book Award-winner George Ford, from his book Bright Eyes, Brown Skin (Just Us Books, November 1990)." — Women's National Book Association, NYC
"It is a great honor," said Book Beat co-owner Colleen Kammer. "And they gave it to me on my birthday!" She particularly treasures the award because "there's so much against us. I think we're also getting it because the store will be 30 years old at the end of August, and we didn't give up." —The Book Beat in Oak Park wins natioanl award,  The Detroit News
"A voracious reader whose opinions about children's books carry great weight with teachers and librarians all over Michigan, Kammer has helped create one of the most successful independent bookstores in the state."I can't believe how much Colleen knows. It's incredible," said Celia Morse, director of the Berkley Public Library. "Tell her you need a book for a 9-year-old and she will ask you three questions and suggest something they will love. I've worked in public libraries for 35 years and never met someone who knows more about children's books."  –Daily Tribune, Book Beat: A story of survival, national acclaim in Oak Park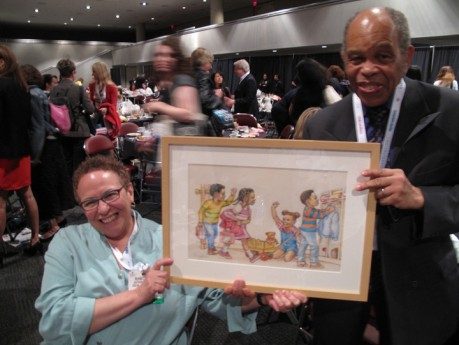 Above: Artist George Ford and his wife Bernette (who wrote the book Bright Eyes, Brown Skin the artwork is based on) presented this artwork to Book Beat at the Pennell Award ceremony at Book Expo in New York. The artwork will be on display at the Book Beat in Oak Park for all to enjoy. George is also the illustrator of the award winning "The Story of Ruby Bridges" and "Paul Robeson" – we  hope to host a signing for George and his wife sometime in the future.
George Ford was the first to be awarded the Coretta Scott King Award;
"1974 marked the first year an illustrator was honored with the Coretta Scott King Award, which went to George Ford for Ray Charles.  "It was totally unexpected," says Ford. "I was honored, and so happy that my parents and sister were able to be there to see me receive the award." Ford continues, "Although the award was a recognition of artistic excellence, I was most proud of the fact that it was a reward specifically intended as a source of inspiration and encouragement to African American children."