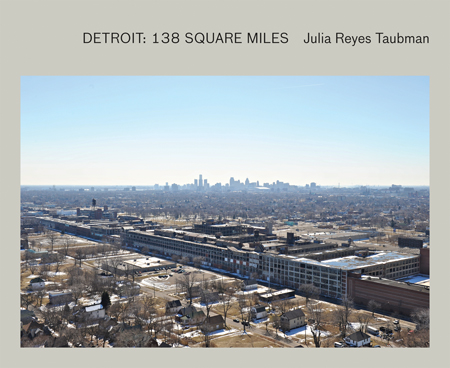 Detroit: 138 Square Miles (SIGNED COPIES AVAILABLE! )
Our bestselling title! More than a photographic saturation job of a single city, Detroit: 138 Square Miles provides contextual perspective in an extended caption section in which Reyes Taubman collaborated with University of Michigan professors Robert Fishman and Michael McCullough to emphasize the social imperatives driving her documentation. An essay by native Detroiter and bestselling author Elmore Leonard addresses the social and cultural significance of the post-industrial condition of this metropolis. The volume's spine is specially treated with black ink to evoke the industrial character of its subject. A more in-depth review is available at DETROIT: 138 SQUARE MILES: ELEGANCE, RUST & SOUL
Fever: Little Willie John; A Fast Life, Mysterious Death and the Birth of Soul  (SIGNED COPIES AVAILABLE!)
"Little Willie John is the soul singer's soul singer." – Marvin Gaye.
"My mother told me, if you call yourself 'Little' Stevie Wonder you'd better be as good as Little Willie John." – Stevie Wonder
The soaring heights of Little Willie John's career are matched only by the tragic events of his death, cutting short a life so full of promise. Charged with a violent crime in the late 1960s, an abbreviated trial saw Willie convicted and incarcerated in Walla Walla Washington, where he died under mysterious circumstances in 1968.
In this, the first official biography of one of the most important figures in rhythm & blues history, author Susan Whitall, with the help of Little Willie John's eldest son Kevin John, has interviewed some of the biggest names in the music industry and delved into the personal archive of the John family to produce an unprecedented account of the man who invented soul music.
Glenn Barr's Faces (SIGNED COPIES AVAILABLE)
Glenn Barr presents a 96-page compilation book featuring details from 80 paintings and drawings he created over the past five years. Inspired by the complex expressions and raw emotions revealed by faces, Barr invokes the human condition, creating a multitude of personalities ranging from extraordinarily common to extreme and fantastic.  Visit our in-store Glenn Barr pop-up shop in the backroom gallery just for the holidays – check out 4 new poster designs on heavy weight gloss paper, available at $20. each, plus a new GBarr sketchbook zine : HEEP #4 ( SIGNED COPIES OF HEEP!!)
Detroit Television: Images of America Series
Detroit broadcasting history is rich with character . . . and characters. It began atop the Penobscot Building on October 23, 1946, when WWDT shot a signal to the convention center, part of a "New Postwar Products Exposition." WWJ-TV offered scheduled programming in June 1947, and WXYZ-TV and WJBK-TV jumped in a year later. The medium has influenced the city's personality and social agenda ever since. Soupy Sales turned getting a pie in the face into an art form. Mort Neff celebrated the state's outdoor charms. George Pierrot showed Detroiters the world. Other beloved personalities include: Milky the Clown, Ed McKenzie, Sonny Eliot, John Kelly, Marilyn Turner, Robin Seymour, Bill Bonds, Dick Westerkamp, Jingles, Bill Kennedy, Lou Gordon, Captain Jolly, Johnny Ginger, Auntie Dee, and many more.
Detroitland: A Collection of Movers, Shakers, Lost Souls, and History Makers from Detroit's Past
Detroitland contains the stories behind familiar names like Frank Murphy, the infamous Purple Gang, the Lone Ranger, "Potato Patch" Pingree, and Charles Lindbergh. Yet Bak also reveals lesser-known episodes in Detroit's history, like the ambitious International Exposition & Fair of 1889; the killer heat wave of 1936, with five straight days of hundred-degree temperatures; and the attempted around-the-world flight of Ed Schlee and Billy Brock in the Pride of Detroit in 1927. He introduces readers to little-known and unique Detroit characters, like the fierce Black Legion gang that was Detroit's own version of the Ku Klux Klan; Johnny Miler, the man who walloped Joe Louis in the Brown Bomber's first-ever amateur fight; patrolman Ben Turpin, the terror of Black Bottom criminals; Sophie Lyons, legendary "Queen of the Underworld" and Detroit philanthropist; and Shorty Long, Brenda Holloway, the Velvelettes, and other forgotten Motown artists of the '60s.
313: Life in the Motor City (SIGNED COPIES AVAILABLE!)
A native of Detroit, John Carlisle has written about and photographed the city for the Metro Times for four years under the name Detroitblogger John, a pen name based on his longstanding web project, detroitblog. He has also been a contributor to Hour Detroit magazine and an editor at the C&G Newspapers chain. A graduate of Wayne State University's journalism program, Carlisle has won numerous awards over the years for his writing and photography and was named Journalist of the Year in 2011 by the Detroit chapter of the Society of Professional Journalists.
Parallel Universe: Detroit/Tokyo (SIGNED COPIES AVAILABLE!)
A unique book that illustrates daily life in Detroit and Tokyo. Each page is a reflection of social and personal activities in the two cities. In Tokyo, the artist Yasuo Tanaka makes skeleton puppets out of wire, ink and paper. He then takes them into the field and returns with starkly bold and humorous images that mimic daily life bordering on the epic. Detroit artist Dick Cruger finds corresponding landmarks around the city of Detroit using his trademark robot constructions. Both artists use their miniature puppets to draw interesting parallels among life in the urban jungle. A Limited Signed Edition of this book is also available in a handmade slipcase and in a numbered edition of 25 copies for $75. Visit the exhibition BONES in our backroom gallery to see Tanaka's art and read YASUO TANAKA: PHOTOGRAPHER & PAPER NAPKIN ARTIST
Hype & Soul! Behind the Scenes at Motown (SIGNED COPIES AVAILABLE!)
From being Motown's first outside hire, to coining the term "The Detroit Sound," Motown publicity director Al Abrams had a inside vantage point to the greatest pop music machine of the 20th century. Abrams stockpiled a massive collection of photos, promotional fare and internal documents as the label rose from obscurity to international success with artists such as the Supremes, Stevie Wonder and Marvin Gaye. Abrams' new book, "Hype & Soul," assembles hundreds of those rarely seen items for a peek behind the scenes of Motown's buzz machine. Lavishly illustrated with hundreds of previously unseen photos, press clippings, and memos, Hype & Soul is THE insider's look into the publicity machine that defined the Motown sound for generations.
Car Guys Vs. Bean Counters: The Battle for the Soul of American Business (SIGNED COPIES AVAILABLE!)
In 2001, General Motors hired Lutz out of retirement with a mandate to save the company by making great cars again. As vice chairman, he launched a war against the penny-pinching number-crunchers who ran the company by the bottom line, and reinstated a focus on creativity, design, and cars and trucks that would satisfy GM customers.
Lutz's common-sense lessons, combined with a generous helping of fascinating anecdotes, will inspire readers in any industry. As he writes: "It applies in any business. Shoe makers should be run by shoe guys, and software firms by software guys, and supermarkets by supermarket guys. With the advice and support of their bean counters, absolutely, but with the final word going to those who live and breathe the customer experience. Passion and drive for excellence will win over the computer-like, dispassionate, analysis-driven philosophy every time."
Bill Rauhauser's 20th Century Photography in Detroit (limited edition with print)
This edition is the signed limited and numbered edition of "Bill Rauhauser's 20th Century Photography in Detroit" and includes an 8×10″ print of Rauhauser's photograph of three people on a bench that was included in the "Family of Man" exhibition in 1955. This image was also turned into a life-size bronze sculpture of nudes engaging in sex in the 1990s. The book and print are from an edition of 50 copies. The print is a digital image printed and initialed by Bill Rauhauser and numbered from an edition of 50 copies. The regular $49.95 trade edition of Bill Rauhauser's 20th Century Photography in Detroit is also still available signed by the photographer and author Mary Dejarlais.
Poetry is Revolution silk screen (SIGNED BY JOHN & LENI SINCLAIR)
A limited edition purple toned silk screen reprint of Trans-Love Energies classic 1967 poster is now available in an edition of 75 copies, on heavy card stock signed and numbered by Leni and John Sinclair!
The title "Poetry is Revolution" became the guiding principle behind the cultural revolution fermenting in the Midwest from the Detroit Artists Workshop , Trans-Love Energies, White Panther Party & Rainbow Peoples Party. Also see:  WHITE PANTHER BUTTONS for sale
Talking Shops: Detroit Commercial Folk Art
"Hand-painted shop signs are among the truest forms of vernacular art.
Speaking an idiomatic language widely understood in their intended community, they are vernacular in the strict sense of the term. Just as pertinent, they communicate in near total independence from fine art society, rarely reflecting its cultural aspirations and pretensions. Yet they can embody the creative qualities fundamental to art — visual expressiveness, aesthetic dimension and craftsmanship. And they are typically made by artists who are self-taught or, if trained, working within a kind of folk tradition." — SOURCE & COMPLETE REVIEW:  Windows to the vernacular