Monster Island and The Children of Mu: an update
In 2003, The Children of Mu was written, based a dream and a specific photograph of child model Xie Kitchen taken by Lewis Carroll. Sometimes Xie would appear in Carroll's photos dressed in Chinese costumes, and in the dream, Xie said she was the reincarnation of a princess. The Children of Mu is a story told through Xie about her life, creation and the journey of shadow puppetry from its 50,000 year metaphysical origin (as conceived in the writings of Madame Blavatsky and James Churchwood) to the invention of cinema and the shadow theater revival by the French (and Chinese) avant-garde in the 1880s.
The Children of Mu was written by Cary Loren and created into a theater work by Monster Island. Artist Tom Carey who specializes in creating prints and handmade books using woodcuts, produced most of the puppets for Children of Mu. We studied the Indonesian methods of shadow puppetry and applied gamelan theory (practiced by Monster Island since 1995) to the music and performances. We practiced and did filming of the play using the screen and additional puppets from the collection of the University of Michigan gamelan society.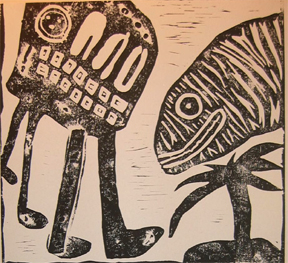 Woodcuts are one of the oldest known printmaking techniques, going back to the 1400s – where the development of moveable type and the invention of the book began. Between the jump between shadow puppetry and woodcuts, there's a natural storytelling relationship. Both forms are dependent on the negative cut out space –the line that defines light.
The Mu shadow play was written first in song and narration and then produced as a double LP, released in 2007. Sections included Chinese translations written and sung by Lee Ambrozy, as Princess Xie –who in character tells the story in song. Alfred Jarry's avant-garde lament, The Green Candle was sung and translated into French by Noelle Lothamer. One song is concerned with the use of the Magic Lantern, as metaphor and contraption. The narrated (commentary) version of the story was recorded live using the voice of Annke Auer, a Dutch psychic and web designer, who channeled the spirit of Madame Blavatsky.
Live video and light show projections helped frame the shadow screen during performances. The Children of Mu was staged several times in Detroit in 2007. Since then, an unfinished video of the play was begun that includes several dozen animations and live performance works such as The Palace of the Lost Lagoon (2009) –- a performance and Mu ritual recreated underwater by video taping through an aquarium and projecting onto a gallery window. Various plays-within-plays move the focus of Mu from the general to the specific -opening a microcosm of Mu Island life into a view inside contemporary life. Some sections of The Children of Mu stand alone, the music, imagery and performances, but arranging all the fragments into a single film or expanded installation is the long-range goal. Here the Mu song "Magic Lantern" is a Monster Island video collage: