The 50th anniversary of the publication of Robert Frank's The Americans -  is a review I've become to see as a futile exercise – a book reviewed and referenced countless times before and influential in so many ways it is impossible to list them. Like pouring water drops in the ocean, words about this book no longer do it justice. The Americans is a work of art  that can be seen and felt across most of later 20th century photography — it is a photographic "Lord of the Flies" tone poem and ode to America told in the laid back tradition of wandering bards; Whitman, Kerouac and Ginsberg. If you are not familiar with its cinematic layout and Beat culture nuance, this anniversary edition offers a wonderful excuse to observe the strange dark beauty of "innocent times" and birth of a new world.
There is something very eternal about this book and the questions and meaning it probes and uncovers. I've always felt that the timing of the book matched perfectly the birth of rock n' roll, car culture and a "freeing up" of intellectual culture — the penetrating look beyond the boundaries of Peyton Place USA and messing with the divisions of "high and low". 1955 was the year most of Frank's images were taken – and they easily strip down the facades and falsehoods of the post World War "American Dream."
Here then is an off-the-road sampling of reviews and quotations about this sacred milestone in photographic history. If you are an artist or photographer, I encourage you to read the multiple essays by the links provided.
"It was in this capricious environment that Frank — a Swiss born, heavily-accented Jewish photographer, who immigrated to America soon after World War II to pursue a fashion career at "Harper's Bazaar" — began his pan-American exploration.  Recently estranged from the claustrophobic confines imposed by his New York editors at "Bazaar," "Life,""Look," and "The New York Times," Frank took to criss-crossing practically every state in the union in a second-hand automobile (often with his wife Mary and their two small kids in tow.)  As he said,  he sought  "… to speak of things that are there, anywhere and everywhere – easily found, not easily selected and interpreted." — "Beauty and the Beats" by Brian Appel, artcrtical.com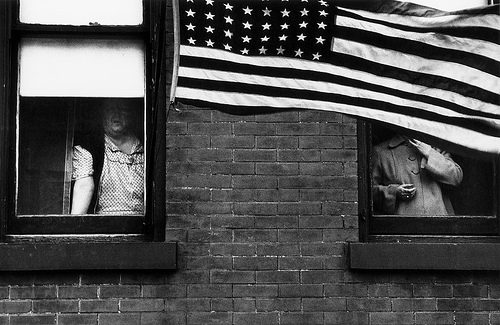 "Frank's genius was to see America unfiltered, much like Walker Evans (whose "American Photographs" is an obvious precursor to "The Americans") and Dorothea Lange. There are no tricks here, no posing or false glory, just a sense of desolation, "[t]hat crazy feeling in America," as Jack Kerouac writes in his introduction, "when the sun is hot on the streets and the music comes out of the jukebox or from a nearby funeral."
What's most remarkable is Frank's timing, the way he caught the republic at exactly the moment it was becoming the country in which we live today. In these pages, we can see it — the postwar world yielding to something else entirely, as clear as the teenagers making out in a public park in Ann Arbor, Mich., or the newlyweds embracing, full of lust and desperation, in the lobby of Reno city hall."  – Los Angeles Times
While researching, I came across the website "5B4 Photography and Books"   – a curious blend of a photo review blog, rare book finds and trading post. Maybe not so unusual as most bookstores and retail sites have also sprouted blogs — a social outgrowth of the online landscape.  A few of 5B4 comments on Frank's new edition are relevant and repeated here: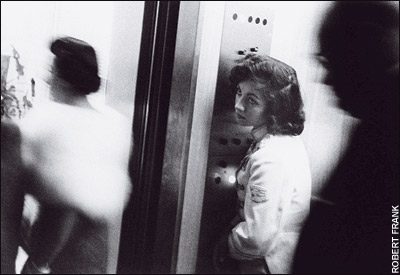 "Frank's willingness to reshape his masterpiece seems fitting to his persona of the restless poet who, if forced to look back, will tinker with his last version to fit his newest frame of mind. In keeping with this tradition, Robert Frank and Gerhard Steidl have created a new, refreshed 50th anniversary version of arguably the most important and inspiring photography book ever published.….
It was the book that launched a thousand road trips. Reinvigorated examination of self and state. Perplexed some with its complexity shrouded in a rough, visual language punctuated with obscenity. And in the extreme, it changed how future generations understood the workings of their medium. It still speaks volumes and on May 15th, 50 years to the day of its first printing, a new edition of The Americans will be made available to continue a dialog with this sad poem that Robert Frank and his little camera sucked "right out of America and onto film."  –– by Jeff Ladd,  The Americans, 50th Anniversary Edition
"If Robert Frank's "The Americans" had a marketing launch in a parallel universe as a cinematic summer blockbuster, the trailer would begin in flat black darkness, with Hal Douglas intoning:
"In a world where jukeboxes, drive-ins, and automobiles are more than just jukeboxes, drive-ins, and automobiles, Robert Frank drives a stake straight through America's heart, revealing a world of unimaginable sadness, a country you've never known."
Hollywood would sell it to death as a gothic set piece, and Frank would be the one-eyed man pointing to the sky, shouting about the apocalypse.
In a sense, that's what the world has done with "The Americans". The book (and Frank, along with it) rode the glass elevator straight to the top, in esteem, legend, and sales. For good reason. Frank's work isn't just a phenomenal gesture, it's years of serious work forged into a single, unassailable art ingot that's completely altered how people (photographers, too) see and interpret the world around them." — Two Thousand Odd Words on Robert Farnk's "The Americans
To further celebrate this milestone, Steidl, (Frank's publisher) has released the first three volumes of The Complete Films of Robert Frank each containing a set of three DVDs, and the book Robert Frank's Paris.