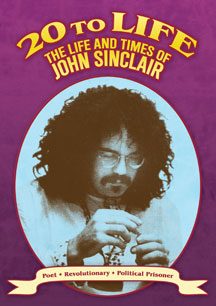 The following post was found on John Sinclair's travel blog and Arthur Magazine. The article on Book Beat was assigned by a major magazine which suddenly lost a desire in publishing it. In the interest of celebrating our 25th anniversary and tooting our own horn, we present it now with a few slight revisions. Photo at left: New DVD release of John Sinclair's biography on film.
Out of Control: Cary Loren & Book Beat
By John Sinclair
"Our bookstore's like a screaming kid that's out of control," BookBeat proprietor Cary Loren confesses, looking sort of sheepishly around his overstuffed shop at the outer corner of a strip mall at 10-1/2 Mile and Greenfield in Oak Park, Michigan. He's got that right: "out of control" is the proper name for this perfect mess of a place crammed with books and visual curiosities of unseemly descriptions. True, the store presents a penetrable opening space sporting popular literary products from the present, and there's a recognizable counter with cash register and other expected signs of business activity, but past this navigable vestibule the books come stacked up thicker and higher with each step toward the rear.
BookBeat isn't some dusty relic of the days of bookshop glory, although the shop is clearly the creation of serious modern intellectuals of the humanitarian persuasion. It's a bright, colorful, warm and welcoming place for intellectual stimulation, art and politics, with a parallel reality as a comprehensive source for state-of-the-art children's books, classic literature and progressive texts. Like all successful shops BookBeat pays close attention to the contemporary marketplace and takes great pains with its art and literary specialties and its treasured legion of readers. The store's regular reading series features the usual traveling authors and more idiosyncratic guests like Nikki Giovanni, Ira Cohen, Stanley Mouse, Faith Ringgold, Darlene Love, Anne Rice, Sonic Youth, Billy Name, Hettie Jones, Ultra Violet, Mike Kelley and Jim Shaw.
They also host in-person writer events at nearby libraries and cultural centers and sponsor book clubs and book-related community events of many kinds. These crucial outreach activities have combined with the shop's extensive and eclectic inventory to anchor BookBeat firmly in the center of the local literary and arts community. "I think you can have a good bookstore with a lot of different things," Loren says, "but you still need quality literature, classics and radical new literature, so that's been a core part of Book Beat. Photography and fine art sections are also a focus. But you won't find an auto repair section, or computer books. There's lots of books that we just said, "Fuck it, why stock 'em" you know. We wanted to have books on the shelf that we loved and needed exposure. Important books don't always sell within three months of publication which is becoming the industry standard."
Loren's sensitivity to the needs of his clientele has paid off in the best possible way. "Our customers are loyal, expect the offbeat, and they're independent thinkers," Cary says, "and they vote with their feet and pocketbook when they come here instead of one of the chain stores. Those places are becoming more dominant and controlling of the whole marketplace.
"What worries me," he says, is that I don't think there's another generation coming up that understands the value of independent bookstores, of reading and independent culture in general, as opposed to this dominant mass-market reality."
He has every right to be worried, because without new seekers of wisdom and truth the independent bookstore as we know it is doomed to extinction. The converse is also true: Absent the classic independent bookstores like BookBeat, how will young readers ever understand the value of these places or be able to measure the hole left in our cultural life by their disappearance?
So much of the world represented by places like BookBeat has passed on that their continued survival is a critical issue for the future. The great thing about them is that the mental world where I live and prosper still exists here. It's an environment specifically designed for those of us who have the mental patience to investigate and discover new realms of intelligence and creativity, and you can tell at once its not run by someone who got an MBA in management and trained at Borders or Waldenbooks.
In fact, BookBeat was created by a pair of young intellectuals from suburban Detroit as something they could do after college. "And, you know," Cary says, "I wasn't capable of doing much else. When I was going to school I worked for other bookstores, so I knew I could do this. I wanted to make art, but I also needed to make money. And I didn't want to stay in school and teach, and I thought, maybe I could do art and other things on the side, and be supported by the store, eventually."
Cary and his wife Colleen opened BookBeat in a former pregnancy boutique called the Purple Pickle in the summer of 1982. "I moved back into my parent's house when we first opened the store," Cary recalls, "Colleen and I both lived with our parents to save money.
It was good to be able to put everything into the business for those first two years, so we were able to expand. There was a Detroit Edison outlet next door, and three years after we opened we took that space."
Why the strip mall in Oak Park? "We knew the area, because we had grown up around here," Cary says. "We started with really nothing, my own collection of books, beat literature, used books and stuff, and we wanted to also relate to the community too, so we were stocking Danielle Steele and Stephen King and whatever people were buying, you know, at the time.
But our emphasis was always on the arts, good literature and children's books– those are the three areas we wanted to focus on, and we've stuck with that."
The arts make a lot of sense, and popular releases, but what about the children's books? "There's a couple reasons for carrying the children's books," Cary says. "One, a lot of really great illustrated books started to happen at the time we opened, it was the start of a golden age for children's books, a large explosion of great works; beautifully illustrated books are an art form, and we also saw that future readers are children, you know? So we wanted to invest in children reading early on, because those people are the future."
"Colleen's input has been vitally important,"Cary adds, "She's put so much into the children's side of the store, and it's become the money-making part of the business, certainly of late. She works closely with parents and teachers, and she reads a phenomenal amount of material, I mean thousands of books every year.
And she has this vast warehouse of first-hand information from reading so much, and can inform teachers on what to use for the classroom, and she can come up with programs and books that not only affect the teacher but all the kids in each classroom. Colleen's become a great resource for this area. Many parents and grandparents depend on her advice."
How did a couple of nice suburban kids get into all this strangeness? "I was going to Eastern Michigan University, and I got through school by working in pizza places. But I was thinking about the bookstores in Ann Arbor. Borders had just started when we got to Ann Arbor, and there was Centicore, that was one of my favorite bookstores, and David's Books, a large store on Liberty, it had a lot of hip poetry.
We met Andy Warhol at the Centicore one time," Cary laughs. "I was a Warhol fan, following his films and stuff, and wrote to him when I was a high school student, like, if you've got any job openings or anything, you know, and he'd send back, like, a signed postcard or something.
But one artist I corresponded with was filmmaker Jack Smith, who wrote back and said, "Come visit me. If you're ever in The Big Apple, I'd like to meet you." So I did, and that's how Destroy All Monsters was formed, and so my aesthetic really came out of my time in New York with Jack Smith. That was my mentoring experience, and I brought that aesthetic back to Ann Arbor, and that became part of the Destroy All Monsters collective. I was doing films, photography and collages in Smith's vein of camp and exotica, you know? The bookstore is also a kind of extension of Smith's influence of anarchy and exoticism. 
The lasting effect of Jack Smith's cultural tutelage persists in Loren's personal artistic output: Not just his long-standing participation in the pioneering out-rock ensemble Destroy All Monsters, but in films like Shake a Lizard Tail or Rust Belt Rump, Grow Live Monsters, Strange Frut: A History of Detroit Culture (Part One), Letters from the Dead House and Fantomash, and CDs like the seminal DAM: 1974-1976, Backyard Monster Tube & Pig, Swamp Gas and Killing Me Softly, Music is Revolution and Monster Island albums like From the Michigan Floor, PeyoteMind and Dream Tiger. This is some pretty weird stuff.
But Cary goes even farther back: "I'd also like to mention the influence of the [early 60s arts collectives] Once Group of Ann Arbor, the Detroit Artists Workshop and White Panther Party on what our bookstore became, those were my first experiences of contemporary art and politics. Also anti-art movements like Surrealism, Fluxus and Dada became an important influence in the 70s."
"Occasionally we publish small catalogs to try to get a few things out. We've done limited edition books with Lisa Spindler (Perfume), an art catalog; Homage to Hans Bellmer, the Destroy All Monsters collection Geisha This, Photographs by Jeffrey Silverthorne and a few projects we did with you." [Full disclosure: Cary Loren and this writer have collaborated on several projects at BookBeat, including the books This Is Our Music, Meditations, PeyoteMind and the CDs of PeyoteMind and Music Is Revolution.]
"We started our little backroom art gallery soon after we opened, and we've had exhibitions by James Van Der Zee, Weegee, Billy Name's Warhol Factory Fotos, Day of the Dead Mail Art, Bruce of Los Angeles, Marilyn Monroe Images, Jim Shaw's Dream Drawings, Gordon Newton drawings, Leni Sinclair and Bill Rauhauser's Detroit Photos, Haitian Voudou flags and objects, Folk Art Sculptures, Alfred Stieglitz & Cameraworks, Russian photos by Margaret Burke-White, and contemporary photographers David Griffith, Nina Glaser, Suda House, Jeffrey Silverthorne and group show's on Women Photographing Mythology, Children in Photography, Early Egyptian photography and many others.
Artist and curator Jon Hendricks is currently helping us with a project with one of our gallery photographers, Jeffrey Silverthorne. We published a monograph with him in the early 90s, and a small hand-made book of Goth kids, you know, shot in Detroit, with little hand-tipped-in black-and-white contact plates. I related to the Goth kids because they were, to me, like the sub-culture of the 90s, at that time. So we put this little book out called GOTH and Jon sent a copy to a Danish museum director, Lars Schwander, who became interested and is now publishing a catalog and traveling exhibition of Silverthorne's work.
Some of the bizarrities we carry? A lot of experimental music, artist DVDs, Sun Ra music and videos, underground films, Harry Bertoia sound sculpture LPs, miniature books, hand made artist books, zines, imported tarot cards, African sculpture, African drums, Jazz and rock concert posters, Mexican Day of the Dead figures, folk art, postcards, Haitian flags, incense, religious figurines, Japanese pop-culture toys, puppets and rare photographs."
Finally, looking into the future after 25 years in the same bizarre location: "I don't know. I don't see a buyer coming forward and a tight economy could squeeze us out quickly. I mean, it's a tougher business every year, and operating a bookstore doesn't make a lot of sense in these times… but we still enjoy what we're doing, and it offers an alternative space for books and author events for the community.
It would be a great fantasy to find someone interested in keeping the store going for another generation– to pass it on. But we'll probably never get out from under it! There's no leaving. It's impossible!"
© 2006 John Sinclair. All Rights Reserved.