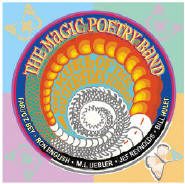 This latest release of Magic Poetry Band weirdness curls up to its Beefheartian namesake and packs a collage of rich styles and warpped-raps laid out like a radioactive roadmap to distant lands, future horizons and times gone by. Using "investigative verse" methods and poetic systems pioneered by Ezra Pound, Charles Olson, Amiri Baraka and Ed Sanders, the Poetry Band breaks set with the beats and stretches out on this well-oiled, diverse and animated CD.
M. L. Liebler has gathered a small group of poet-musicians on this recent work that come together in a highly organized way, yet still manage to freak and connect onto some rarified areas of free-form jazz. Liebler's opening grenade lob; In a Window/The Screamers has Beefheart's Mirror-Man phase-shifting glee to it, a cubist honk and funky wail that cracks into John Sinclair's signature poem with urgency and passion. Liebler brings a scruffy hard-edge Wolfman Jack delivery to his poems that are half sung half spoken, in a smoky soft-jazz, Tom Waitsian baritone style, but often get growled, barked and howled into life, words molded and formed into rough sculptures of sound. Deliver Me is a natural Liebler standout track that rocks and flows to Coltrane's Love Supreme riff.
Liebler gives wide berth to poet cohorts Faruq Z. Bey and Ron English to great effect. These well known area players from Griot Galaxy and the Detroit Artists Workshop and beyond, add a rich heritage to the mix, lending a spiritual dimension and some deep atmospheric consciousness to the multi-layered perspectives on Kurl of the Butterfly's Tongue. The funkadelic bass lines of Jef Reynolds (who also mixed the CD) and drum work of Bill Hulet are a consistant and tight driving force that often over shadow the vocals, but the added funk power adds to the dynamics. Ron's arpeggio patterned bell toned guitar work and Faruq's staccato Ayleresque blues-freak accents pave a multi-colored mosaic across the work, an orientalist vibe, woven tight with melody and tension that sets the stage and setting for a series of dark Whitmanesque narrative poems.

The Blower is a great Ron English ode-groove to the western noir, using confessional style poetics, mixing in the figures of Baudelaire, the Dalton gang and Michel McClure – a historic slice backward and afterword (as he says) into his own past as a poet. English comments on the landscape and background of what its like to write a poem, and define yourself a poet, while the narrative flows in and out of time. The Blower is a wonderful low key spoken work that shines here like a lost Richard Brautigan gem, searching for that stream of nirvana.
Faruq's anti-capitalist head rant: Work in Progress, is an indictment of the superficial and falseness we blindly accept in our society, all the jive surrounding us like "jelly" with the absurdist yet sad refrain "and I WANT to be an American" – the sound backdrop fires off rhythmic triplets as English counters the bass-drum pattern with bursts of Stravinskyesque Firebird runs and fills. Reynolds consistant driving bass work digs into your head and provides a trance-like landscape for Bey's Sturm und Drang epic.
Faruq's title cut, The Kurl of the Butterfly's Tongue, is a more oblique and kabalistic snarling rap of artistic life and the act of composition that borders on Dante and Charles Bukowski's terrain: "Our poems become glowing reports from Hell/ festooned with images from the bellies of pigs." Bey's references are sometimes cloaked in esoteric fodder, but his passion and meaning always manage to break through and outward. It's the shit, and well worth your time. Pay attention and listen.
Faruq's last two contributions honor the indelible legacies of Sun Ra and Albert Ayler, twin pillars in the world pantheon of free music, and here the disc reaches its highest aesthetic points. Both are jaw-dropping brilliant, grand testaments to an everlasting heritage that continues to incite us and create for us a bedrock of mind-opening , mind-bending freedom, a passageway still influencing and reverberating within. Faruq's twin-star odes to our ancestral (and celestial) kingdoms are intensely thought out and lived elegiac compositions that reflect and honor their subjects. The music on both works slowly rises up from deep personal space into a cosmic spiritual spiral and evolved eulogy – transformative and adaptive to the subjects they embrace. Faruq's in grand style, clearly at home, paving new roads into sites unseen. His vision and statement are almost diamond like, more refined, whole and compacted, then on many of his other side projects, fine as they are.
The Kurl of the Butterfly is a testament to the diversity and wonderworlds buried out here in the nowhere wastelands of Detroit. It is both history and now sound in one sweet package designed by local psychedelic mainman Gary Grimshaw. My only complaint is that some of the cuts on the CD only hint at bursting open, and remain sadly constrained and conventional in outlook, the sound used more as stagnant FM-radio background support then as a real mix and fusion for the poetry. It's still a standout poetry disc in a field not well represented. Perhaps their next one will attain ecstatic god-head. In the meantime, add this to your collection of mild n'wild freakouts and ride the Kurl of the Butterfly, and file under Detroit: strange, mysterious and beautiful.