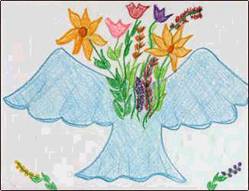 ART FOR PEACE is a small organization that uses artwork to teach kids tolerance. The program was started in 1999 by amateur artist and World War II veteran Riley Conarroe.
Members team up with teachers around the globe to help students exchange "peace pictures" with kids of different racial and religious backgrounds. The idea is simple but important: Each of us needs to take an active role in creating peace.
In their classrooms, students of all ages discuss ways they individually can promote peace in the world. They discuss how they can break language barriers by creating pictures to reveal what is in their minds and hearts about peace, non-violence and global brotherhood.
Using their innate creativity, student's paint or draw Peace Pictures.
These pictures are sent, with a brief written message and perhaps a class photo, to students of similar age in schools in other parts of the world. The students there are asked to respond by sending back their own creative Peace Pictures.
In the last two years alone, over 5,400 schools 6,120 teachers, and 145,000 students worldwide have participated in this ongoing artwork exchange.
Students' Music for Peace gives students of all ages the excitement of exchanging individual peace messages—through their taped music—with students in other countries. The excitement of sending their music is exceeded only when they receive music back, reflecting the style and culture of other countries. It can be a powerful learning experience. — from the website ART FOR PEACE Donations for this project can be made to: Art For Peace, 7671 Santee Terrace, Lake Worth, FL 33467. Donations are tax deductable.