Katie the Catsitter by Colleen AF Venable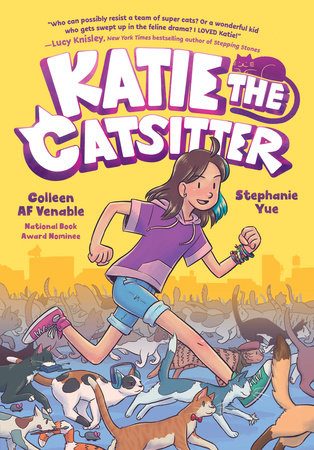 Calling all Raina Telgemeier fans! Introducing an irresistible new middle-grade graphic novel series about growing up, friendship, heroes, and cats (lots of cats!)–perfect for fans of Guts, Awkward and Real Friends (not to mention anyone who loves cats!)
Katie is dreading the boring summer ahead while her best friends are all away at camp–something that's way out of Katie and her mom's budget, UNLESS Katie can figure out a way to earn the money for camp herself. But when Katie gets a job catsitting for her mysterious upstairs neighbor, life get interesting. First, Madeline has 217 cats (!) and they're not exactly . . . normal cats. Also, why is Madeline always out EXACTLY when the city's most notorious villain commits crimes?! Is it possible that Katie's upstairs neighbor is really a super villain? Can Katie wrangle a whole lot of wayward cats, save a best friendship (why is Beth barely writing back? And who's this boy she keeps talking about?!), AND crack the biggest story in the city's history? Some heroes have capes . . . Katie has cats!
"Who can possibly resist a team of super cats? Or a wonderful kid who gets swept up in the feline drama? I loved Katie!" —Lucy Knisley, New York Times bestselling author of Stepping Stones
"Young readers will revel in the heroic antics, and older ones, like me, will be tickled by the Easter eggs strewn throughout. The sweet and funny nature of this book is expertly reflected in Yue's energetic art and seemingly effortless line work." —New York Times
"Venable's twisty plot swoops gleefully around Manhattan, touching on everything from animal activism to evolving relationships to a secret rescue mission, and combining to tell the story of one of the least boring summers ever." —BookPage
About Colleen AF Venable: "My whole life I always loved reading comics—Calvin and Hobbes, The Far Side, and I wore out my copy of the Muppets: Short, Green and Handsome—but it wasn't until I started to get into webcomics that I also fell in love with the idea of writing comics. Now my day job is designing graphic novels for First Second Books and my night job is writing graphic novels about a not-so-imaginary-anymore hyperactive hamster named Hamisher. I love it more than I love having feet and I really do love having feet. They keep my shoes on." –Colleen AF Venable
About the Illustrator: Stephanie Yue grew up in Atlanta, Beijing, and Hong Kong. She's a lifetime comic fan and martial artist (with a black belt in Kung Fu) and travels the world by motorbike. Stephanie was the colorist for the megahit, industry changing, Smile by Raina Telgemeier and Katie is her debut as a middle grade graphic novel illustrator. Stephanie currently divides her time between Boston and Hong Kong, where she's working on the second Katie. Visit her online at http://stephanieyue.com and on twitter @quezzie.com.
Signed Copies Available!
We will have signed bookplates signed by the author and included with each book. Sorry, no inscriptions. Books are available for preorder and will  ship after the Zoom event on March 15.
$ 12.99